You Won't Benefit from Sensex 100,000 if You're Making This Mistake Today
Mar 15, 2018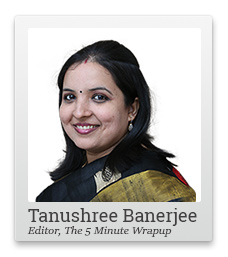 Almost three months into 2018, the Indian stock market has seen its fair share of ups and downs.
If you rewind a couple of years back, the Indian economy was slowing down.
To make it worse, along came demonetization, followed by GST introduction. Both stalled economic growth. GST though will be beneficial to the country in the long-term.
But these hiccups didn't stop stock prices from rising at a faster rate than earnings of India Inc. So much so that we're faced with a scenario where stock prices and earnings growth are out of sync.
Then the huge fraud at Punjab National Bank surfaced. This further highlighted the problem of bad loans weighing heavy on the books of public sector banks.
That's as far as India goes. But as you know, the Indian stock market is also influenced by what happens globally.
And there's a lot happening there.
--- Advertisement ---


A Proven Way to Profit from This Market Crash

The news might tell you that it is time to panic and start selling your stocks.

But how would you feel if we told you that there is a proven way to profit from these uncertain times?

Well, we have discovered 5 Safe Stocks that could potentially profit from this market meltdown.

We are sure you are intrigued.

Click here to find out which stocks we are talking about.
------------------------------
The US is at the forefront in this regard, as President Donald Trump's controversial moves in the White House continue. His measures to introduce tariffs on steel and aluminium has not gone down well with the international trading community and has sparked fears of trade wars.
Meanwhile, there are many uncertainties on the geopolitical front across the world - Russia, North Korea, the Middle-East.
It's clear to me, there are many variables that can determine the movement of the markets. That's why we've seen volatility in the stock prices in the first two months of 2018.
Yes, what happens in India matters a lot. But given that traditionally the Indian stock market has always been subject to the vagaries of FII flows, global developments can't be ignored.
In short, you're expected to keep tabs on so many events - global and domestic.
So, should you follow each one of these developments?
My simple answer, is a big NO.
I would like to emphasise my point with a quote from the world's richest investor, Warren Buffett.
I would tell them don't watch the market closely. The money is made in investments by investing and by owning good companies for long periods of time. If they buy good companies, buy them over time, they're going to do fine 10, 20, 30 years from now.
Stocks are nothing but little pieces of businesses.
Sometimes, it's easy to forget this simple truth.
Don't make the mistake of following daily stock prices. Instead, you should start following specific high quality listed companies.
Find out if they're safe stocks.
Ask yourself these questions...
Do you understand and like the business model?
Do you have confidence in the management?
Are sales and profits growing consistently?
Is the company paying dividends regularly?
Is the company cash rich and are its debt levels low?
The answers to these questions will help you zero-in on safe stocks. These are stocks that will help you create a lot of wealth...if you buy them at the right prices.
Last week, I shared with you the four characteristics of safe stocks.
Strong Brands
High Quality Management
Resilience to Economic Downturns
Low Debt
Right now, I believe there are 5 Safe Stocks you could consider buying.
But you should expect even strong companies to face their share of challenges. Their performance might not be good in some quarters. That's okay. Ultimately, their track record over many years will determine your returns.
Safe stocks have stood the test of time. They reward shareholders immensely over the long-term.
Now, I'm not saying that checking stock prices is completely useless. After all, you want to buy stocks when they are cheap and sell them when they are expensive.
The price will help you do that. But please don't track stock prices daily. Don't analyse every economic event.
Instead, spend time studying high quality businesses.
I did this before I made my long-term prediction of the Sensex rising to 100,000 and before I picked the top 5 safe stocks in the market today.
Now, as I've said before, this won't be a one-way journey upwards. It will be a bumpy ride. The market will be influenced by a whole bunch of factors, both domestic and global. Indeed, I'm looking at a 30% correction in the short-term.
But if that happens...don't panic.
Despite all the daily, weekly and monthly, ups and downs in the market, owning safe stocks will ensure that you'll be very well-rewarded.
Chart of the Day
Speaking of developments catching the headlines these days, among the top is the massive fraud at Punjab National Bank in conjunction with the diamond merchant Nirav Modi.
It has put the spotlight on the growing bad loan problems in Indian banks.
And brought to the fore the painful issue of willful defaulters especially after the Vijay Mallya fiasco. Today's chart shows the banks that have the highest number of willful defaulters.
Unsurprisingly, Punjab National Bank tops the list.
But the others aren't too far behind.
Banks with the Highest Number of Willful Defaulters
Regards,

Tanushree Banerjee (Research Analyst)
Editor, The 5 Minute WrapUp
PS: Sensex 100,000 will have lots of winning stocks. But Tanushree recommends only the best among them. Read on to find out the top 5 safe stocks in the market today...
Recent Articles