Why India Will Be the Biggest Winner in a Post-Coronavirus World
Mar 19, 2020
Editor's note: Dear reader, I request you to spare a minute of your precious time and participate in the Equitymaster's State of the Markets opinion poll. Please click here to cast your vote.
---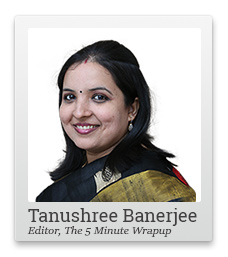 Until recently, I used to order food from a favorite restaurant of mine.
The quality of the food was good. Prices were affordable. Delivery was always on time.
But then, things changed.
About two months back, the food they delivered wasn't as good as before.
Then, on one occasion, the delivery was unusually late. I can understand one-offs but this became a regular thing.
Finally, I decided to try out a new place. I don't mind paying a little extra. At least I know, I can expect decent food, delivered on time.
I recall this episode because I see a parallel playing out in the financial world right now.
Yesterday, I wrote to you about the long-term impact due to the coronavirus.
Today, I'll tell you why I think India stands to gain when the dust settles.
--- Advertisement ---
Govt's 257 Bn Rupees Boost for EVs- Your Chance for Potentially Wild Profits

Recently, the government announced that it will be pumping a whopping 257 billion rupees into electric vehicle initiatives by 2025.

We urge you to become a part of the EV gold rush that's happening now and gain the early mover advantage.

We have closed in on 3 EV stocks which could potentially hand you over insane profits in the long run.

We will be revealing all the details in one of our upcoming special online event.

Sign Me Up For the FREE Event
------------------------------
You see, China is the go-to country for almost every kind of manufactured good.
Right from electrical parts, auto parts, textiles, chemicals, almost everything comes from China.
Countries like US, Germany, and UK are majorly dependent on China for cheap imports.
And why wouldn't they be? Low cost and timely delivery meant that Chinese products always enjoyed a preference over imports from other countries.
Despite this huge dependence on China, the thought of 'geographical risk' never occurred to these countries.
Few murmurs started going around in the last two years after the environmental crackdown in China.
Then came Trump's trade war.
The murmurs started to turn into actions. These countries began exploring alternatives to China.
Still, most of them didn't find a pressing need to shift. Some proactive companies did but still, not in a major way.
How times have changed!
If there was any doubt before about the 'geographical risk' of depending too much on China, there's isn't any doubt now.
The coronavirus impact has woken everyone up. The dependence on one country and its dangers have been exposed to the whole wide world.
There are short-term and long-term impacts of this wake-up call.
The short-term impact is what we're seeing every day. Countries in lockdown, screening of travelers, quarantines, etc.
But what about the long-term impact?
Revealed: Richa Agarwal's Top 3 Stocks for 2022
We will see this once the crisis is over.
And this impact will be huge.
The first question these countries will ask themselves will be...
What should we do so that we never face such a helpless situation again?
The obvious answer is to look for alternatives.
Is there a country that can provide this alternative? A country where MNCs won't be worried about such a disruption.
I strongly believe, India will be the alternative for most of these countries.
Indian auto ancillaries, textiles, chemical companies, Pharma R&D contract manufacturers, will all be the major beneficiaries when this shift happens.
China's exports in 2019 were around US$ 2.4 trillion. In comparison, India's exports accounts for just around 12% of that.
Even if 10% of MNCs currently dependent only on China, see India as a viable alternative, our exports can almost double.
Imagine the positive impact that will have on the Rebirth of India. To cater to this demand, multiple factories will need to be set up. Many workers will be needed.
The upside for the Indian economy will be huge.
This is where I am focused on...finding strong businesses with the capacity to take advantage of this huge opportunity.
If I get this right, I believe my subscribers will create a lot of wealth in the long-term.
More on this to come...
Chart of the Day
1991, in a lot of ways, can be termed as the turning point of India's economic story.
From being largely isolated from the outside world, India suddenly became a big part of the new global era.
Exports also became a big contributor to India's GDP. From contributing around 7% of GDP before 1991, exports contribute close to 20% of GDP now.
Is This the 1991 Moment for India gain?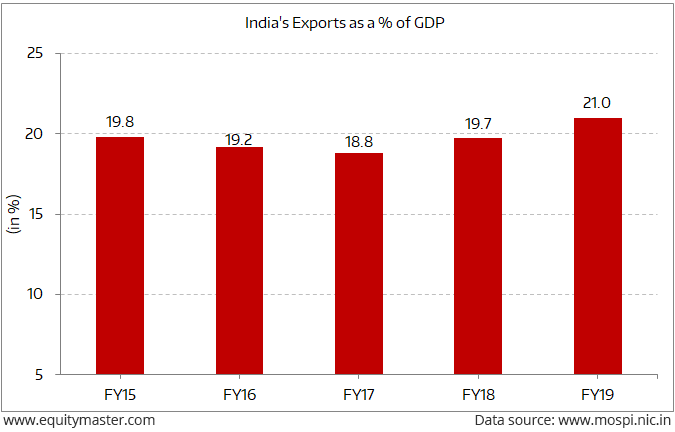 If things go India's way, as I believe it will, the aftereffect of the coronavirus will have an even bigger impact than 1991.
Watch this space for more...
Warm regards,

Tanushree Banerjee
Editor, The 5 Minute WrapUp
Equitymaster Agora Research Private Limited (Research Analyst)
PS: Well, even the experts now says it is time to start investing. Slowly, of course, but not to worry - we have the one stock that gives you the perfect place to start getting back into the markets. Learn about it here.
Recent Articles