Turn Off Your TV to Make Money from Sensex 100,000
Mar 20, 2018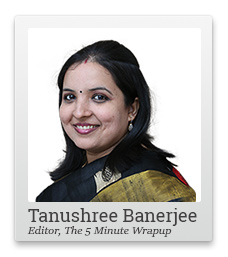 If you were to ask a people, how they relax at home after a hard day's work, you would get replies like...
I spend quality time with my family.
I relax by indulging in my hobbies.
I turn on the TV.
The last one would be the most common answer I think.
There's nothing wrong about that of course. The TV is a great source of entertainment.
Then again, very little that's said on TV is to be taken seriously.
After all, entertainment is also a business. More content and higher TRPs translates to more revenue for media companies.
You the viewer, are the source of their revenue but that doesn't mean you should take the content of TV channels seriously.
Consider business news.
How seriously should you take the opinions being churned out daily by so-called experts on business TV channels?
--- Advertisement ---


Our Latest Special Report That Could Keep You Safe from This Market Crash

Have you claimed your virtually free copy of our latest Special Report: The Top 5 Safe Stocks in This Market Crash, yet?

This report talks about 5 stocks that have caught research analyst Tanushree Banerjee's eye...

And have the potential to not only keep you afloat...but also profit from this market crash!

So, if you haven't claimed your copy yet...

Don't waste another second.

Click here to grab a copy...
------------------------------
If you're a long-term investor, your answer should be: a bare minimum amount of seriousness.
Television exists to create buzz and excitement for its viewers. This is true of business channels as well.
We have a plethora of people on these channels giving their views on a range of stocks and on the overall markets as well.
'Where will the market go next?' is an all-time favourite question.
It's also a useless question.
Ignore it. It's just noise.
Owners of stocks, too often let the capricious and often irrational behavior of their fellow owners cause them to behave irrationally. Because there is so much chatter about markets, the economy, interest rates, price behavior of stocks, etc., some investors believe it is important to listen to pundits - and, worse yet, important to consider acting upon their comments. - Warren Buffett
People are entitled to their opinions of course.
But so are you.
You need to ask yourself how much weight do the opinions of 'TV experts' carry.
For example, if the financial performance of Infosys for one quarter, misses the management guidance and the stock price falls, does it mean the business is bad? Should you start selling because others are?
If the stock of Hindustan Unilever falls 10% in the month you purchased it, should you panic?
If a poor monsoon season results in lower demand for two-wheelers in rural India, should you dump your holding in Hero Motocorp?
The answer to all these questions is 'No.'
In such situations, it's important to keep in mind there's nothing wrong with these companies. Their businesses are strong.
Over time, any business will have its fair share of ups and downs. But strong businesses will prevail.
If you're smart, you will capitalise on these periods of pessimism and use them to your advantage.
How?
By picking up safe stocks at cheap prices.
In this market correction, such opportunities are coming your way.
Over the last few weeks, I have talked about the reasons I expect the Sensex to reach 100,000.
But this is not going to be a smooth ride. In fact, I believe, we could be at the start of a 30% correction in the market from the recent peak.
The way to insure yourself against this bumpy ride is to remain invested in safe stocks. These are stocks of companies resilient enough to weather the storm.
Any kind of substantial correction in the market is a great time to load up on these stocks.
Right now, I believe there are 5 Safe Stocks you could consider buying.
But as I said, you should expect even strong companies to face their share of challenges. Their performance might not be good in some quarters. That's okay. Ultimately, the superior quality of these companies will ensure good returns on your investment.
Chart of the Day
Last week was not particularly good for the heavyweights, as six of the top-10 most valued companies, as reported in Business Standard, posted losses.
The biggest of the lot was Tata Consultancy Services (TCS), which lost almost 7% in a week. But as I said above, a 7% fall in a week for the TCS stock is hardly a reason to panic. Such wild swings in prices is just the way the markets work.
As long as the fundamentals are intact, you should take such gyrations in your stride.
How the Most Valued Companies Fared Last Week
Regards,

Tanushree Banerjee (Research Analyst)
Editor, The 5 Minute WrapUp
PS: Sensex 100,000 will yield lots of multibagger stocks. You may already own some of them. Others may be on your watchlist. Which ones to buy, hold, or sell? Let Tanushree Banerjee figure it out for you...
Recent Articles