We Warned You... Not All Bluechips Are Safe
Mar 21, 2017
In this issue:

» The Woes of Divi's Lab
» D-Mart Makes a Blockbuster Debut
» ...and more!
00:00

Chart of the Day
The big stories in the market today are the D-Mart IPO and Divi's Lab share price crash.
More about both them below. But first... a reminder about something important.
A few days back, Tanushree wrote to you about the 60% chance of a losing money in blue-chip stocks. Here's Tanushree...
Turns out, the current valuation of the index - more than 22x - is rare. Over the past two decades, the NSE Nifty has traded above 22x only nine times. And when it does, buying even the biggest blue chips has come with a huge downside for long-term investors. On five out of the nine occasions, the index lost money over a two-year period.

So the historical data suggests there is currently a 60% chance of losing money in blue-chip stocks.
Those who put their money in Divi's Lab at high valuations are not a happy lot. Last year, the stock was trading at over 30 times earnings, far higher than the Nifty. The stock's down more than 50% since August 2016.
Now it's true that nobody can anticipate the USFDA's import alerts. But it's possible to prepare for such shocks.
How?
Understand the difference between price and value.
The stock price does not tell us how much the business is worth. It only tells us the market's opinion about the value of the business.
The market's opinion could be right or wrong. But when it comes to valuations, Tanushree rightly believes it's always better to be safe than sorry.
That's why she hasn't recommended Divi's in StockSelect. The stock never traded at the right price. Here's Tanushree...
StockSelect is all about recommending safe bluechips at the right price. The goal is to reward shareholders immensely in the long term. And that wasn't going to happen by giving out buy recommendations just because everyone else was.

We won't recommend these bluechips at any price. The valuations have to be reasonable.
A lot of smart people forget this and buy blue chips at any price...only to suffer later.
But as they say, in every crisis there's an opportunity.
When markets crashed in February last year, Tanushree's StockSelect team recommended not one, not two, not even three, but four stocks in one day!
How did they perform?
Stock #1 was sold with a gain of 116% in less than six months.
Stock #2 was sold with a gain of 41% in about four months.
Stock #3 and Stock #4 are up 52% and 40% respectively so far and they still have some upside.
It's not a surprise that StockSelect has a great track record. As per the latest December 2016 audit, StockSelect has a success rate of 79.9%. That's four winners out of every five recommendations since launch in 2002.
Yes, 2002. The service has completed fifteen years.
StockSelect Performance Over the Years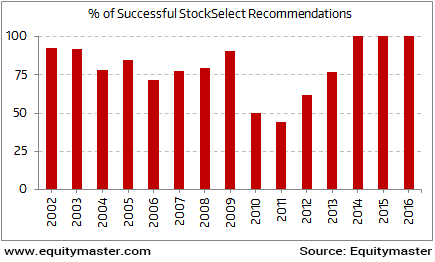 To celebrate the 15th anniversary of StockSelect, we are offering new subscribers a great offer, which includes our Sensex 40,000 report.
The 15th anniversary opportunity ends today. You can know all about it here.
--- Advertisement ---
Last Chance: What Are You Waiting For?

If you STILL haven't claimed your 12 additional months of access to our most popular service, StockSelect...

There is still time.

You have till 11:59PM tonight, to make the most of our Special 15th Anniversary Offer.

So, what are you waiting for?

Click here to get immediate access.
------------------------------
There are sectors and stocks where regulatory changes have a big impact. And then there are the ones where the impact is negligible.
However, if there's one sector where the impact has gone from being negligible to quite a sizeable one, it is pharma we believe.
Divi's Labs is the most recent example.
The stock, which up till now was touted as one of the blue-eyed boys of Indian pharma, is down a whopping 18% as we write this.
This is on the back of the US pharma regulator, the USFDA, issuing an import alert on one of the company's Vishakhapatnam units.
What does the alert lead to?
Well, it effectively prohibits the company from exporting products manufactured from the said unit.
The reason the stock has plunged is because nearly two-thirds of the company's overall sales are from this unit. As it is, pharma isn't a particularly easy sector to analyze. And now with the US regulator getting increasingly aggressive, the complexity has gone up many times over in our view.
As far as the listing gains are concerned, Avenue Supermarts, one of the most eagerly awaited IPOs, has certainly lived up to all the hype around it. The stock has listed on the bourses with a spectacular gain of more than 100%.
This takes the already steep trailing twelve-month PE ratio of 40x to an exorbitant 80x.
There's no doubt the company has great fundamentals and is arguably the best managed food and groceries retailer out there.
However, no matter how good the business, it ends up giving good returns over the long term only if valuations are reasonable.
An exorbitant valuation could mean most of the future growth already priced in. Therefore, very little upside for investors.
Would D-Mart prove to be an exception to this rule?
Well, only time could tell. However, as far as we are concerned, we would get interested in the stock at a price significantly lower than what it is trading at.
After opening the day on a flat note, the Indian stock markets fell below the dotted line. Most sectoral indices were trading lower. At the time of writing, the BSE-Sensex was trading down by around 123 points. The biggest gainers were realty stocks and the biggest losers pharma stocks.
The BSE Mid Cap index is trading down by 0.8%, and the BSE Small Cap index is trading down by 0.6%.
04:55

Today's Investing Mantra

"You pay a very high price in the stock market for a cheery consensus." - Warren Buffett

This edition of The 5 Minute WrapUp is authored by Rahul Shah (Research Analyst).
Today's Premium Edition.
The Secret to Making Money Irrespective of Market Cycles
The secret to generating consistent results in stock investing irrespective of market cycles.
Read On... | Get Access
Recent Articles