China Had Its Brawn. It's Time for India's Brain
Mar 23, 2020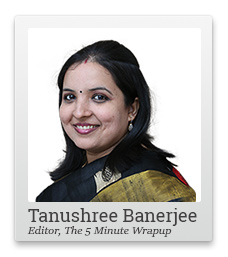 The market is once again at a lower circuit today.
There is fear on Dalal Street. I will write to you tomorrow with my view on the crash and where we go from here.
Today, I want to share one more reason why I strongly believe India will come through this crisis strong.
You see, it all starts with China...
China used its manufacturing muscle power to plow its way through the last few decades.
Its GDP growth - both in speed and size - has been untouchable.
But the decades of the future are going to look very different. And China's manufacturing muscle will count for little.
Of course, like I've been telling you, the outbreak of Coronavirus exposed the underbelly of the fragile global supply chains, over dependent on China.
And therefore, global manufacturers are bound to seek geographic diversification of resources and imports.
This move towards manufacturing diversification will see India benefit immensely. Many supply chains will likely shift partially to India. This will give a huge boost to growth in the years to come.
However, that is not the only place India stands to benefit.
--- Advertisement ---
Rahul Shah's Lazy Millionaire Summit Is Now LIVE...

Discover the Master Key to Turning Every Market Crash to Your Advantage

Hurry up! Join in now...

Click Here to Join the Lazy Millionaire Summit
------------------------------
You see, the future will be about different stuff. It belongs to the futuristic sector of the Internet of Things (IoT).
The Internet of Things (IoT) allows physical things embedded with sensors, software, electronics, and connectivity, to exchange information with other connected devices.
And let me tell you... IoT is taking centerstage in every other product and service that we use.
In India, this tech is being propelled by companies at the forefront of India's digital revolution decade. Manufacturing devices enabled with IoT, will transform our everyday lives.
Smartphones are only the tip of the iceberg. Smart cities, manufacturing and industry, connected cards, even healthcare, nothing will be same with IoT...
You will be surprised how much IoT can provide services with the help of Artificial Intelligence to pre-empt our needs and difficulties in every sphere of life.
The coming decade will favour these companies more than any other.
Equitymaster's Stock Screener: Identifying High-Potential Stocks Has Never Been this Easy
Where does India feature in all this?
India gained tremendously from the third industrial revolution.
It produced pioneers in information technology sector. Indian IT behemoths went on to service global companies across manufacturing, banking and retail. The country became the global center of IT services in three decades (since the 1990s).
In the coming fourth industrial revolution India's IT heritage - and the millions of highly skilled math and tech oriented engineers - will be an invaluable asset.
This can already be seen in many areas. Global tech behemoths have a penchant for Indian CEOs, and Bangalore's red hot tech streets are one of the biggest hubs of tech innovation on a global scale.
India is going to lead the AI and IoT based future industrial revolution.
Move over China's brawn. Here comes India's brain.
Warm regards,

Tanushree Banerjee
Editor, The 5 Minute WrapUp
Equitymaster Agora Research Private Limited (Research Analyst)
PS: Take advantage of this temporary market correction to buy the best 7 stocks in the market. Read about my top 7 stocks here.
Recent Articles