The One Strategy that is Working in the Market Today
Mar 24, 2020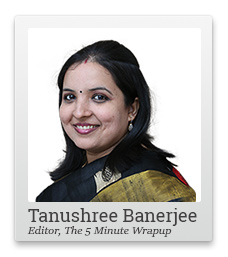 Terms like Black Monday seem passe when you think about the unprecedented 13% crash in the BSE Sensex yesterday.
There is no denying that we are in an unchartered territory.
And that the coming days and weeks could continue to surprise us in terms of price movements across asset classes.
However, this is not the first time that the Sensex has correction of such magnitude.
Just think back to what happened in September 2018. Back then, the BSE Sensex plummeted by 38% in 4 months, upto December 2018. This time, the correction has already been 39% in the past three months.
Also, we may have few more sessions of bloodbath in the markets.
Long time Wrapup readers know that I usually rub my hands in glee in such markets. For these are precisely the times when I can recommend the safest of stocks. That too with the widest moats and margin of safety.
But this is not 2014 nor 2016. And stocks may not be bouncing back in few weeks.
I have been warning that the fundamentals could get worse before they get better. And therefore, investors need a lot of diligence and patience. Only then can they emerge unscathed and yet make big profits from this crash, over the long term.
After all, safety of capital is far more important in current markets than size of returns.
I am sorely disappointed when I come across reports of billions getting wiped off in the markets due to trading losses.
But a conversation with Vijay Bhambwani, a trader with over three decades of experience, gives me hope.
Vijay is the editor of Fast Profits Daily.
When opportunity arises, he uses a unique combative strategy of trading.
However, when he sees risks outweighing returns, he prefers to defend his subscribers' wealth rather than putting it at risk.
Even 'No Action' Is a Superb Strategy. I cannot agree more with these words of Vijay.
Over the past year, Vijay has basically benchmarked himself with some of the leading hedge funds in the western markets. He has set himself the target of trying to match, if not outperform, the percentage returns that those hedge funds have fetched.
But when the markets started turning negative, Vijay made a dramatic shift in his views and trading strategies. If you listen to this, you'll be amazed at how accurate he was.
He called the stock market crash...
...the crash in price of oil
...the crash is gold and silver
And of course, the crash in stock prices
He was bang on.
Now, Vijay has taken an ever-bigger challenge. He wants to deliver trading profits to his subscribers even in the most testing times.
And guess what? He has not had a loss-making trade in the last six months!
Yes, that's Vijay for you. A trader who seeks to protect the downside and maximise upside in the short term, just as I would do that for you over the long term.
Vijay's last 11 recommendations have been profitable and that is a commendable achievement.
Vijay will be sharing full details of his trading system on Monday, 30 March at 5pm.
I will carefully listen to what Vijay has to say.
I recommend you sign up for Vijay's upcoming event today.
Warm regards,

Tanushree Banerjee
Editor, The 5 Minute WrapUp
Equitymaster Agora Research Private Limited (Research Analyst)
PS: Join India's #1 trader, Vijay Bhambwani, for the Weekly Cash Summit to discover the most profitable strategy for this market. Register for FREE here...
Recent Articles