The Only Trader I Listen to and You Should Too
Mar 25, 2020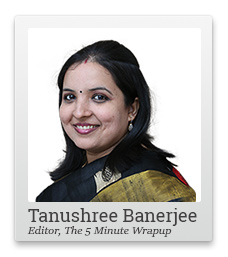 Let me start with a confession.
I used to be unconvinced about trading the markets. I would rarely take any trader's view on stocks seriously.
Why?
I strongly believe, buying stocks is always about buying businesses. Stock prices reflect how the business does in the long run.
Can the value of any business change by 20% in a day?
No, of course not.
But in the stock markets, prices do. That's precisely why I would ignore short-term price movements.
It's also why I would ignore traders views on the market as well.
I don't think in this manner anymore. My belief in fundamentals remain as strong as ever but how I look at technical charts and trading calls has changed a lot over the last year and a half.
I credit Vijay Bhambwani for changing my opinion. We call Vijay, India's #1 trader...and for good reason.
--- Advertisement ---
FREE Event on Equitymaster's New Project

On May 17, we are holding a FREE event to reveal Equitymaster's Great Indian Wealth Project.

At this event, we'll reveal the details of your first stock for a potential Rs 7 crore in long-term wealth.

Seats for this event are filling up fast.

Since there are limited seats, we urge you to register at the earliest.

Click here for free sign-up
------------------------------
I remember when I first met Vijay and heard him share his views on trading and the markets. I was surprised.
He is certainly not your typical trader who only talks about charts and prices.
Vijay is very well read and has a clear world view based on more than 30 years of experience making money in India's financial markets.
That's something most traders and many investors don't have.
In fact, he developed an entirely unique trading strategy based what is currently happening around the world. He calls it his Weekly Cash Blueprint.
You see, trading is a zero sum game. There can't be a winner without a loser. There can't be a profit without an accompanying loss.
In a nutshell, that is what Vijay's strategy is all about - Taking money from other trader's pockets and moving it via the trading terminal, into your pocket...consistently.
This is easier said than done. Connecting global events to actual rupee profits in your bank account is something very few traders can do.
But my initial doubts vanished over time. His calls have been right again and again. Just listen to this video he recorded on the coronavirus impact.
He recorded this when many were not taking the coronavirus seriously. This is what Vijay had to say then...
So, when will the Coronavirus fear be lifted as a dark cloud prevalent above the markets? My guess is only when mankind has found a workable and a reasonably reliable cure for the Coronavirus.

Till then, the markets will continue to run helter-skelter like headless chickens.
The Indian stock market has fallen 36% in just over a month. Vijay's subscribers would've been saved from a lot of pain in this market.
To be honest, I am not surprised at his impressive track record. He's had 16 out of 22 profitable trades in these difficult times and his last 11 trades, over the last six months, have been profitable.
He has delivered a return on investment of 42.95% for his subscribers at a time like this when everyone is barely managing to stay afloat due to daily losses.
Clearly, Vijay's weekly cash blueprint works brilliantly and I'm sure his subscribers will agree with me.
I always pay close attention to what Vijay has to say whenever he drops in to the office.
He is working from home these days just like the rest of us but he will be online for his upcoming event on Monday, 30 March at 5 pm.
Don't miss Vijay's Weekly Cash Summit. I know I won't.
FREE Event: The Great Indian Wealth Project
Chart of the Day
Stock markets the world over have seen a sharp fall. Indian share markets have declined sharply as well.
The Sensex saw its biggest one-day fall on Monday 23 March.
Is this the Future of Stock Trading?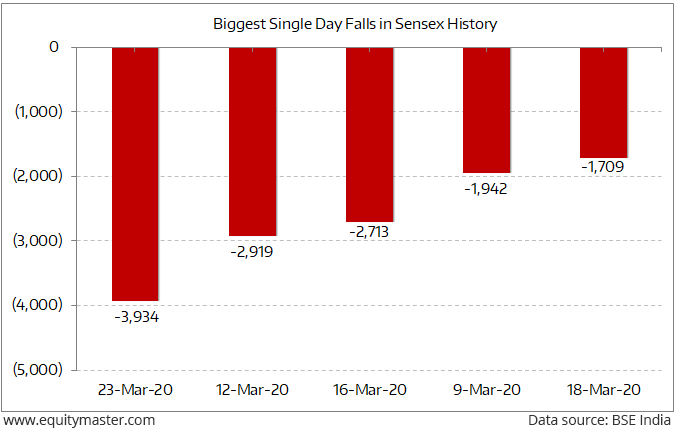 The coronavirus pandemic has created a sense of fear among investors and traders worldwide.
What is different about this market crash unlike others before it, is the pace of fall.
The Indian share market has fallen more than 35% from its peak in just over a month, which is the fastest crash in history.
The sharp decline can be attributed to algorithmic trading as well as foreign institutional investor (FII) outflows.
In this new era of sharp declines, the rebound rally can be equally sharp and quick as well. It is important to remember this.
A part of this decline is due to the coronavirus impact, a part of it is due to external factors as well.
Look at fundamentally strong stocks in this market correction. I believe, these stocks will likely rebound the fastest when the coronavirus threat passes.
Warm regards,

Tanushree Banerjee
Editor, The 5 Minute WrapUp
Equitymaster Agora Research Private Limited (Research Analyst)
PS: Join India's #1 trader, Vijay Bhambwani, at the Weekly Cash Summit to discover the most profitable strategy for this market. Register for FREE here...
Recent Articles