The Risk that Facebook and Punjab National Bank Have in Common...and How You Can Avoid It
Mar 27, 2018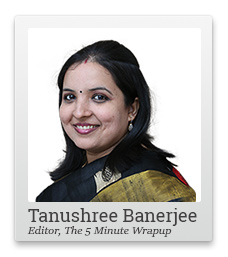 It takes 20 years to build a reputation and five minutes to ruin it. If you think about that, you'll do things differently. - Warren Buffett
Not many managements or investors take this advice from the world's most successful investor with the seriousness it deserves.
If that were the case, even ten years after Lehman and Satyam, instances like the PNB fraud and the Facebook scam would have not served us reminders.
The fact is, it happens with alarming regularity.
The result?
Several blue chips turn into smallcaps over time.
There're the ones that can't keep up with the growth of their peers.
So they misallocate capital and end up ruining their balance sheets.
And like Satyam, PNB, and Facebook...they lose their reputation (and market cap), built over years, within a few days.
--- Advertisement ---


Should You Be Afraid of the Market Crash?

These days are not good for investors. The market has entered 'meltdown mode'.

But we think crashes are necessary, from time to time, for the healthy functioning of markets.

So, today, I'm going to show you how to take advantage of the Market Crash using our small cap stocks recommendation service.

Our small cap service has had a superb 10-year run. And to celebrate that we are giving you an opportunity to claim 1 year access to our Small Cap service... virtually FREE!

But this unique opportunity ends on 31st March 2018.

So, you need to act fast...

Click here to learn more...
------------------------------
In each case, investors who have paid blue chip-like valuations for these stocks, end up as innocent victims.
And don't think that being part of the Sensex or Nifty can save them. Satyam was a part of both.
Blue chips that are part of the benchmark indices can and do become small caps.
Consider this...
On average, about 14 Sensex stocks have exited the index every five years, since 1996.
Churn in S&P BSE Sensex Components
Note - The year 1996 witnessed a big churn in the index, when fifteen new companies made it to the Sensex; the above data for churn excludes the cases of ICICI Ltd. being replaced with ICICI Bank in 2002 and Sterlite being replaced with Vedanta in 2013.
Stocks like Premier Ltd, Hindustan Motors, NOCIL, Mukand, Bombay Dyeing, and MTNL were the biggest blue chips in their heydays.
Where are they now?
Over the years, they've turned into small caps and eventually faded into oblivion.
NIIT Ltd and Ballarpur Industries were Sensex blue chips once. Today, they too are small caps.
Sensex Revamp Over 25 Years
Now, how can you sidestep such false blue chips that are poised to become small caps?
Recognising blue chips with redundant businesses is relatively easy.
But identifying the next PNB or Facebook is not.
The accounting shenanigans and fraudulent deals are often too complex and too well-hidden for even auditors and regulators to discover.
Minority shareholders are typically the last ones to know.
Therefore, for you, 'price' is your basic due diligence.
If a large company is growing slower than its peers, its stock will trade at a lower valuation.
Similarly, managements of even the largest blue chips who tolerate mediocre corporate governance standards, deserve to have the shares of their company trade at low valuations.
The track record of managements that go wrong in this regard, tend to offer excuses, retain employees with tainted records, and mis-represent facts to shareholders.
These need to serve as your warning signs.
Now I understand this is not always easy...even for Warren Buffett.
In fact, he got a dose of his own medicine once. At the Berkshire Hathaway 1990 shareholder meeting, a nine-year boy, Nicholas Kenner, pointed out that his age was mis-stated in the year's annual report. Therefore, he had enough reason to suspect if Berkshire's financials at the back of the annual report were reliable!
He had a point.
When it comes safe stocks, do not take size and reputation for granted.
Sidestep reputation risks by buying blue chip stocks with a solid margin of safety.
Regards,

Tanushree Banerjee (Research Analyst)
Editor, The 5 Minute WrapUp
PS: You don't need to take unnecessary risks to make solid double or triple digit gains in the stock market. Tanushree's selection of the top 5 safe stocks in the market is the answer. Get the stocks here...
Recent Articles