Did We Miss the Plane By Not Recommending IndiGo?
Mar 27, 2019
I should have bought stock X last year. Just look at it now. It's up 80% in less than 6 months.
I should have sold stock Y when it was up. Now it's down 50% in less than 3 months. My gains are wiped out.
Has this ever happened to you?
In retrospect, we are all masters of timing the market.
But in reality, it is impossible. You just cannot time the market. Period.
But there's one thing that you can do.
You can go back and think about why you make that call.
Why did you sell stock Y?
Why didn't you buy stock X?
Analyse, understand, and make mental note of your reasons.
This way, you will be well prepared if you find yourself in a similar situation in the future.
--- Advertisement ---


The Only Stock to Score 9.5/10 on the Smart Money Score

The Smart Money Score Rates This Stock 9.5/10!

Solid brand name, excellent management, strong cash flow...this stock seems to have it all!

It's the only company ever to have a scored a 9.5 on Sarvajeet and Radhika's Smart Money Score.

One of our favorite super investors owns a huge stake in this company...

Promoters are increasing their stake...

And what's more - the current market correction has pushed its share price down by 30%!

Making it a strong BUY on Sarvajeet's list of top stocks for 2019.

Read more about it here...
------------------------------
Today, I want to talk about one such opportunity.
IndiGo.
The stock is up more than 70% is less than 5 months.
While looking back, we, at Smart Money Secrets asked ourselves some tough questions:
Did we really miss this opportunity?
Was this an opportunity at the time of maximum pessimism?
Was this a perfect example of the Capital Cycle? (Companies are impacted by changes in the supply side much more than changes in the demand side).
Let's delve into this...
First, we considered the 'base rate'. The base rate describes the odds of an event in terms of prior probabilities.
What's the base rate of investing in an airline business?
If you look at the overall aviation industry in India, the results are not encouraging. Kingfisher Airlines went bankrupt. Jet Airways is under pressure. SpiceJet had its own struggles if you look at the past 15-years.
From this angle, the aviation industry scored a big negative.
Second, the competitive intensity.
When you analyse the aviation industry, the competition is the biggest factor.
This is what I wrote in August of last year:
It is a well-known fact that crude oil is a major cost (~40% of the revenue). So, when oil prices go up, ticket fares should also rise.

But that's not an easy thing for airlines to do.

You see, airlines are unable to recover the increase in the cost due to stiff competition. Lately, airlines have been very aggressive in pricing. So, increasing airfares is difficult.

Clearly, airlines lack pricing power as the air ticket price is a function of intense competition.

Really, it's a paradox.

Despite the sector growing in double digits, airlines are reporting a decline in profits or even losses.

It is really the structure of the industry itself that does not allow owners to breathe easy.
This is evident in the quarterly results of IndiGo.
| IndiGo Result | 4QFY18 | 1QFY19 | 2QFY19 | 3QFY19 |
| --- | --- | --- | --- | --- |
| Sales growth (%YoY) | 20% | 13% | 17% | 28% |
| Operating Profit Growth (%YoY) | -74.44% | Loss of Rs 110 Million | Loss of Rs 10 billion | -87.84% |
Data Source: ACE Equity
Despite generating double-digit sales growth, the company reported a decline in profits and even registered losses. This is clearly due to pricing pressure on the company due to the intensity of the competition.
So, at this point, we were sceptical.
Finally, the issue of rising crude oil prices.
At that time, the crude oil price was steadily rising. Indigo was clearly feeling the heat.
We were doubtful about the company's ability to maintain high profitability that it achieved in low crude price scenarios.
So, on this front as well, we were negative.
But little did we know about the 'creative destruction' was taking place in the aviation industry.
Creative destruction refers to the process in which new entities in the economy replace obsolete ones.
In other words, old firms and industries, which are not profitable anymore, close down. Their destruction enables the resources to move into more productive processes.
The aviation industry is going through similar scenario.
These are some of the things that have happened over the last 5-6 months in the aviation industry.
First, difficulties compounded at Jet Airways.
Jet Airways was struggling for quite some time. But this time, it led to several cancellations. Jet grounded its planes almost on a daily basis due to its struggles to pay its lessors. So, this sucked out the supply from the system.
Second, SpiceJet was forced by the DGCA to ground the 13 Boeing 737 MAX 8 jets in its fleet. This was on the back of the crash of an Ethiopian Airlines Boeing plane. This again created some pressure on the supply side.
Overall, this led to demand-supply mismatch.
Not to mention, crude oil prices have stabilised at a reasonable level of US$ 60-65 in the last few months.
However, looking back, it was difficult to predict all this.
With less supply, the market leader, IndiGo further gained market share to 43.4% from 40% last year.
What about the lessons to be learnt from this whole episode?
Clearly, changes in the supply side of the industry are more important to profitability than those on the demand side.
It also shows how a market leader in an industry becomes stronger when the overall business environment becomes challenging.
In a way, the market leader has a high 'capacity to suffer'.
So, did we really miss the plane?
Our reasons for not recommending are still valid even today. (i.e. competitive intensity, profitability affected by crude oil prices etc.)
Further, a slow-down in air passenger growth is evident (more in today's chart of the day). This would reduce the demand-supply mismatch.
Similarly, the airline industry's seating capacity will come back soon. This is because lenders have decided to support Jet Airways' revival. This would again increase the supply in the market.
So, considering all this, we don't really mind missing this plane.
But on an interesting side note, we didn't miss this ship. 😊
We recommended this stock in July 2018.
Just like IndiGo it is also a typical example of the capital cycle.
As the author of Capital Account mentions:
Capital cycle analysis must always be accompanied by a parallel analysis of management's reinvestment discipline.
We believe, the management of this company we recommended to our Smart Money Secrets subscribers has an excellent track record of capital allocation. This has clearly differentiated the company from its competition.
Currently, the stock has come in to the buy zone and we believe the upside is about 50% from these levels.
Smart Money Secrets subscribers would be aware of which stock I'm referring to. If you're a subscriber, then you can click here for our recommendation report.
If you haven't subscribed to Smart Money Secrets yet, you can access the report by signing up here.
Chart of the Day
While looking at the current demand-supply scenario in the aviation industry, it is important to look at how air passenger traffic is growing.
Air Passenger Growth is Tapering off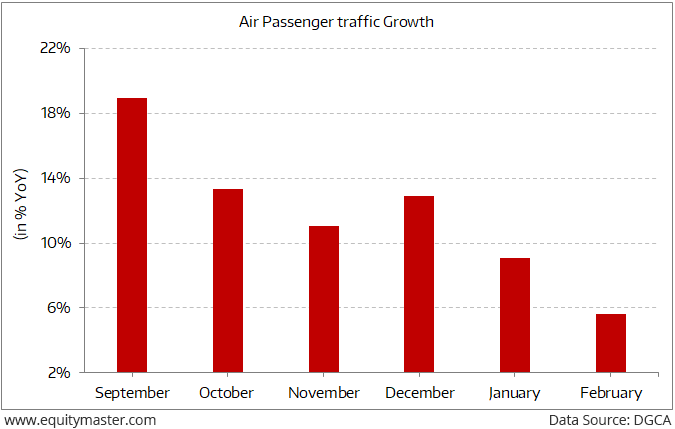 In February, domestic air passenger traffic reported its lowest monthly passenger traffic growth since January 2015. It registered a marginal annual growth of 5.6%.
Similarly, in January, the number of passengers flown by domestic airlines grew at 9.1% YoY, while in December, it increased by 13% YoY. This is way lower than the historical growth rate of 20% between 2014-2018 period.
A slowdown in passenger growth is due to several factors. These include frequent flight cancellations due to grounding of fund-starved Jet Airways' aircraft, pilot shortages faced by IndiGo, NOTAMs (notice to airmen) at various airports, and a rise in airfare etc.
In the last 5 years, we saw a surge of middle-class travelling by plane. But when the ticket price goes up, many of them prefer an alternate mode of transportation.
That shows the price sensitivity of the Indian consumer!
Regards,


Sarvajeet Bodas ,
Co-editor and Research Analyst, Smart Money Secrets
PS: Radhika Pandit and Sarvajeet Bodas, co-editors of Smart Money Secrets, have recently recommended their latest stock. If you haven't subscribed to Smart Money Secrets yet...you can do so here.
Recent Articles