How to Humble the Stock Market At Its Own Game
Mar 28, 2017
In this issue:

» Mutual Funds Struggle to Beat the Index
» GST In the last Lap
» ...and more!
In his most recent letter to shareholders, Warren Buffett had some flattering words for Jack Bogle...
If a statue is ever erected to honor the person who has done the most for American investors, the hands-down choice should be Jack Bogle.
Bogle has been the face of the war against active investing. A war against a greedy industry that not only charges exorbitant fees but collectively fails to beat the benchmark indices.
Bogle's mission has been to get as many investors as possible into a low-cost index fund. His firm, Vanguard, has been getting them by the truckloads in recent years.
Vanguard today is a colossus, managing over US$4 trillion in mostly passively managed, index-style investments.
Even Warren Buffett, that paragon of active investing, is on Bogle's side. Buffett has many times recommended a low-cost S&P 500 index fund.
Bogle's idea is irrefutably logical. Active investors collectively don't beat the benchmark indices or, by extension, index funds. And to make matters worse, they pay high fees. A low-cost index fund, then, would seem a smart way to invest in stocks.
Does this sound the death knell for active investing? We don't think so. We have hope. And that's because we believe in the power of smart algorithms.
Yes, that's right.
You just need an algorithm that's smarter than the algorithm of the index fund. After all, aren't index funds strictly algorithmic? Which company to add to the index? Which company to sell? How much? It's all pre-determined. There is no scope for human intervention.
Most active investing, on the other hand, is practiced by biased investors. Men and women who have their off days. Who get annoyed...and bored. And who fall prey to greed and fear. The same information fed to their brains at different times leads to different outcomes. The end result is sub-optimal decision making.
It is any wonder that across different fields, even simple rule-based algorithms beat human decision making categorically? The stock market is no different. And that's why people like Bogle keep recommending algorithm-based index fund investing.
If active investing should outperform index-based passive investing, it must beat the latter at its own game. In other words, design an algorithm that's smarter than the index fund algorithm and then stick to it.
We use an algorithm like this in our Microcap Millionaires service. It aims to take advantage of two big weaknesses of the index fund algorithm...
The algorithm is not limited by being 100%-invested in stocks. So whenever the markets are expensive, it moves mostly out of stocks while maintaining a reasonable 25% position. So when the markets correct, it loses a lot less than the index fund.
Secondly, an index fund might have stocks ranging from undervalued to fairly valued to extremely overvalued. The Microcap Millionaires algorithm recommends only the cheapest stocks with the biggest upside potential.
This algorithm has been working beautifully. It is beating the index algorithm by a factor of 3:1. And while the Sensex is up 42% since we launched the service, Microcap Millionaires is up 144%.
This Benjamin Graham-designed algorithm is based on sound logic, and there's no reason why it shouldn't continue to beat a passive, low-cost index fund over the long run.
03:15

Chart of the Day

While we are on the topic of active v/s passive investing, let's have a look at the Indian scenario.

The Indian mutual fund industry is not a big fan of index funds. They are not marketed well. These funds don't have a lot of assets under management. Not a lot of investors are aware of them. And those who are do not invest in them.

Why?

Because Indian investors believe mutual funds can consistently beat the index. But is this true?

Not really.

As today's chart shows, a majority of funds, across categories, underperform their respective indices.
Are Fund Managers Struggling to Beat the Index?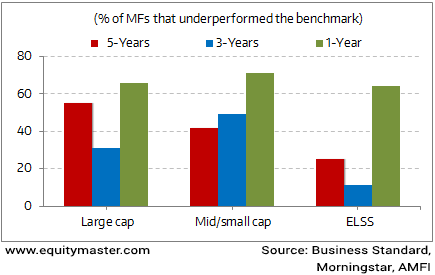 As per an article in the Business Standard, it's getting really hard for fund managers to beat the market. This is understandable. As competition increases, more money chases the same number of stocks.
The result? Underperformance.
We believe, this trend will only get worse over time.
We won't be surprised if only a small number of funds are able to beat the market a few years down the line.
The Goods and Services Tax (GST) is all set to become a reality soon. The government tabled the necessary GST legislation in Parliament. The chances are bright for a 1 July 2017 GST roll-out.
Finance minister Arun Jaitley introduced the central GST bill, the integrated GST bill, the Union territory GST bill and a bill to compensate states for revenue losses arising from the transition to GST.
The bills will be taken up for debate on Wednesday. They are expected to be passed in the ongoing second half of the budget session.
The bill caps the peak GST rate at 40%. However, the rates agreed upon by the GST council are much lower. The council has agreed to a four-tier rate structure-5%, 12%, 18%, and 28%.
Besides, a cess will be levied on demerit and luxury goods on top of the peak rate. This will create a fund, to compensate states for revenue losses.
We believe, GST can give a boost GDP growth by removing inter-state barriers and turning India into single market.
While some minor details remain to be ironed out, we don't foresee any problems in the roll-out now. What is more important is the implementation of this landmark legislation.
Now, this doesn't mean that investors should get carried away and buy 'GST stocks'. Your broker will no doubt try to sell you some. We see no reason why investors should change their strategy when GST becomes a law.
For some perspective on this issue, I recommend the 4 August 2016 edition of The 5 Minute WrapUp - GST Approved: Time to Buy Stocks by the Fistful?
After opening the day on a positive note, the Indian stock markets traded above the dotted line. Most sectoral indices were trading higher. At the time of writing, the BSE Sensex was trading up by around 177 points. The biggest gainers were banking and pharma stocks.
The BSE Mid Cap index was trading up by 0.7%, and the BSE Small Cap index is trading up by 0.9%.
04:55

Today's Investing Mantra

"Investing is simple, but not easy." - Warren Buffett

This edition of The 5 Minute WrapUp is authored by Rahul Shah (Research Analyst).
Today's Premium Edition.
VIP Industries: A Good Proxy on the Rising Travel Trend?
VIP Industries: Should you travel along?
Read On... | Get Access
Recent Articles