Will Mission Shakti Bring Defence Stocks into the Limelight?
Mar 28, 2019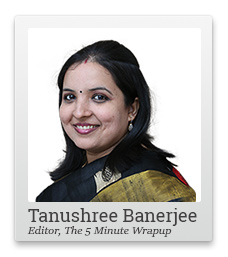 There are certain things or people that always fly under the radar.
A guy/girl at school who no one notices until s/he tops the class.
In sports, there are players who are consistently excellent but rarely spoken about.
Which stocks come to your mind when you hear the term 'multibagger'?
These are stocks that have given 10-20-50 times returns in the past one or two decades.
What if I tell you there is a stock that has beaten HDFC Bank's returns over an 18-year period going all the way back from January 2000?
You won't hear your investing friends talk about this stock often. You can't blame them. It's part of a sector you'll hardly find people talking about.
So which stock am I talking about?
Try asking your friends about multibaggers and see how many come up with this name.
--- Advertisement ---


The Only Stock to Score 9.5/10 on the Smart Money Score

The Smart Money Score Rates This Stock 9.5/10!

Solid brand name, excellent management, strong cash flow...this stock seems to have it all!

It's the only company ever to have a scored a 9.5 on Sarvajeet and Radhika's Smart Money Score.

One of our favorite super investors owns a huge stake in this company...

Promoters are increasing their stake...

And what's more - the current market correction has pushed its share price down by 30%!

Making it a strong BUY on Sarvajeet's list of top stocks for 2019.

Read more about it here...
------------------------------
This stock is a multibagger PSU from the defence sector that has beaten HDFC Bank's returns over the last 18 years!
Despite this impressive performance, the stock is rarely talked about. As a matter of fact, the defence sector is hardly spoken about.
We constantly hear of consumption, and financials as mega-trends...but not defence.
Why not?
The potential for the sector is huge.
India has the third largest military in the world. It is also the fifth largest spender on defence.
But as of 2017, India's military spending was just 10% of the US and 28% of China.
In fact, India's military spending as a percentage of gross domestic product (GDP) is only 2.5%.
This is much lower than countries like US and Russia at 3.1% and 4.3% respectively. Even our neighbor Pakistan spends 3.5% of its GDP of defence.
As I've said many times before, India is moving towards becoming a 10 trillion dollar economy.
Isn't this a huge untapped opportunity? Isn't the sector a future megatrend that no one is talking about?
Well, after Prime Minister Modi's address to the nation yesterday, investors have started to talk about it. Yesterday's announcement was a huge shot in the arm for the sector.
Under Mission Shakti, India tested its first anti-satellite weapon. It shot down a satellite in low earth orbit. Thus, India became the fourth nation after US, China, and Russia to demonstrate this capability.
Currently, 35% of the country's total defence requirement are manufactured within the country. The rest is met through imports.
Events like Mission Shakti have shown what India can do in-house. I believe, a huge opportunity lies in wait for India's defence manufacturers.
How do you act on this, dear reader?
I have zeroed in on 3 stocks most likely to benefit from India's defence wave.
I believe, events like yesterdays are likely to be the norm rather than the exception in the near future.
Chart of the Day
A look at India's defence budget allocation gives us a fair idea about the opportunity in this sector.
India's defence allocation has nearly trebled in the past decade (2009-2019).
India's Increasing Allocation to The Defence Sector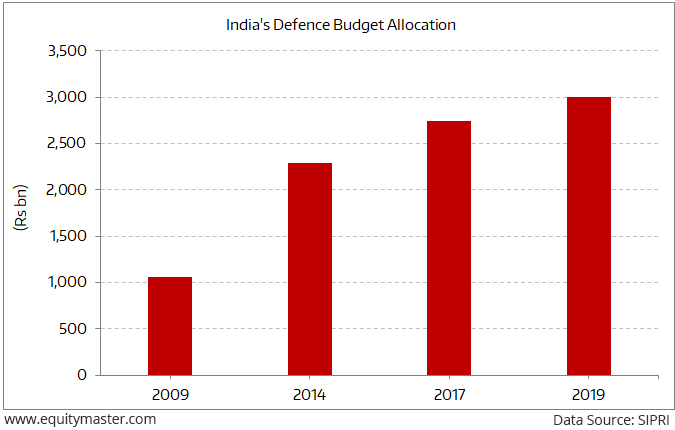 However, most of the spending in the past decade was manpower related i.e. salary and pensions.
India needs a big push towards modernisation of its weapons.
The government's recent policies are aimed at rectifying two major issues.
Reducing India's over dependence on imports.
Expanding the defence budget to modernise existing equipment.
India's recent tensions with its neighboring countries is likely to accelerate these initiatives. The players most likely to benefit are India's private sector defence manufacturers.
Warm regards,



Tanushree Banerjee
Editor and Research Analyst, The 5 Minute WrapUp
PS: Tanushree Banerjee, editor of StockSelect, has uncovered the 3 stocks that are best placed to ride the boom in India's defense industry. click here to know more...
Recent Articles