This is the Kind of Company that Does the Best in the Stock Market
Mar 29, 2019
Did you know that for every 100 grams of extra weight on a shoe, a runner uses 1% more energy?
1% may not sound like much.
But a researcher at the Nike's Research Laboratory calculated that cutting 100 grams from a shoe would mean a faster marathon time by up to 3 minutes.
To a professional marathon runner, 3 minutes could be the difference between a Gold medal and no medal.
Indeed, less is more.
I went trekking in the Himalayas recently and I saw something similar.
During the last stretch of a steep mountain climb, in difficult terrain, people minimise the things they carry with them.
They just remove all the unnecessary stuff. No extra weight.
It becomes easier to climb.
--- Advertisement ---


The Only Stock to Score 9.5/10 on the Smart Money Score

The Smart Money Score Rates This Stock 9.5/10!

Solid brand name, excellent management, strong cash flow...this stock seems to have it all!

It's the only company ever to have a scored a 9.5 on Sarvajeet and Radhika's Smart Money Score.

One of our favorite super investors owns a huge stake in this company...

Promoters are increasing their stake...

And what's more - the current market correction has pushed its share price down by 30%!

Making it a strong BUY on Sarvajeet's list of top stocks for 2019.

Read more about it here...
------------------------------
Less is more!
I see the same philosophy is businesses as well.
Here, I call it by its name - asset-light model.
You see, nowadays, businesses are constantly seeking new and innovative ways to scale up fast, effectively, and efficiently.
This has given rise many alternate models of operations, including the concept of going 'asset-light'.
Companies go asset light by owning fewer capital assets compared to their operational assets. They do this by reducing the various capital assets. This includes the likes of land and building, plant and machinery, cars etc.
By doing this, companies stand to gain a significant advantage when compared to their competitors who are asset heavy.
How?
A company with high fixed costs relies on revenues to cover those costs. Here, profit depends on capacity utilisation. Whereas, asset-light companies' costs are more variable relative to their revenues, so profits are less volatile.
Similarly, companies with lower levels of asset ownership are able to respond faster to changing demand, technology advancements, and new market opportunities. These companies are more agile.
Not to mention, asset-light models can help companies achieve scale without having to invest capital.
Finally, this model also has an advantage of delivering a better return on capital (more in the chart below).
If you look at the world's top five companies by market capitalisation, four - Apple, Alphabet, Amazon, and Microsoft are asset-light.
As the economy evolves, asset-heavy businesses are losing importance.
Sure, there as some downsides as well. The asset-light model is not 'full proof'.
For example, this model increases a company's dependence on its vendors. Since some of the activities are outsourced, there could be a delay in deliverables or a compromise on quality.
Also, there could be a case that the outsourcing partner shares trade secrets with rivals.
All this could have an adverse impact on the business.
However, the good news is that all these downsides can be controlled.
For example, appointing a team at a vendor's place to check quality and processes. Or duplicating some of the activities that partners perform, such as having your own logistics system or own stores etc.
Such smart control techniques allow companies to overcome potential downsides of the asset-light model. They can then reap the benefits of the same.
In Smart Money Secrets, we look for companies which have an asset-light model.
But importantly, we also look at how these companies use smart control techniques to overcome any downside of the asset-light model.
As I write this, my team and I putting the finishing touches on a special report. This report includes 3 stocks which follow an asset-light business model.
We will publish this report very soon. Watch out for it.
One thing is clear. The asset-light business model is here to stay and companies which follow this strategy effectively are potential wealth compounders.
Chart of the Day
An asset-light business model strategy often leads to a high return on capital.
In the Indian context, companies such as Symphony, HUL, Marico, and other FMCG companies come to mind when we talk about the asset-light model.
Asset-Light Businesses Registering Return Above 40%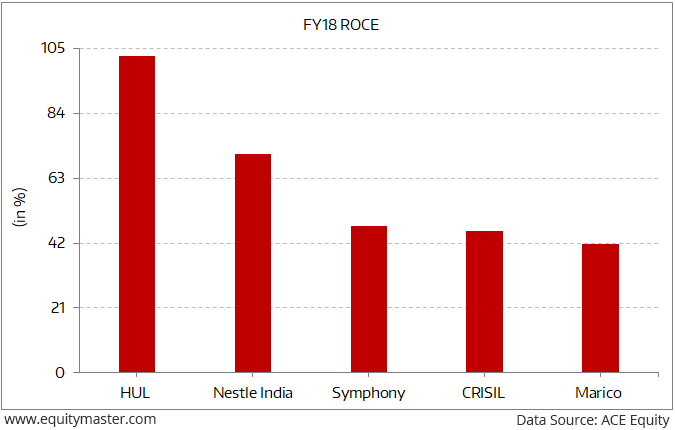 For example, Symphony, a leading air cooler company operates on a completely asset-light model. It outsources most of the work where it feels it cannot add value.
Symphony's focus on the brand and customer satisfaction helped it stay ahead of the curve.
FMCG companies (like HUL, Marico) outsource all their manufacturing activities. They focus on improving their brand and distribution network.
This leads to fewer assets and in turn, higher return on capital.
Warm regards,


Sarvajeet Bodas ,
Co-editor and Research Analyst, Smart Money Secrets
PS: Sarvajeet Bodas and Radhika Pandit have published their latest stock recommendation report recently. You can get the report by signing up for Smart Money Secrets here.
Recent Articles