You Can Make Big Profits from the Upcoming Defence Boom
Apr 1, 2019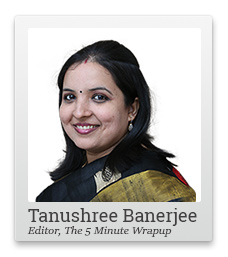 When the Modi government came to power, it launched a major initiative - Make in India.
The idea was to bolster India's manufacturing capabilities and reduce our dependence on imports.
It was also a vehicle to create employment and give the country's economic growth a major shot in the arm.
And there was one area where the government wanted India to become self-sufficient - Defence.
How does it intend to go about it?
By increasing private participation.
If you look at some of the advanced countries in the world - US, China, UK, Italy - you will find that they had privatised defense manufacturing a long time ago.
Take the US for instance. It's the world's largest military power. Yet it manufactures only 33% of its own requirements.
The rest come from a handful of private companies...
Boeing
Lockheed Martin
General Dynamics
Northrop Grumman
BAE Systems
Given the status of the US' military might, it is safe to say that privatisation in defence clearly works.
At the end of the day, the private sector is much more qualified and experienced at making weapons.
Also, stiff competition ensures that only the best of companies stay in business.
So, the Indian government's move to allow private participation in India's defence sector is a step in the right direction.
India is one of the top five military forces in the world.
It is also in the top five when it comes to defence spending.
But less than 35% of the country's total defence requirement are manufactured within the country...and that too by public sector units.
The rest is met through imports. This is what the government wants to change.
India Tops the List of Global Arms Purchasers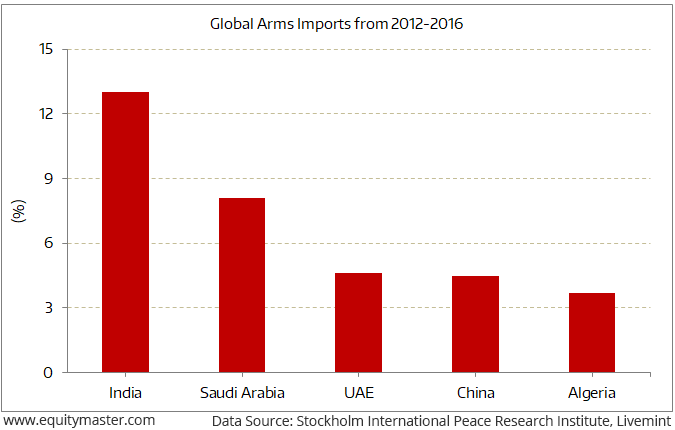 It means a huge opportunity has opened for India's private sector defence manufacturers.
Therefore, investors who put their money in stocks of these companies stand to benefit immensely in the long run.
So, how can you act on this huge opportunity, dear reader?
I have just published a premium report with details of 3 bullet proof stocks that are all set to ride India's defence boom.
If you've subscribed to my premium stock recommendation service StockSelect, click here for the report.
Warm regards,



Tanushree Banerjee
Editor and Research Analyst, The 5 Minute WrapUp
PS: Tanushree Banerjee, editor of StockSelect, has uncovered the 3 stocks that are best placed to ride the boom in India's defense industry. click here to know more...
Recent Articles