One Stock that is All Charged Up for the Post Coronavirus Rebound
Apr 1, 2020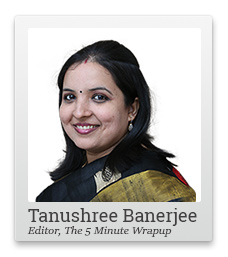 Three years back, in 2017, the bull market was raging.
Investors were happy to assume that it wouldn't end.
Stocks like HUL and Nestle were trading above 60 to 70 times earnings. Fund managers were happy to buy their 'quality' at any price.
The party did continue for over two years. And even after 30% correction from their peaks, these quality stocks remain among the most expensive in the markets today.
But it is worth remembering that stock prices move in cycles. Even owning a stocks like HUL had been painful in the past.
Back in 2017, I wrote about how HUL shareholders had endured a 13-year coma.
Yes, that was the fate of HUL's shares. It literally delivered nothing between 1997 and 2009.
What's worse was that even a PSU utility like NTPC beat HUL's returns for five years at a stretch.
NTPC Outperformed HUL 1.5 Times Between 2004 and 2009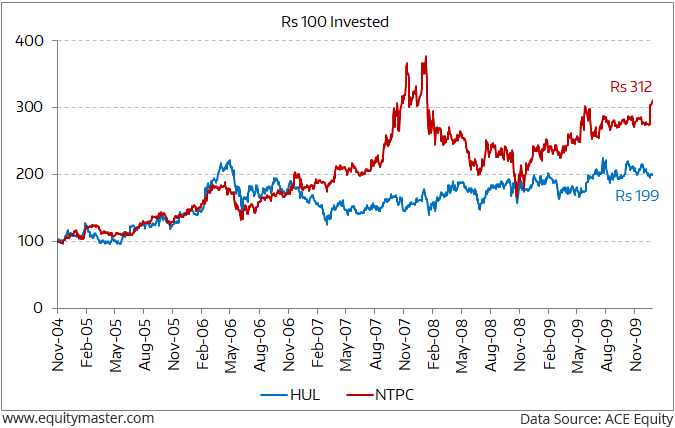 Yes, HUL was a FMCG company with high capital efficiency and strong brands. But it had taken debt to fund mergers and acquisitions like that of Lakme and Modern Foods.
In comparison, the cash flows were drying up. So, the company turned hyper-competitive in pricing.
Its strong brands did little to endear HUL to investors. (Remember, Kodak and Nokia have had such fates too!)
Meanwhile, NTPC was a super-efficient steady cash flow company with no debt on it's books. The government ownership had limited impact on the business.
So, the moats that NTPC enjoyed over HUL were:
No debt
Growing cash flows
Little wonder then, these differences in fundamentals had a direct impact on respective stock prices.
Things reversed starting 2009.
The exact same moats that NTPC enjoyed came handy for HUL. NTPC went heavy on capex, HUL did not.
Eventually, the shareholders of HUL had no room for regret over next decade.
HUL Outperformed NTPC 20 Times Between 2010 and 2020
I believe its time to focus on these moats once again. It's time to get back to fundamentals.
Businesses with lean balance sheets and sound cash flows are best placed to tide over the current crisis.
--- Advertisement ---
The Smallcap Revival Summit

Join us on the evening of 28th June to learn,

• Why despite rallying over 180% since March-2020 lows... small-cap stocks are set for a massive rally over the coming months and years
• Details of our top 3 stocks to capture potentially huge gains from this upcoming small-cap rally
• And how to spot opportunities, even in the current market, with the potential to generate 200%, 400%, and even 900% long-term gains

Plus, there is a lot more that we are going to cover.

The summit is free to attend for Equitymaster readers.

But since there are limited seats, we would recommend you to register at the earliest.

Grab your spot for the Summit here. It's free.
------------------------------
Mind you, the company should also keep its cash flows steady in the months of following the crisis. Its products should be a necessity during the phase of economic revival. And it should be able to cater to the demand without stretching its balance sheet.
I have found a company that fits these requirements to the tee.
It's products will be vital in the post coronavirus phase.
In fact, it's domestic and international customers will increasingly reduce their dependence on Chinese imports. This company could benefit from this shift.
Second, it has only one domestic competitor.
Third, even ISRO will increasingly depend on its supplies for it's space projects.
The real good news is that the stock's valuations are near 5-year lows.
Buying this stock now, will give you a good chance of charging up your portfolio.
In my last StockSelect report, I maintained my buy view on this stock.
You can sign up for StockSelect here.
Warm regards,

Tanushree Banerjee
Editor, The 5 Minute WrapUp
Equitymaster Agora Research Private Limited (Research Analyst)
PS: Get access to my top 7 stock recommendations here.
Recent Articles