Sensex is Near 40,000 and There's Still Room to Buy
Apr 2, 2019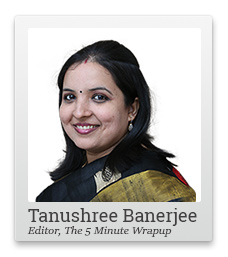 Brexit or Sensex 40,000?
I asked you this in a June 2016 issue of The 5 Minute Wrapup. And I warned that you should channel your greed and fear right.
The market sentiment then, was undoubtedly, fearful.
It was a time when everyone in the market was worried about the aftermath of Brexit. Even though most Indian businesses had little to gain or lose from Brexit, they bore the brunt of global correction.
And no one was paying attention to that fact that profitability of Indian companies was at multi year lows. This meant that as and when profits revert to the mean, a surge in the Sensex was a given.
It was then we predicted that the Sensex could breach 40,000 levels in three years (from around 27,000 in June 2016).
We did not pull that number out of a hat.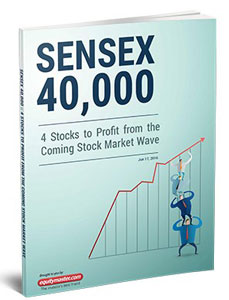 Rather it came after constantly tracking the long-term performance of hundreds of listed companies over all these years.
Our research revealed almost 70% earnings upside was possible in Sensex companies.
And that could take the index to 40,000 levels.
Thirty three months since then, the anxiety over Brexit continues to loom large on global markets.
However, the Sensex has already breached 39,000 level.
It is now just a stone's throw away from the target of 40,000.
--- Advertisement ---


"In 10 Years We Will Surpass Walmart's Sales"

When Alibaba was young, a Walmart executive congratulated its founder, Jack Ma, on doing a good job.

Jack Ma told him, "In 10 years we will surpass Walmart's sales".

It wasn't a reckless bet. Jack Ma knew he could win. To add 10,000 new customers, Walmart needs to set up a new warehouse. All Jack Ma needs is two servers.

In 2016, it surpassed the US $482.1 billion revenue reported by Walmart Stores Inc.

Alibaba is now the world's most valuable retailer but they have ZERO inventory of their own. All due to a secret 'click-of-a-button' strategy.

This strategy has changed industry dynamics.

This strategy has redefined the way of doing business.

And this strategy has crushed some of the oldest and biggest companies all over the world.

Want to know which Indian companies are using this strategy?

Believe me, knowing this could help you retire early and wealthy.

Click here and see yourself...
------------------------------
The 4 stocks that I had recommended StockSelect subscribers to buy in my Sensex 40,000 special report, outperformed my estimates. In fact, they met their target prices much earlier than I expected.
And I have not recommended selling the stock of HDFC Bank, yet.
How Did Our Sensex 40,000 Stocks Perfom?
Date of
Recommendation
Buy Price
Date of Booking
Profits
Selling Price
Change
Sensex
17-Jun-16
26,769
1-Apr-19
38,837
45%
Sensex 40,000 Stocks
Bharat Forge
17-Jun-16
375
26-May-17
566
51%
TCS
17-Jun-16
1,230
27-Apr-18
1,730
41%
HDFC Bank#
17-Jun-16
1,163
N.A
2,307
98%
L&T
17-Jun-16
994
6-Apr-17
1,683
69%
*Stock prices adjusted for stock splits
#HDFC Bank remains in open position
The question on your mind is: Is this then the time to start selling all stocks?
Well, the fact is that the earnings upside in most Indian companies has hardly been achieved.
Most Sensex stocks have gained simply because of a surge in their valuations.
But there are plenty of safe bluechips that still offer considerable earnings and valuation upside.
In fact, a few of these stocks have some strong tailwinds in their favour.
What kind of stocks am I talking about?
I am talking about the huge opportunity in India's defence manufacturing boom.
Countries with Highest Defence Budgets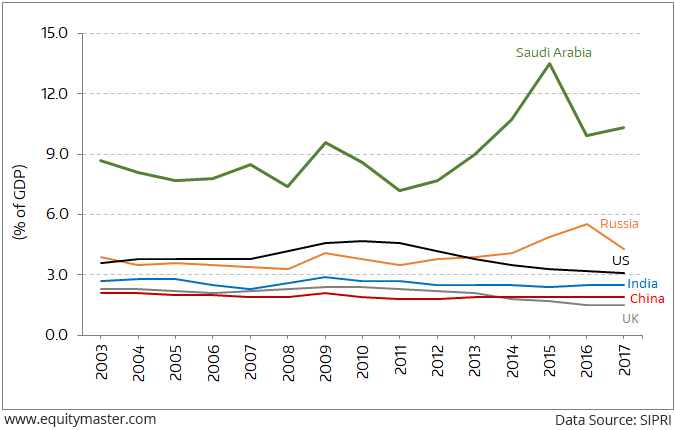 I have recently published a premium report with details of 3 bullet proof stocks that are all set to ride India's defence boom.
If you've subscribed to my premium stock recommendation service StockSelect, click here for the report.
Warm regards,



Tanushree Banerjee
Editor and Research Analyst, The 5 Minute WrapUp
PS: Tanushree Banerjee, editor of StockSelect, has uncovered the 3 stocks that are best placed to ride the boom in India's defense industry. click here to know more...
Recent Articles