Of 100-Baggers, Inflation, and Chocolates
Apr 3, 2017
In this issue:

» Top Sensex Winners and Losers of FY2016-17
» Are Mumbai Property Prices Gravity Defiant?
» ...and more!
I just finished reading an excellent book on finding multibaggers. More specifically, finding 100-baggers!
Yes, really. 100-baggers. The book is about stocks that multiplied 100 times and how to find them.
In fact, that's also the name of the book. It's authored by Christopher Mayer. I highly recommend it.
I learned a lot and I promise to write a detailed piece on how you too can find 100-baggers.
Today, I want to share something of great urgency for Indian investors: Inflation and how it affects some stocks worse than others.
We need to look only as far back as 2008-2014. Inflation was very high and the Sensex was stuck below 21,000.
Thus, adjusted for inflation, this was a disastrous time for the stock market.
In his book, Mayer highlights an important point. Finding just a single 100-bagger stock in your life can protect your wealth from inflation.
But which stocks can deliver such returns during a period of high inflation?
The answer: Stocks of asset-light businesses.
Mayer uses Warren Buffett's 1983 letter to shareholders to drive home this point.
The US suffered high inflation in the 1970s. The fear of rising prices had not abated in the early 1980s.
In his letter, Buffett compared one of his favourite business, the chocolate maker See's Candies with a hypothetical company 'Gold-Oil Co'.
See's Candies was an asset light business. It earned US$2 million profit on an asset base of US$4 million, i.e. a return on assets of 50%.
The Gold-Oil Co was a hypothetical asset-heavy business, also earning US$2 million profit. However, it had an asset base of US$18 million, i.e. a return on assets of just 11%.
Now we know that markets prefer asset-light business over asset-heavy ones. Buffett bought See's Candies at US$25 million, i.e. about six times its book value.
Let's assume the market values Gold-Oil Co at US$18 million, i.e. at about its book value.
Now inflation kicks in and doubles all prices in the economy.
Earnings of both companies need to keep pace. This, by itself, is hard to achieve.
But here's the key point.
Due to inflation, both companies need to probably double their investment in their assets too. For See's Candies, it's a US$4 million investment and for Gold-Oil Co, it's a US$18 million investment.
Once the period of high inflation is over, See's Candies will earn US$4 million profit on a US$8 million asset base and will be valued at US$50 million.
Gold-Oil Co will also earn US$4 million but on an asset base of US$36 million and will be valued at US$36 million.
Inflation was bad for both, but did you notice that it was worse for the asset-heavy business?
After investing US$18 million, the market cap of Gold-Oil Co grew by US$18 million.
On the other hand, after investing just US$4 million, the market cap of See's Candies grew by US$25 million...about six times!
Here's the takeaway...
In a period of high inflation, asset-light business win.
I believe this point about inflation should be on every investor's mind. It appears to me that the period of relatively moderate inflation in India could be over.
Consider this...
The government is spending a ton of money to boost rural consumption.
The RBI has indicated that it may be done with rate cuts.
As spending returns to normal after demonetisation, cash circulation in the economy will rise.
Early predictions of the monsoon are not very positive.
The trends point to a period of high inflation. Ideally, investors should be in stocks that can weather the storm.
Asset-light businesses are the place the be.
Recently, the Hidden Treasure team recommended not one but two asset-light stocks. Both have high growth potential. Both have low capex requirements. Both are run by good managements.
And best of all...both stocks are trading below their respective maximum buy prices.
You can gain access to these stocks here.
--- Advertisement ---
REVEALED: Equitymaster's Biggest Secrets...

Last year, we published a 220-Page hardbound book - Equitymaster's Secrets that revealed some of the Biggest Lessons from our entire 20-Year stock picking journey.

Since launch, over 13,000 readers have already claimed their copy of this exclusive book...Virtually Free!

And now, you have the same opportunity.

So, hurry...Claim your copy today, and we will have it delivered to any address in India.

Interested? Click here for full details...
------------------------------
03:15

Chart of the Day

Today was the first trading session of the fiscal year 2017-18. The Sensex is trading close to the 30,000 mark. There's growing optimism following BJP's win in the UP elections. There's growing enthusiasm in the IPO market following D-Mart's blockbuster listing. Indeed, the market sentiments at the start of FY18 appear to be quite optimistic.

Let's look at the year gone by.

FY17 was full of surprises. Some of the major events that the year saw were Brexit, interest rate hike by the US Fed, Union Budget 2017, the government's notebandi move, etc. The impact of these events was surely felt on the stock markets.

In the end, the benchmark BSE-Sensex ended the financial year with 20% gains.

Today's chart of the day gives you a glimpse of top three Sensex losers and gainers of FY17.
Top Sensex Gainers and Losers of FY2016-17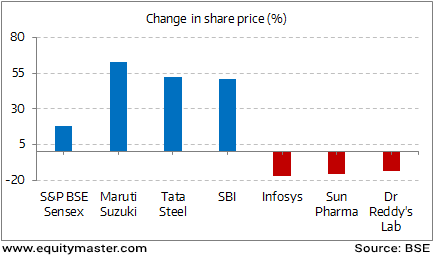 As you can see, Maruti Suzuki came out as the top gainer from the 30 large cap stocks forming the BSE Sensex. It delivered 63% return in FY17, and was followed by Tata Steel and SBI, which rose 52% and 51%, respectively. On the other hand, Infosys fell the most, followed by Sun Pharma and Dr. Reddy's Lab.
It's evident that blindly investing in a large cap blue-chip is no sure way to investing success. You must buy the right business at the right price.
That's exactly what our StockSelect team specialises in. In fact, our blue-chip stock recommendation service has an impeccable track record over a 15-year period. As per the latest December 2016 audit, StockSelect has a success rate of 79.9%. That's four winners out of every five recommendations since launch in 2002.
We strongly recommend you try our service. In fact, our marketing team has designed a Special Limited-Period Offer for our best-performing stock recommendation service. The team has never been able to extend such an offer before...and they tell me it could close very soon!
When it comes to real estate, the idea that prices will only go up is highly ingrained in us Indians. However, that's not how it works. As Sir Isaac Newton noted, 'What goes up must come down.' And this adage seems to be finally dawning upon Mumbai's real estate sector.
A recent article in the Financial Express states that property prices in Mumbai and beyond have fallen almost 15-20% over the past 12 months. This came as builders offered huge discounts to home buyers with the aim to get rid of their unsold inventory.
Developers are offering freebies to lure buyers. Many developers have offered buyers to book apartments that are nearing completion at the launch price, indicating a sizeable discount.
How did this happen?
Property prices over the past several years had risen way above fundamentals. And a fall was inevitable to reflect the ground reality shadowed by black money, political corruption, and builders.
Demand for houses simply dried up although there has been ample supply. Debt on the books of real estate players ballooned. And bankers became wary of lending to the sector on concerns of default rates rising. Therefore, the only solution was for prices to finally come down to acceptable levels.
Also, the fall in real estate prices became all the more pronounced after the notebandi move last year.
Will property prices fall further? No one can say for sure. One thing is certain, though. They are unlikely to skyrocket the way they did in the previous decade.
Indian share markets have started the new financial year on a robust note. At the time of writing, the BSE-Sensex was trading higher by 244 points (up 0.8%) and NSE-Nifty was trading higher by 48 points (up 0.5%). The mid cap index is trading higher by 0.6%, while the small cap index is trading higher by 1.2%.
04:55

Today's Investing Mantra

"Simplicity has a way of improving performance by enabling us to better understand what we are doing." - Charlie Munger
Today's Premium Edition.
It's Official! Your Information and Privacy Is Not Secure
The government, or any agency, that has access to your information can track and monitor your money, your transactions, your movement, your consumption, your communications...practically everything.
Read On... | Get Access
Recent Articles