3 'Click-of-a-Button' Stocks to Buy Now
Apr 3, 2019
When was the last time you bought a music CD? Or purchased a movie DVD?
Don't remember?
Well, even I don't know when I bought one of those.
But this is not a bad thing. Intuitively, we all are following the 'less is more' philosophy.
Nowadays, we buy 'experiences' rather than 'things'.
And we do it at the 'click of a button'.
We subscribe to Netflix, Hotstar, and Amazon Prime to watch movies.
We listen to music on the app such as Spotify, Saavn, and Gaana.
We shop online through Amazon and Flipkart.
We use Uber and Ola app to commute.
We use these services rather than owning assets such as cars, movies, and music.
Interestingly, the companies that provide these services are 'asset-light'.
--- Advertisement ---


"In 10 Years We Will Surpass Walmart's Sales"

When Alibaba was young, a Walmart executive congratulated its founder, Jack Ma, on doing a good job.

Jack Ma told him, "In 10 years we will surpass Walmart's sales".

It wasn't a reckless bet. Jack Ma knew he could win. To add 10,000 new customers, Walmart needs to set up a new warehouse. All Jack Ma needs is two servers.

In 2016, it surpassed the US $482.1 billion revenue reported by Walmart Stores Inc.

Alibaba is now the world's most valuable retailer but they have ZERO inventory of their own. All due to a secret 'click-of-a-button' strategy.

This strategy has changed industry dynamics.

This strategy has redefined the way of doing business.

And this strategy has crushed some of the oldest and biggest companies all over the world.

Want to know which Indian companies are using this strategy?

Believe me, knowing this could help you retire early and wealthy.

Click here and see yourself...
------------------------------
For example, Uber doesn't own a fleet of cars. Flipkart doesn't have brick-and-mortar stores. This is quite a shift from the traditional way of doing business.
Traditionally, companies believed that owning more was equal to being more. With these companies, it was more plants and machinery, properties, equipment and so on.
To achieve global scale, these companies needed tremendous amount of capital. It was an 'asset-heavy' approach.
Back then, it was counterintuitive to have an asset-light business model.
No wonder, in 2006, Microsoft was the only asset-light company among the top five companies in the world by market capitalisation. The other four were Exxon Mobil, GE, TOTAL, and Citi Bank.
Fast forward to 2019.
Four out of five companies - Apple, Alphabet, Amazon, and Microsoft are asset-light.
Surely, there has been a huge transformation in the way business is done globally and India is no exception.
In the digital age, physical assets are burdensome.
Digital technology gives us newer, faster, cheaper, and more convenient options.
Now, asset-light is the new way to go.
Last week, I gave you an overview of the asset-light business model. This is what I wrote:
Companies go asset light by owning fewer capital assets compared to their operational assets. They do this by reducing the various capital assets. This includes the likes of land and building, plant and machinery, cars etc.
I further argued about the benefits of going asset-light.
A company with high fixed costs relies on revenues to cover those costs. Here, profit depends on capacity utilisation. Whereas, asset-light companies' costs are more variable relative to their revenues, so profits are less volatile.

Similarly, companies with lower levels of asset ownership are able to respond faster to changing demand, technology advancements, and new market opportunities. These companies are more agile.

Not to mention, asset-light models can help companies achieve scale without having to invest capital.
I have seen the asset-light trend in India as well.
For example, banks are focusing on creating better user experience. They are investing in digital technology. Earlier, their focus used to be on a branch expansion.
Similarly, many companies are increasingly looking at being 'right staffed'. Your might have read or heard about this term 'right staffing'. It basically means companies are resorting to flexible staffing.
Nowadays, every company carefully considers which assets it needs to own.
In Smart Money Secrets, we like such companies.
In fact, Radhika and I have identified 3 stocks which follow an asset-light business model.
We call them 'Click-of-a-Button' stocks.
We have just published a premium report about these 3 stocks for our subscribers. We believe these stocks have massive wealth building potential in the long-term.
If you have subscribed to Smart Money Secrets, you can click here to download the report.
If you haven't subscribed to Smart Money Secrets yet, you can sign up here.
Chart of the Day
Over the last decade, asset-light businesses have been huge wealth creators in the US.
The below chart shows the vast outperformance of asset-light companies (in blue) over asset-heavy businesses (in red).
Asset-Light Businesses Massively Outperforming Asset-Heavy Businesses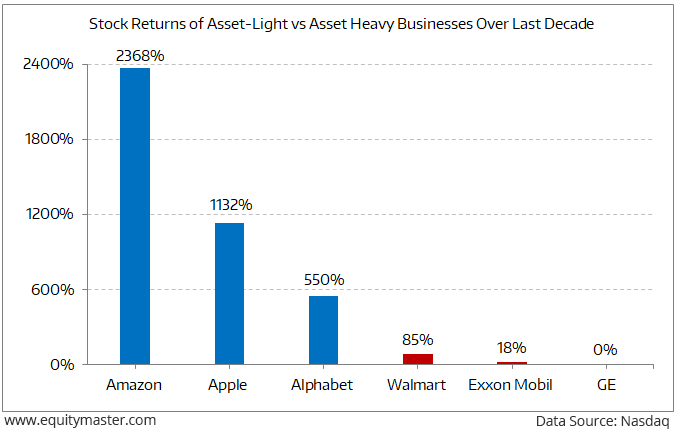 Amazon is leading the chart with a massive return of 2368% over the last decade. That's more than 23x in the last 10 years!
Similarly, Apple and Alphabet delivered more than 1000% and 500% respectively in the last 10 years.
On the other hand, asset-heavy businesses didn't perform well. The largest company of the last decade, Exxon Mobil, gave 18% returns over the last 10 years.
And General Electric, one of the most profitable and iconic firms in America gave 0% return. In fact, last year, GE lost its spot in the Dow Jones Index.
Asset-heavy businesses are lagging asset-light ones when it comes to stock performance.
Clearly, asset-light is the future.
Warm regards,


Sarvajeet Bodas ,
Co-editor and Research Analyst, Smart Money Secrets
PS: Sarvajeet Bodas and Radhika Pandit have recommended 3 'Click of a Button' stocks which have significant upside from current levels. If you haven't subscribed to Smart Money Secrets yet... you can do so here.
Recent Articles