This is Where You Will Find Stocks to Buy with the Sensex Close to 40,000
Apr 4, 2019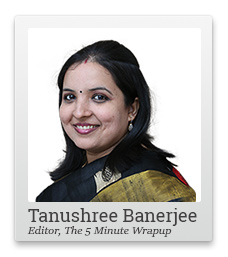 How things change.
Few months back, the mood in the market was that of doom and gloom. People were talking about similarities with 2009 and 2018.
The mainstream media was cautious. They were advising investors to stay away from the market.
We saw the resignation of the RBI Governor, worries about the upcoming elections, corporate governance issues at many companies...and more!
All this pointed to a bleak short-term future for the Indian stock market.
Mid and small caps bore the brunt of this correction. People were shifting away from mid and small caps towards large caps.
Suddenly, things took a U-turn.
India had a cross border skirmish with Pakistan and everyone though there was more clarity on the election outcome.
There was no visible improvement in company fundamentals of course.
But the rally started anyway.
--- Advertisement ---


"In 10 Years We Will Surpass Walmart's Sales"

When Alibaba was young, a Walmart executive congratulated its founder, Jack Ma, on doing a good job.

Jack Ma told him, "In 10 years we will surpass Walmart's sales".

It wasn't a reckless bet. Jack Ma knew he could win. To add 10,000 new customers, Walmart needs to set up a new warehouse. All Jack Ma needs is two servers.

In 2016, it surpassed the US $482.1 billion revenue reported by Walmart Stores Inc.

Alibaba is now the world's most valuable retailer but they have ZERO inventory of their own. All due to a secret 'click-of-a-button' strategy.

This strategy has changed industry dynamics.

This strategy has redefined the way of doing business.

And this strategy has crushed some of the oldest and biggest companies all over the world.

Want to know which Indian companies are using this strategy?

Believe me, knowing this could help you retire early and wealthy.

Click here and see yourself...
------------------------------
Foreign investors started flooding the market. Mainstream media, as expected, changed its bearish tone to a bullish one.
The Sensex hit an all-time high and is close to the 40,000 mark. Since 19 February, the BSE Sensex is up by 10.5%.
In the same period, the mid cap and small cap indices are up 12% and 15% respectively.
People who were waiting for the elections results have been left on the sidelines. In the coming days, the fear of missing out (FOMO) is likely to play out. The aam investor will make a comeback.
It's important you don't fall in this trap, dear reader.
Looking for cheap bargain stocks is not bad. Stocks that look cheap are cheap for a reason. I know it is important to look at out of favour stocks or sectors.
But you must do so in the right manner. Ask the following questions...
Is the opportunity size for the company and the sector huge?
Are multiple factors working together in the company's and the sector's favor?
Will the company and the sector grow at the same rate as India's GDP? Faster? Slower?
If the answers to these questions are yes, then you've got a golden opportunity.
I believe, there is one sector that fits all the criteria above: India's defence sector.
From this sector, there are 3 bullet proof stocks that I have shortlisted for my StockSelect subscribers.
These 3 stocks have not yet caught the fancy of the market.
I believe it won't be long before these 3 stocks start to move up on the Sensex's journey to 40,000 and above.
I have recently published a premium report with details of the 3 bullet proof stocks which are all set to ride India's defence boom.
If you've subscribed to my premium stock recommendation service, StockSelect, click here for the report.
If you haven't signed up for StockSelect yet, you can do so here.
Chart of the Day
India's military spending gives a fair idea about the opportunity that lies within the sector. India's military prowess is mainly due to its military personnel rather than the arsenal they have at hand.
For years, news related to obsolete aircrafts and military equipment have plagued India's military. A comparison of India's military spending with countries like US and China further emphasises the point.
India's Low Military Spending - A Big Opportunity?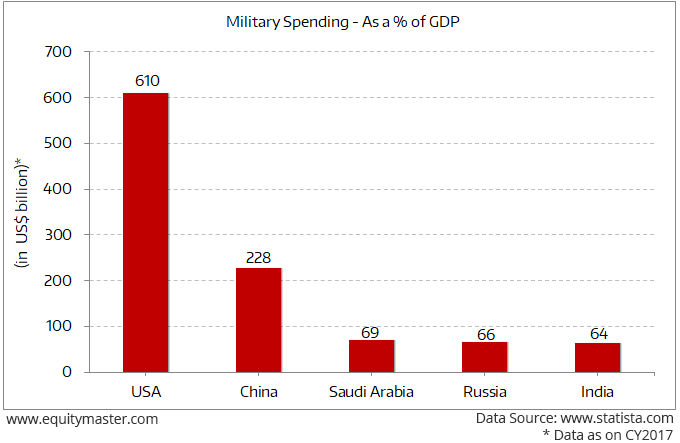 China with a comparable population, spends almost 3.5 times as much as India does on their military.
China is also spending five times as much on R&D as we do. It's also now exporting twice the amount it was just five years ago.
Will India go the China way in future?
It sure looks like it with the government's recent policy push in defence. The policies are aimed at reducing India's dependence on imports and modernisation of weapons.
For investors, this means a huge opportunity lies in wait in this sector.
These 3 bullet proof stocks are a good way to play this huge opportunity.
Warm regards,



Tanushree Banerjee
Editor and Research Analyst, The 5 Minute WrapUp
PS: Tanushree Banerjee, editor of StockSelect, has uncovered the 3 stocks that are best placed to ride the boom in India's defense industry. Click here to know more...
Recent Articles