Would You Prefer to Buy OYO Over Indian Hotels?
Apr 5, 2019
One is a six-year-old company started by a 21-year-old.
The other is a 120-year-old company with an iconic brand and founded by the legendary Jamsetji Tata.
OYO and Indian Hotels may be business models that are poles apart in Indian hospitality industry.
But they both could be the biggest beneficiaries of the growth that India's demographics have to offer.
Nevertheless, there is a difference.
OYO is adding 10,000 rooms every month and expects to double the inventory to 200,000 by mid 2019.
Indian Hotels has around 20,000 rooms and adds a few hundred every year.
OYO's business model, being asset light, allows it the agility to scale up and make geographical adjustments as per the industry's demands.
Indian Hotels, on the other hand, remains a capex heavy, long gestation period business.
--- Advertisement ---


"In 10 Years We Will Surpass Walmart's Sales"

When Alibaba was young, a Walmart executive congratulated its founder, Jack Ma, on doing a good job.

Jack Ma told him, "In 10 years we will surpass Walmart's sales".

It wasn't a reckless bet. Jack Ma knew he could win. To add 10,000 new customers, Walmart needs to set up a new warehouse. All Jack Ma needs is two servers.

In 2016, it surpassed the US $482.1 billion revenue reported by Walmart Stores Inc.

Alibaba is now the world's most valuable retailer but they have ZERO inventory of their own. All due to a secret 'click-of-a-button' strategy.

This strategy has changed industry dynamics.

This strategy has redefined the way of doing business.

And this strategy has crushed some of the oldest and biggest companies all over the world.

Want to know which Indian companies are using this strategy?

Believe me, knowing this could help you retire early and wealthy.

Click here and see yourself...
------------------------------
Both OYO and Indian Hotels do not have the profitability track record that could impress investors. At least not yet.
OYO, like a typical startup is reducing its operating losses every year. As per its reported financials, the company has reduced its losses from 44% of revenue in FY17 to 10.4% of revenue in FY19.
Indian Hotels, has had a tough financial phase since 2008. The company reported profits in only three out of the last ten years. And of them, only its FY18 profits were meaningful.
In the good years both OYO and Indian Hotels may appear to be sound and sustainable businesses. But when you look for growth, you also look for consistency.
There may be years when both the entities experience low occupancy rates. With its high fixed costs, a company like Indian Hotels may have to rely on debt to cover those costs. And profitability may take a big hit.
On the other hand, a nimble and asset-light company like OYO may find costs far more manageable. And therefore, its profits could be less volatile.
Despite its luxurious properties, iconic brands and the backing of the Tata group, investors in the stock of Indian Hotels have not made any returns in the past decade.
OYO too has yet to return profits to its investors. But there are chances the company would do so sooner than expected.
In Smart Money Secrets, we like to track such companies.
In fact, Sarvajeet and I have identified 3 stocks which follow an asset-light business model.
We call them 'Click-of-a-Button' stocks.
We have just published a premium report about these 3 stocks for our subscribers. We believe these stocks have massive wealth building potential in the long-term.
If you have subscribed to Smart Money Secrets, you can click here to download the report.
If you haven't subscribed to Smart Money Secrets yet, you can sign up here.
Chart of the Day
If we speak of companies growing with high leverage, the RBI's recent rate cuts have come as a big breather to such entities.
But data from the BSE 500 index shows that businesses that have debt over 1x equity contribute just 20.7% of total sales. Businesses that have debt between 0.5 and 1x contribute 15.4% of total sales.
Therefore, the rate cut, which is believed to be a stimulant for the economy, will really benefit the companies that contribute just a third of the total revenues.
BSE 500 Companies with Debt over 0.5x Contribute Just 35% of Revenues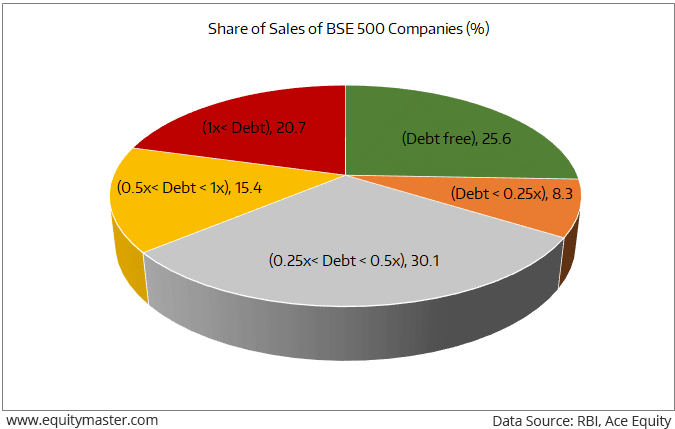 Warm regards,



Radhika Pandit
Editor and Research Analyst, Smart Money Secrets
PS: Radhika and Sarvajeet, co-editors of Smart Money Secrets, have uncovered the 3 stocks with massive wealth building potential in the long-term. Click here to know more...
Recent Articles