Stocks that Could Be Out of Reach Post Elections
Apr 9, 2019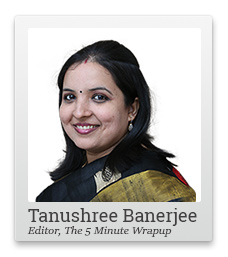 I am sure nothing could have made you happier than seeing a list of 'stocks to buy now' in this column.
Most investors are expecting a déjà vu in the stock markets. They are looking for cues of a post-election rally. Like the one after May 2014.
And they can hardly wait for someone to gaze into the crystal ball and enlist the stocks set to go through the roof.
If only that could work.
Covid-19 Special 3x Opportunity: Five "Essential" Stocks to Buy Before the Lockdown Ends...
Back in 2004, when NDA lost, the markets crashed and touched lower circuit. And then, we had the biggest bull run in Indian stock market history in the next five years.
In 2009, when UPA won, markets celebrated for few weeks. And then we had five years of very poor returns.
The markets' immediate reaction to election outcome is hardly a reflection of the long-term trend. And even looking back four to five decades, there is very little evidence that election outcomes impact GDP growth or stock markets over long time frames.
So, why waste time speculating on election outcome? Rather identify businesses that have strong economic reasons to thrive, once the election uncertainty fades away.
Businesses with strong cash flows
The liquidity scenario in Indian corporate sector worsened post IL&FS crisis. And has hardly improved since. Bank funding has also dried up for companies that don't have impeccable ratings. More projects have halted in the past year for want of funds than they did in the previous four. In such a scenario, businesses with strong cash flows are bound to be at an advantage. Not only will they be better placed to undertake capex. But they will also be able to return cash to shareholders (dividends and buybacks) before earnings growth picks up.
Businesses with asset light models
A lean balance sheet is the best tool for businesses that wish to grow without taking too many risks. And therefore, asset light businesses can realign their models irrespective of policy changes. Such businesses can survive whether or not the banks are willing to lend. And can pass on most of the margin pressures.
Businesses with sector tailwinds
The most interesting of the lot are businesses that belong to sectors that have strong tailwinds. Like the logistics sector benefitting from GST, IT sector benefitting from digitisation or banking sector benefitting from consolidation. Such businesses have the potential to witness growth and margins not seen in decades. And even businesses with modest fundamentals tend to benefit from the surge in valuations for the sector.
Now, I have identified stocks from a sector that will remain on top of the government's priority, irrespective of the election outcome. These 3 stocks have not yet caught the fancy of the market.
But since the sector appears in the election manifesto of more than one party, the stocks' valuations could get out of reach soon.
I believe it won't be long before these 3 stocks start to move up as the elected government makes huge investments in the sector.
I have recently published a premium report with details of the 3 bullet proof stocks.
If you've subscribed to my premium stock recommendation service, StockSelect, click here for the report.
If you haven't signed up for StockSelect yet, you can do so here.
--- Advertisement ---
3 Smallcap Stocks Set for a Massive Rebound

Since the beginning of 2018, smallcap stocks have been hammered hard.

The BSE Smallcap Index has fallen by about 50% since then.

And this has made a few excellent stocks available at dirt-cheap prices.

We've identified 3 such high-potential stocks. The returns they generate from these prices could be mind-blowing.

Potentially 200%, 400%, and even 900% in the coming years.

We're holding a special online event on 9th June where we'll reveal the details of these 3 stocks.

Please click here to sign-up for free
------------------------------
Chart of the Day
HUL generated free cash flows of more than Rs 123 bn in the last three years and paid dividends of Rs 130 bn during the same period.
Nestle earned free cash flows of more than Rs 39 bn in the last three years, out of which it has paid dividends of Rs 22 bn. The remaining amount has gone into its investments and cash balance.
It is no wonder then that these FMCG majors fetch steep valuations due to the consistency and nature of their free cash flows.
As the capex cycle turns, there would be hundreds of companies that are profitable. Yet they may not have the funds to undertake capacity expansion due to poor cash flows. Some may be bearing the burden of a high working capital cycle. Others may be servicing debt.
So even as you look for profitable businesses that could ride the economic and policy tailwinds, pay attention to cash flows.
There are plenty of businesses outside the FMCG sector that have strong cash flows consistently. And are yet to fetch the valuations that they deserve.
Can Cash Flows be the Path to Better Valuations?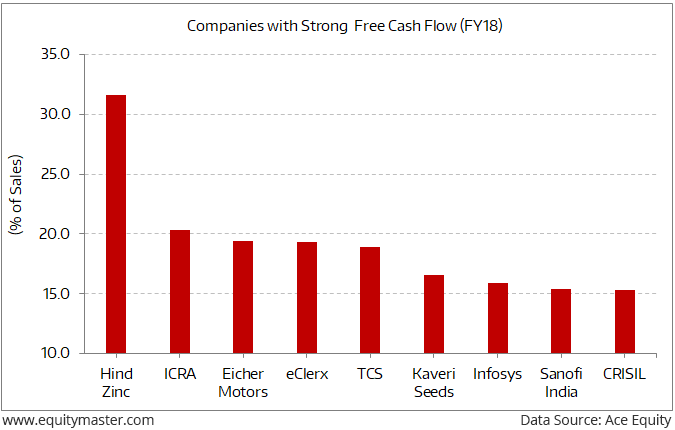 Warm regards,



Tanushree Banerjee
Editor and Research Analyst, The 5 Minute WrapUp
PS: Tanushree Banerjee, editor of StockSelect, has uncovered the 3 stocks that are best placed to ride the boom in India's defense industry. Click here to know more...
Recent Articles