How To Not Follow the Herd To Beat the Sensex 3:1
Apr 10, 2017
In this issue:

» Earnings revival can sustain expensive valuations
» India gets set to mimic China's FDI led growth
» A Trend That Could Trigger a Series of Crisis
» Market roundup
» ...and more!
The stock markets are scaling new heights every day. Just a few days back, the Sensex breached the 30,000 mark.
It is hard to resist the euphoria.
If you feel left out and want to jump on the stock market bandwagon...believe me, you are not alone.
Following the herd is hardwired into our brains. When our ancestors hunted for food in the wild, taking cues from and following the group was necessary for survival.
Gone are the days of fighting dangers lurking in the wild. The herd mentality, however, remains. And this irrational bias can make perfectly sane individuals behave like the inhabitants of a monkey-infested village.
What does that mean?
Let me tell you a story...
Long ago...in a village infested with monkeys...a trader came and announced he'd buy monkeys for Rs 1,000.
The news caught on. And more and more villagers were catching monkeys to make a quick buck.
After a few days, the trader hiked the buy price to Rs 2,000. The villagers fought over the remaining monkeys. And when the trader hiked the buy price to Rs 5,000, the villagers began risking their lives going deep into the dense forest to catch more monkeys.
Before long, no more monkeys were to be found in the village or the forest. That's when the trader announced he'd buy monkeys for Rs 10,000 on his return to the village in a week.
The villagers felt sad and helpless that they couldn't take advantage of the opportunity.
But the trader's employee...supposedly acting on his own...told the villagers that he would secretly sell some of the trader's caged monkeys back to them for Rs 7,000 each.
Realising they could still earn a neat profit of Rs 3,000, the villagers queued up to buy the monkeys from the trader's employee.
While the rich villagers bought many monkeys, even the poor ones borrowed money to make the most of the opportunity.
As the news spread, people from villages far and wide turned up to buy the remaining monkeys. Then they all waited patiently for the trader to return and buy the monkeys for Rs 10,000 each.
But the trader never returned.
The villagers were left with monkeys and a loss of Rs 7,000 on each one.
This is what happens when people buy shares in an overheated stock market. In the search for a bigger fool to sell at a higher price, they are caught in the market crash.
The moral of the story is to be skeptical when your herd mentality takes over.
But can such a passive strategy ever beat the Sensex?
My colleague Rahul Shah's Microcap Millionaires (MCM) service proves it's possible to earn Sensex-beating returns...even with a strategy that is safer than buying the index itself.
This Benjamin Graham-inspired strategy recently completed three years. Its track record so far is enviable.
While the BSE Sensex yielded 38.6% over this three-year period, Microcap Millionaires turned in a sparkling 131.2%. And on a compounded annual basis, while the Sensex achieved a CAGR of 11.5%, our subscribers earned a CAGR of 32.2% for an outperformance of 3:1.
Chase returns, not monkeys. Consider subscribing to Microcap Millionaires today.
--- Advertisement ---
The Little-known Truth About Small Cap Stocks...

Small cap companies are risky...

They could vanish with your money overnight...

They are the first to be hit whenever the market crashes...

We are all well aware of the shortcomings that small cap companies possess.

But did you know that when one invests in the "right" small cap stocks, one could potentially make BIG returns from them?

That's right!

Today we're going to reveal how.

Yes! For full details, just click here...
------------------------------
2:30

Chart of the Day

The stock of newly listed Avenue Supermarts (D-Mart), gained 40% in the past twenty sessions. Trading at nearly 100 times its FY17 expected earnings and about 4 times FY17 estimated sales, the stock is a reflection of current market euphoria. This reminds us of March 2015. The Sensex was then just 400 points away from the 30,000 mark. Several stocks including United Breweries, Wabco, Just Dial and Jubilant FoodWorks were close to fetching 100 times multiple for their earnings.

Two years later, the Sensex is again perched near 30,000. The index is currently trading at 17.3 times estimated FY17 earnings. Considering the other MSCI indices, India's benchmark index is today one of the most expensive globally. The trailing twelve month P/E multiple of the Sensex is way higher than the long term average of 18 times.

Having said that unlike in 2008, the earnings of Indian companies are far from their peak. And a steady revival in earnings could well keep the index at lofty valuations. Individual companies, especially mid and smallcaps, though, may not have that luxury. And unless their earnings growth catch up to the steep market expectations in the coming quarters, a sharp correction is inevitable.
Sensex P/E vs Global Indices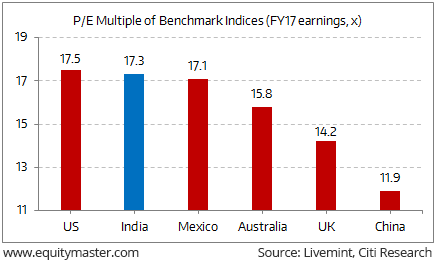 As per UNCTAD, global flow of foreign direct investments (FDI) fell by 13% YoY in 2016. India, however, remained in a sweet spot. The FDI inflows into the country actually jumped 18% to a record US$ 46.4 billion. In comparison, China and Brazil received US$ 139 bn and US$ 50 bn FDI inflows respectively during 2016. The US remained the top source of FDI inflows in 2016 at US$ 385 bn.
What is surprising though is that China emerged as one of the fastest-growing sources of FDI into India. It was the 17th largest in 2016, up from the 28th rank in 2014 and 35th in 2011. Nonetheless, China's share of total FDI in India is miniscule at only 0.5%.
The Chinese investors's interest remained concentrated in the automobile and telecom sectors.
Like we have said many times earlier, sustained inflow of FDI is extremely critical for India to achieve high GDP growth rate. Investment from the government and private sector need the boost of foreign capital and intellectual know how so as to help GDP growth rate reach the inflection point.
China's own infrastructure investments in the 1990s relied heavily on FDI. The fact that the economy put in reforms and incentives to attract foreign capital helped it sustain strong FDI inflows for nearly two decades. India's FDI scenario today looks strikingly similar to China in early 1990s. Assuming that India is to embark on a similar investment phase in both infrastructure and industries attracting such FDI is inevitable. Not only will it reduce the pressure on banks and financial institutions for long term funding. But also allow companies to focus on their growth plans rather than constantly worry about funding requirements.
Even as the trend in FDI looks very encouraging, we are not entirely convinced that India's growth story will be one way up. In fact, if you have been a reader of Vivek Kaul's Diary, you already know that he has identified an underlying trend. One that holds the potential to derail India's grand plans for the future.
And this trend is growing by the day. It's getting worse.
Vivek believes that at some point in time, this trend could trigger of a series of crisis which could have a big impact on all of us.
Vivek reveals it all...the signs and symptoms of the ballooning Indian government, and how it's hurting us in his latest book.
India's Big Government - The Intrusive State And How It's Hurting Us
Like we said, this is a must read book.
And that's why we are going to make this extremely easy for you to claim a copy.
After opening flat, Indian equity markets remained volatile and slipped below the dotted line. At the time of writing, BSE Sensex was trading lower by 101 points and NSE-Nifty was trading lower by 23 points. Sectoral indices are trading on a mixed note with stocks in the oil & gas sector witnessing maximum buying interest.
04:45

Today's Investing Mantra

"Investors making purchases in an overheated market need to recognize that it may often take an extended period for the value of even an outstanding company to catch up with the price they paid. " - Warren Buffett

This edition of The 5 Minute WrapUp is authored by Madhu Gupta (Research Analyst) and Tanushree Banerjee (Research Analyst).
Today's Premium Edition.
The Risks That Could Ensure Hard Landing of Aviation Stocks
Porter's five forces can help us evaluate any industry. Today, we apply it to the aviation industry...
Read On... | Get Access
Recent Articles