A Simple 3-Point Investing Manifesto for You the Indian Investor
Apr 11, 2019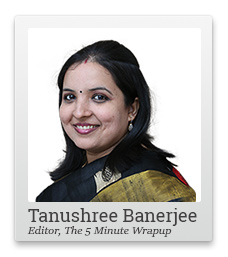 The election is upon us. Starting today, the world's largest democracy will start casting its vote.
The government and the opposition are out to woo voters all over the country. Over the last few weeks, we've seen all major parties outline their policies should they come to power.
Every party releases a manifesto to highlight these policies and goals. It shows us a picture of a brighter future.
A future with more jobs generated, better infrastructure, eradication of poverty...
But once the elections are done, there's hardly any mention of it. A yearly review post-election would go a long way to make governments accountable.
What about you the investor? How about an investing manifesto for you, dear reader?
It should be a process that you can follow to make your investing life easier. Something you can review every year. A note you can refer to before you invest in any stock.
Here are three points I believe should be a part of your investing manifesto...
1. Invest in High Quality Businesses
Always start with the business. Valuations, market sentiment, etc comes later. These are the questions you should be asking to identify a high-quality business...
Will this business be around 10 years from now?
Will this business be a part of India's long-term growth story?
How good are the return ratios (Return on Equity, Return on Capital Employed), and the cash flows?
How has the business done during difficult periods?
Has it been able to maintain its margins in tough times?
The more positive answers you get, the better.
2. Invest During Times of Maximum Pessimism
There are two occasions when stock prices fall.
When there is a problem with the stock itself.
When there is overall pessimism in the market.
Market pessimism can be due to many things - rising crude oil prices, fear of rising interest rates, a fall in global markets, an election outcome the market doesn't like, etc.
If a company is growing its earnings when others are struggling, it might be the best time to get in.
A look at historical valuations for stocks will also give you a hint. If the stock is trading at historical lows despite no negative change in fundamentals, you've got a bargain.
3. Avoid Managements with Poor Corporate Governance
This is a definite no-no.
We have all seen the impact of corporate governance issues in recent years.
Even if you get such businesses at dirt cheap valuations, it's better to avoid them. Such managements rarely change.
I recommend you use these three points, before investing in a new stock, dear reader.
Unlike election manifestos, I believe this 3-point investing manifesto will be of great help in your investing journey.
Following it will ensure you end up with a list of quality safe stocks to choose from.
Review your list every year. From your investing experiences, add or remove names from your list.
I too have a list of safe stocks which I closely track for my StockSelect subscribers.
I specifically look for safe stocks which I believe won't give my subscribers sleepless nights.
In the middle of all this election volatility, I believe I can find safe stocks that will prosper no matter what the election results are.
Chart of the Day
The mood in the Indian stock market changes in a matter of months. Till February 2019, mutual fund inflows were on a steady decline.
I had asked my readers to stay put and not give into the panic.
Holding and buying quality businesses during times of extreme pessimism goes a long way in creating long-term wealth.
The mutual fund data from the March 2019 certainly proves this point.
Rising Mutual Fund Inflows - Is the Market Correction Over?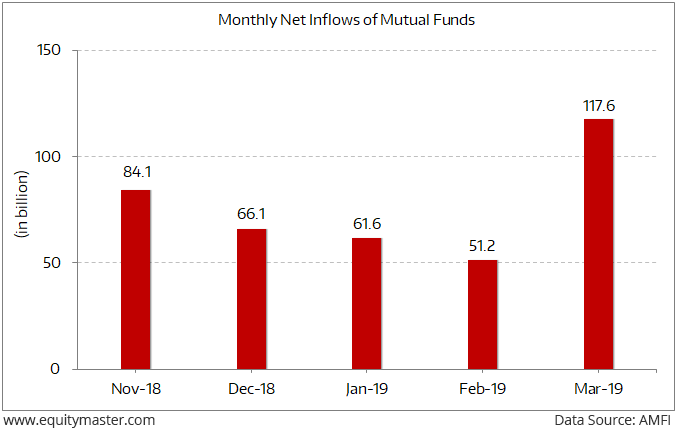 The net inflows into Equity fund in March 2019 (Rs 117 billion) are its highest levels since October 2018.
The reason could be people believing the Modi government will return to power.
While we recommended to not give into panic in February 2019, this time its euphoria we're recommending against.
Don't fall into the greed trap.
Hold on to your safe stocks and don't go looking for overvalued stocks. Maintaining your calm when everyone is losing theirs will help you build long-term wealth.
Warm regards,



Tanushree Banerjee
Editor and Research Analyst, The 5 Minute WrapUp
PS: Tanushree's book - The Rebirth of India - is available on Amazon for ₹1,950. But why for this great book when you could get it for free! Click here to find out how...
Recent Articles