This is Why the Stock of Jubilant FoodWorks Went Up 1,160%
Apr 12, 2019
Say you offer to take your children out for a treat to Domino's Pizza. Have you noticed their eyes light up?
Whenever I visit a Domino's Pizza outlet, there is always a table full of kids with their parents. Many a time, they tend to be celebrating birthdays.
Of course, kids are not the only ones who enjoy eating pizzas. Adults do too. I know that I do.
Being an analyst, I had to delve further into the workings of Domino's.
Covid-19 Special 3x Opportunity: Five "Essential" Stocks to Buy Before the Lockdown Ends...
I know the pizzas are popular. But what about the fundamentals of the company which operates the brand?
The company is none other than Jubilant FoodWorks Ltd.
Jubilant FoodWorks is a master franchise holder of the Domino's Pizza brand in India. It also has exclusive rights to develop and operate the Domino's Pizza restaurants in Sri Lanka, Bangladesh, and Nepal.
The company is a market leader in the pizza segment. At the end of last year, it had a network of 1,200 Domino's Pizza restaurants across 271 cities in India.
One of the company's key strengths is its business model.
Since the operation is profitable, the company does not require bank loans. There is no debt on its books.
Further, the management has centralised the company's purchases to keep costs low. It sources supplies from regional supply chain centres called 'commissaries'. These commissaries primarily manufacture dough or the pizza base.
They also act as warehouses for other ingredients such as cheese, sauce, vegetables, meat, and pizza boxes. All this is sourced through multiple vendors and supplied to stores.
With this 'hub & spoke' model, the company maintains consistent quality and timely delivery. It also helps the management negotiate better prices with suppliers.
This is why you don't see a lot of storage space at Domino's stores. This business model helps keep costs at the stores at the bare minimum.
All this means, the investment that the company makes, is mostly for upgrading its technology.
In other words, Jubilant FoodWorks is not bogged down by capital assets.
It is an asset-light business.
If a business is asset-light, it is easier to scale up operations. This is exactly what Jubilant FoodWorks has done over the years.
In fact, Jubilant FoodWorks is just one example.
Many businesses these days are seeking new and innovative ways to scale up fast, effectively, and efficiently.
--- Advertisement ---
3 Smallcap Stocks Set for a Massive Rebound

Since the beginning of 2018, smallcap stocks have been hammered hard.

The BSE Smallcap Index has fallen by about 50% since then.

And this has made a few excellent stocks available at dirt-cheap prices.

We've identified 3 such high-potential stocks. The returns they generate from these prices could be mind-blowing.

Potentially 200%, 400%, and even 900% in the coming years.

We're holding a special online event on 9th June where we'll reveal the details of these 3 stocks.

Please click here to sign-up for free
------------------------------
This has given rise many alternate models of operations, including the concept of going 'asset-light'.
Companies go asset-light by owning fewer capital assets compared to their operational assets. They do this by reducing various capital assets like land, buildings, plant and machinery, cars, etc.
Thus, the costs reduce and companies can adapt faster to changing demand. In other words, they become more agile.
This is why the stock of Jubilant FoodWorks has gone up 1,160% since listing in February 2010.
For our Smart Money Secrets subscribers, Sarvajeet and I look for companies which have an asset-light business model.
We recently identified 3 such stocks.
We call them 'Click-of-a-Button' stocks. We believe these stocks have massive wealth building potential in the long-term. We recently published a premium report about these 3 stocks for our subscribers.
If you have subscribed to Smart Money Secrets, you can click here to download the report.
If you haven't subscribed to Smart Money Secrets yet, you can sign up here.
Chart of the Day
Jubilant FoodWorks has adopted an asset-light business model in operating the Domino's Pizza chain.
The company has been able to scale up its business fast to meet demand.
This approach has resulted in healthy return ratios and no debt on its balance sheet.
Not surprisingly, the stock has also rewarded shareholders immensely since February 2010 when it was listed on the bourses.
Jubilant FoodWorks Has Rewarded Shareholders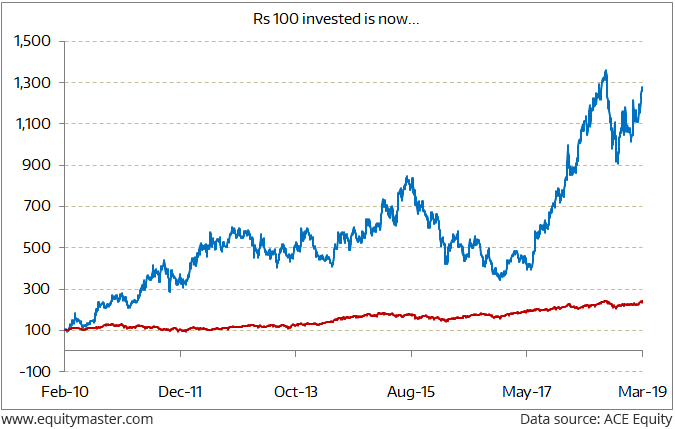 Warm regards,



Radhika Pandit
Editor and Research Analyst, Smart Money Secrets
PS: Radhika and Sarvajeet, co-editors of Smart Money Secrets, have uncovered the 3 stocks with massive wealth building potential in the long-term. Click here to know more...
Recent Articles