The Stocks That Will Offer Value in the Small-Cap Space
Apr 17, 2017
In this issue:

» Are the Indian stock market valuations sustainable at these levels?
» The irony around India's demographic dividend
» Market roundup
» ...and more!
Something interesting is happening in the small-cap space.
Last week, the BSE Small-Cap Index touched a lifetime high of 14,925.
Valued at 69 times price to earnings and 2.37 times price to book value, the index does seem to be at lofty valuations. And it doesn't help that, of the index's 765 companies, more than 130 have trailing twelve months' earnings in the red.
The stocks that have managed to stay in the black are attracting a good chunk of the money flooding into the market. Sixty percent of these stocks command PEs above the median small-cap stock multiple of 19.9 times. And 47% of the companies are trading above 25 times. Not cheap by a long shot.
So is it time to become a bystander in the small-cap space?
While valuations are a crucial pillar of our investment thesis, here is why I still believe in the small-cap story.
The small-cap index is not capturing the opportunity in stocks with low market cap. Just by market cap, there is a universe of around over 290 stocks below a market cap of Rs 50 billion with comfortable annual liquidity.
Most big investors will overlook these stocks. Or at least won't be able to invest in them because their funds are too big - their biggest limitation...and your biggest edge over them.
To be clear, valuations are important. But I assess small caps with a bottom-up approach - analysing stock-specific fundamentals and valuations, rather than a superficial index approach.
Does this make any difference?
As per the latest performance review of our small-cap recommendation service, we have ten stocks with a Buy view. Three of them made it on our 'Top Stocks to Consider Buying' list. With this approach, and with a strong process in place, we've beaten the benchmark index nearly three times.
Advertisement
Free Report: Three Crisis Scenarios, and
How They Could Impact India
Claim your FREE report and learn the three disturbing reasons why the Diary editor Vivek Kaul believes India may be headed for a big crisis in the years to come.

Plus you will get the Diary...absolutely free.


Download This Special Report Now. It's Free.
As soon as you sign up, You will start recieving Vivek Kaul's Diary,
a Free-for-life newsletter from Equitymaster


NO-SPAM PLEDGE - We will NEVER rent, sell, or give away your e-mail address to anyone for any reason. You can unsubscribe from Vivek Kaul's Diary with a few clicks. Please read our Privacy Policy & Terms Of Use.
02:00

Chart of the Day

Stock markets should ideally reflect the state of the economy. But do they?

If GDP numbers are to be believed, India is the fastest growing large economy in the world. For the quarter ending December 2016, GDP grew by 7% compared to previous year. As Vivek Kaul suggests, this sounds too good to be true. Mind you, this was the period when we did a horrible experiment with demonetisation, bringing the economy to a screeching halt. Even now, there is little evidence of a broad-based revival in economic activity.

IIP numbers present a better picture instead. The index of industrial production (IIP) contracted by 1.2 per cent in February. All major segments such as manufacturing, capital goods, consumer durables and non-durables have contracted.

The country is facing many issues like rising bank NPAs, the farm loan waiver, weak sentiments and high inflation expectation among others.

Thus, the growth of 7% in the last quarter lacks conviction.

But the stock markets in India are shrugging this off. They have ignored all the negatives and continue to soar. In fact, Indian markets are hovering around all-time high.

Interestingly, as an article in Business Standard suggests, India is not an exception.

If we look at the price to earnings ratio for all the emerging nations, the valuation multiples have expanded way above their historical averages.
India - The Third Most Expensive Emerging Market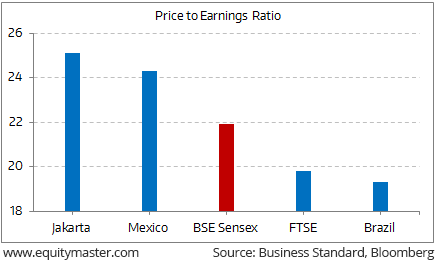 But let's focus on Indian stock markets here. On a price to earnings ratio comparison, the Sensex is placed third when it comes to most expensive emerging markets in the world.
What's driving this rally?
The global markets are up due to increase in capital inflows. For instance, FII flows into India since January totaled Rs 437 billion. This clearly shows the current buoyancy is a result of global liquidity i.e. flowing money into the emerging markets.
We believe, the current market valuations are not a reflection of reality. With economy struggling on many fronts, the valuations look unsustainable, unless there is an earnings recovery soon.
In short, one needs to be highly selective and focused on bottom up approach of picking stocks.
Compared to the US, Europe, and especially Japan, India is a much younger country. Before you get impressed, here is a statistic by Times of India you should take a note of.
Despite a population of 121 crores, 31% of them aged between 20 and 44 years, India is facing severe staff shortage.
The shortage ranges between 20% to 50% in all the crucial services i.e. defence, HRD, health, home, finance, and law.
On one hand, we have a big unemployment crisis threatening to derail the Indian economy. And on the other, crucial posts remain vacant.
My colleague Vivek Kaul has time and again highlighted this irony. Here's Vivek:
At times it is very difficult to make sense of a country as complicated as India is. What complicates the situation further is the fact that we have very little data going around in many cases. But then there are broader trends, which one can comment on.
One such thing is the demographic dividend or to put it more precisely India's demographic dividend.
As per Vivek's analysis, a little over 12 million individuals will keep joining the workforce every year in the years to come. This works out to around one million a month. And at this rate, the Indian workforce is expected to be larger than that of China by 2030.
The demographic dividend benefits a country if the government of the day is able to create the right environment in which jobs are created. And from what we see, we are failing miserably on this front.
But this is not the only crisis hitting India's economy now. To know more, refer to Vivek's special report.
After opening the day on a flattish note, the Indian share markets witnessed choppy trades and are presently trading marginally lower. Sectoral indices are trading on a mixed note with stocks in the telecom sector and metal sector witnessing maximum selling pressure. Realty stocks are trading in the green.
The BSE Sensex is trading down 34 points (down 0.1%) and the NSE Nifty is trading down 10 points (down 0.1%). The BSE Mid Cap index is trading up by 0.1%, while the BSE Small Cap index is trading up by 0.3%. The rupee is trading at 64.38 to the US$.
04:56

Today's investment mantra

"Price is what you pay. Value is what you get." - Warren Buffett

This edition of The 5 Minute WrapUp is authored by Richa Agarwal (Research Analyst).
Today's Premium Edition.
To PE, or Not to PE?
Consider this before you fall for into the PE ratio trap...
Read On... | Get Access
Recent Articles