Is Donald Trump Controlling the Stock Market?
Apr 19, 2018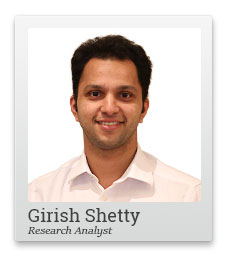 Do you follow the US president on Twitter?
He's very active on the micro-blogging site. The media hangs on to every word in all his tweets.
And so does the market.
His tweets against North Korea, trade war threats against China, and attacks on Jeff Bezos and Amazon have concerned investors.
Ask foreign investors, what's the biggest threat looming and pat comes the reply: Trump.
But is that true?
The biggest fall in recent times had nothing to do with Trump. In fact, it was quite the opposite.
On Friday, 2 February 2018, Trump tweeted...
'With 3.5 million Americans receiving bonuses or other benefits from their employers as a result of TAX CUTS, 2018 is off to great start! ✅ Unemployment rate at 4.1%. ✅ Average earnings up 2.9% in the last year. 200,000 new American jobs.'
On Monday, 5 February 2018, the Dow Jones index was down 1,175 points, its worst day in six years.
Trump wasn't impressed. He tweeted again on 7 February 2018...
'In the "old days," when good news was reported, the Stock Market would go up. Today, when good news is reported, the Stock Market goes down. Big mistake, and we have so much good (great) news about the economy!'
The market didn't care.
On 8 February 2018, the Dow Jones index was down another 1,033 points.
These massive drops had nothing to do with Trump. It was mainly due to fears of an increase in interest rates by central banks.
Why then is Trump connected to every big move in the stock market?
It's simple. For the mainstream media, Trump sells.
His tweets sell. It makes a sensational headline linking the stock market fall...to him.
--- Advertisement ---


A Proven Way to Profit from This Market Crash

The news might tell you that it is time to panic and start selling your stocks.

But how would you feel if we told you that there is a proven way to profit from these uncertain times?

Well, we have discovered 5 Safe Stocks that could potentially profit from this market meltdown.

We are sure you are intrigued.

Click here to find out which stocks we are talking about.
------------------------------
Due to this constant bombardment by the media, investors fall into a trap called 'Dread Risk'.
Dread risk is a low-probability, high-damage event in which many people are affected at the same time.
Psychologist Gerd Gigerenzer did a fascinating study on dread risk after the 9/11 attacks in US.
According to him, dread risks can cause not only direct damage but also indirect damage through the minds of citizens.
In the months post 9/11, Americans reduced air travel and preferred to travel by car. In each month after the attack, accidents on highways exceeded the average of previous years.
The sad reality is that more than 40,000 Americans are killed every year on highways whereas fewer than 100 people die on airplane accidents.
But for many people, their worst nightmare is likely to be a flight crash than a road accident.
For you the investor, Trump is the ultimate dread risk.
Trump's tweets can and do make investors sell out of stocks in fear of a correction.
Last week, I touched upon how investors can make money in fundamentally good stocks despite long periods of no return.
In fact, Tanushree Banerjee has been constantly re-iterating this point.
She believes in the long-term, the Sensex will rise to 100,000. But during this journey, the Sensex could fall by 30% from its recent high.
When such turbulence does arrive, investors should not fall prey to dread risk. If the market falls sharply, don't ditch the flight for the highway.
That's why in StockSelect, we always recommend safe stocks.
Why safe stocks?
With these stocks in your portfolio, you don't have to worry about Trump or any other dread risk for that matter.
Even though it's safe to travel by air than road, it makes sense to check whom you are flying with. Their past safety record and professionalism will make your travel safe. That's what you get with safe stocks.
These stocks are unlikely to be affected too much by volatility due to any dread risk.
You could confidently hold on to them due to their strong fundamentals.
By strong fundamentals, I mean...
Strong Brands
High Quality Management
Resilience to Economic Downturns
Low Debt
In the short-term some safe stocks could face turbulence.
But in the long-term, these stocks will ensure a safe and smooth landing.
Chart of the Day
Sarvajeet Bodas wrote to you yesterday about the telecom sector being a wealth destroyer.
Apart from the telecom sector, another which has faced a lot of turbulence recently is the pharma sector.
Did you know the BSE Healthcare Index is down 20% over the past three years? During the same period, the BSE Sensex is up 21%.
The BSE Healthcare Index has underperformed the Sensex
And this was a sector they called 'evergreen'.
Have Investors boarded a plane that's about to crash? Or is it just turbulence on the way to a smooth and safe landing?
It's important to understand the core issues. Regulatory problems for pharma companies have increased over the past few years. The frequency of visits as well as quality expectations have increased a lot.
The intensity of competition has also increased. Faster approvals of drugs have led to price erosion for generic players.
While we expect the pain to continue in the short-term, the long-term picture still looks bright.
Stricter norms and pricing pressure will ensure only quality players remain. Companies with strong R&D facilities and quality compliant plants will have an edge over the others.
Those are the only pharma stocks you should be looking at.
And even among those, only three of them offer enough margin of safety today.
Get access to the safe stocks here.
Regards,


Girish Shetty
(Research Analyst)
PS: Research analyst, Tanushree Banerjee has made a prediction: Sensex 100,000. If she's right, there will be a lot of winning stocks. But you don't need to take unnecessary risks to make solid double or triple digit gains. Tanushree's premium service, StockSelect, will safely guide you to the best stocks in the market. You can get full details here...
Recent Articles