Part II of Our Private Class with India's Value Investing Guru
Apr 20, 2017
In this issue:

» The Simple Yet Powerful Construct of Averaging Up
» ...and more!
We hope you didn't miss class yesterday.
Kunal and I shared the first part of our interview with Professor Sanjay Bakshi.
Before we get to the second part, allow me to share our experience meeting the professor in his office.
As soon as we walked through the doors of ValueQuest Capital, the firm Prof Bakshi and his partner Paresh Thakker manage, this quote welcomed us...
The difference between successful people and really successful people is that really successful people say no to almost everything. - Warren Buffett
We thanked our lucky stars he agreed to the interview!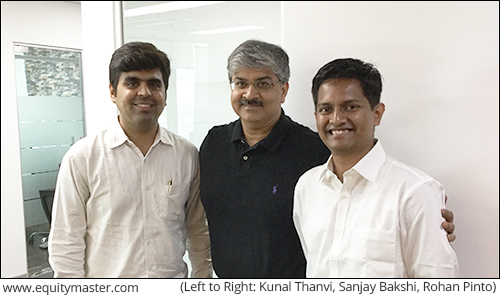 We found the office layout very unconventional.
Imagine this: No television screen - an office detached from the daily ticker. We saw more philosophical and investment quotes. When we asked about the office layout, the professor replied with a knowing smile: 'This is definitely by design. It helps induce creativity.'
On entering his personal cubicle, we saw a neat collection of his books. Again, no screens. No distractions.
Now here, we thought, is a teacher and practitioner who understands the importance of atmosphere for creative work.
Without any further ado, lets us continue where we left off yesterday...
Rohan Pinto - Professor, what is your investment philosophy in brief?
Sanjay Bakshi - Oh, I will be very brief: Own quality.
Kunal Thanvi - How do you find stocks to invest in? What is your investment checklist?
Sanjay Bakshi - Stock picking is a creative pursuit. I need to have some inspiration for good ideas to come. Here is an interesting book titled Where Good Ideas Come From by Steven Johnson. I highly recommend it to you. Also read Peter Bevelin's A Few Lessons from Sherlock Holmes.
I am a pattern seeker. I seek success patterns and avoid failure patterns.
One needs to find common patterns over and over again across businesses. One pattern I seek is that of an Owner-operator with a right mix of conservatism and aggression and 'soul in the game'.
I like the pattern of managers who are 'learning machines' - i.e. they learn from both their own mistakes and those of others. I also like the pattern of niche businesses hiding underneath a commodity label because that's what creates a market inefficiency.
These patterns can be found in annual reports, magazines, and where not. One needs to be alert to recognise these patterns and act on them.
Further, you need to be open to reject your own idea. Any good pattern may or may not turn out to be an investment opportunity. One needs to enjoy the whole process of identifying good ideas and rejecting them. The mindset one has to adopt is that of a detective or an investigative journalist. That's why I highly recommend Peter Bevelin's book on Sherlock Holmes.
Kunal Thanvi: You just spoke about importance of recognising both success and failure patterns. Can you run us through some of the important ones, say the top five patterns, to seek and avoid?
Sanjay Bakshi: Well, I have a longer list of patterns to avoid as compared to success patterns.
Serial acquirers: I generally dislike companies which grow inorganically, especially when they take a lot of debt to finance the acquisitions. While some platform companies - Berkshire Hathaway being the prime example - are huge wealth creators, generally speaking, platform companies destroy value. So one needs to be skeptical while evaluating serial acquirers.
Industries going through disruption: I like to avoid companies in industries which are susceptible to disruption. For instance, if you look at the automobile industry, it looks attractive now with good growth, but I believe electric vehicles will be a big disruption in the long run.
Weak balance sheets: I avoid businesses with weak balance sheets. One needs to understand there is a big difference between weak balance sheets and highly levered balance sheets. All banks are highly leveraged, but some have very strong balance sheets.
Inefficient capital allocation: I also avoid businesses where there are serious instances of capital misallocation. Any poor capital allocation in the past is fine, if the management learns from that.
I don't like businesses where one segment is doing good and other segment is burning cash. I much rather prefer partnering with managers who understand and apply common sense principles of capital allocation and don't throw good money after bad.
Bad governance: I try to avoid managements with bad corporate governance track records. I don't mind high compensation for executives, but it should not be at the expense of the shareholders. I avoid companies where related party transactions reflect greed in the management at the expense of the minority shareholders.
Short term over long term: I really don't like managements which display propensity to show near-term earnings at the expense of long-term earnings. I like it the other way around - i.e. hurting short-term earnings to build sustainable long-term earnings with strong entry barriers.
About the patterns I seek in the companies I invest:
Moat: I love businesses with moats around them. Isn't it obvious that a business which can protect its margins and returns on capital is likely to last longer than one which can't?
People factor: I would much rather invest in a reasonably good quality business or even a touch business run by an exceptional manager who is creating a culture of excellence which will last for a long time.
Owner-operators: Owner-operators with soul in the game, statistically speaking, do far better than professional managers who don't have ownership or managers of government-owned companies.
Learning machines: I like managements/owners who make mistakes and learn from both their and mistakes made by other people.
Market inefficiencies: There are times when a business is treated as a commodity business and priced as such by the investment community for a long time. However, sometimes there is a wonderful niche in there which has escaped the attention of many others.
Management investing for the future: Businesses where management is investing heavily for the future but still generate cash flows. Basically, one is looking for managers who, when they were kids, would have done very well in the 'marshmallow experiment'. Someone like Amazon's Jeff Bezos. I am always trying to find people who understand long-term free cash flow, focus on customers, and have plenty of staying power - both financial and psychological.
Rohan Pinto - In your last year's address at FLAME University. You spoke about a preference for Indian consumption driven stories over export dependent ones. Can you walk us through with your reasoning for that?
Sanjay Bakshi - Well, other things remaining the same, one should be investing in business models with fewer movable parts. The problem is that other things are never the same. While, it's true that Indian companies targeting Indian customers are easier to understand, it's also true that many of them - especially those that are already dominant in their respective markets - are so well known that their stock market valuations make them unattractive as investments.
I like to look for businesses that are globally competitive or are on a well-defined path to become so. For instance, they sell products for which Indian markets are not ready right now. However, when Indian markets develop, they are at right place and the right time.
Kunal Thanvi - Professor how do you decide exit multiples and what are your thoughts on averaging up?
Sanjay Bakshi - Thinking about exit PE multiples is very subjective, but one can use a framework. One needs to de-anchor from entry multiples. There is this wrong perception in value investing community that a high PE multiple cannot be cheap. As a group, high PE stocks will probably underperform, but there are exceptions. The way I try to de-anchor from 'high' or 'low' PE multiples at the time of potential purchase is by thinking in terms of expected returns over the long-term. Now, expected returns consist of expected dividends and expected stock price appreciation over one's prospective holding period - say, a decade. And that second component - expected stock price appreciation - is itself derived from the entry PE multiple, expected earnings growth over the prospective holding period, and the exit PE multiple. So it makes a lot a sense to focus on expected returns instead of entry multiples.
Elementary math shows that a high PE stock that sells at a lower multiple a decade from now may still be cheap today because of other factors in the expected returns equation - for example, earnings growth. So for me, the expected return framework has been very helpful.
Now, how does one think about exit PE multiples? What factors determine PE multiples? Well, I wrote about that in 1999 (see here). Those factors are 1) stability, 2) growth, 3) dividends, 4) return on invested capital, 5) Leverage, 6) proportion of non-operating assets in a company's asset base, 7) the financial community's appraisal of the industry and the company, including its managers, and 8) interest rates.
So one has to think about those factors when estimating exit multiples. One also has to recognise the reality that, over time, high-growth firms become low-growth firms and PE multiples will contract over time.
As to your other question about averaging up. I love the idea of averaging up when it makes sense and it often does. If you have done the job well, there will be multiple buying opportunities. Again, it's foolish to anchor to historical cost price paid, which is what many investors do.
If they have paid Rs 100 for the stock of a great business with a long runway for growth, they will refuse to pay Rs 200 to buy more. But the reality is that it may be cheaper and more attractive at 200 than it was at 100. When it was at 100, it was perhaps a much smaller and riskier businesses. Perhaps the moat was just getting established. At 200, it may be a larger, stronger, and more resilient business with a wider and deeper moat. And the expected return, conservatively estimated, over the next ten years may have become very attractive again. So it's foolish, in my view, to anchor to sunk costs.
Ironically, many value investors love averaging down but hate averaging up. They are making a big mistake.
Kunal Thanvi - Just a small follow up on that. Does it make sense to look at historical median PE multiples?
Sanjay Bakshi - Median price to earnings for broader market is fine. It gives us a good sense of the overall market valuations. However, median PE for individual businesses is not something that I look at very much.
A historically low PE multiple for a value-creating business may be a buying opportunity. And then, maybe not, especially if the business is prone to disruption. The past should be used as a guide, but it's foolish to assume that everything will mean revert. Sometimes, mean reversion doesn't work.
Rohan Pinto - What gives you the confidence to face a financial write-down of 50% or more?
Sanjay Bakshi - Well nothing gives me that kind of confidence. I never met anyone whose portfolio shrunk by 50% in a joyous mood.
Nevertheless, one needs to distinguish between a 50% drop in the market value of a stock vs a 50% drop in the average earning power of the business underneath the stock. The latter is far more important than the former, provided one has staying power - structural (for example, in the form of permanent capital) and psychological.
If one is structurally and psychologically sound, then one can afford to ignore the market and only worry about the possibility of permanent impairment in earning power of the businesses in the portfolio.
And if one is not structurally or psychologically sound, one must try to become so over time.
Rohan Pinto - Professor, you mentioned the three characteristics in the eighth intelligent fanatic. Integrity, energy, intelligence. What has Modi done right and missed? What are your parameters/criteria to judge the Indian economy?
Sanjay Bakshi - I completely misjudged him. I underestimated his risk taking propensity for the benefit of the country. People don't understand the importance of the structural changes he has brought about, but that should not be surprising to anyone who understands the 'boiling frog' syndrome.
I believe that, net-net, he is very good for the country.
With this, our session with professor Sanjay Bakshi came to an end. The learnings will continue with us forever.
Learn and evolve continues to remain our mantra.
I constantly see people rise in life who are not the smartest, sometimes not even the most diligent, but they are learning machines. - Charlie Munger
We hope you enjoyed this conversation as much as we did.
We want to thank the professor for answering our questions with great enthusiasm despite his busy schedule.
See you next time.
--- Advertisement ---
30-Day Free Subscription If You Claim This Book Today...

Vivek Kaul has recently released his new Book - India's Big Government.

In my view, it's one of the most extensively researched, insightful and yet, simply-written books we have ever read on this topic.

In fact, if you are planning to read just one book this year...We would recommend this one.

And here's the best news...

If you claim your copy today, and are willing to pay just Rs 499 to cover postage and handling charges, you can get your own personal hardbound copy (Worth Rs 2,950) absolutely free.

Right at your doorstep...anywhere in India...

Plus, you will also get 30-Day Absolutely Free Subscription to Vivek's Premium e-Newsletter - The Vivek Kaul Letter.

So, don't delay...click here for full details.
------------------------------
04:45

Chart of the Day

Intuitively in Value Investing, one is taught to consider adding the stock incase its price falls below one's initial buy price i.e. Average down. This comes very natural because often we are anchored to our initial purchase price.

In our conversation with professor Bakshi, he shared why sometimes, it is good to average up. When would you do that? Now, the stock of Eicher Motors traded in a range of 200 to 350 levels in 2006. If one would have bought this stock at Rs 210 with a target price arrived at Rs 400.

One would have been hesitant to add more of the stock at Rs 350 or above since it the stock was close to your estimated target price. Perhaps many would have sold out.
The Power Averaging Up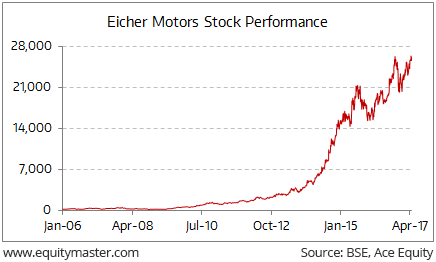 However, that was not the best thing to do.
Considering the fundamentals and growth trajectory of the company, the right way to go about was how professor stated in his interview.
If they have paid Rs 100 for the stock of a great business with long runway for growth, they will refuse to pay Rs 200 to buy more. But the reality is that it may be cheaper and more attractive at 200 than it was at 100.

When it was at 100, it was perhaps a much smaller and riskier businesses. Perhaps the moat was just getting established. At 200, it may be a larger, stronger, and more resilient business with a wider, and deeper moat.

And the expected return, conservatively estimated, over the next 10 years may have become very attractive again. So, it's foolish in my view to anchor to sunk costs.
The one who ingrains this simple yet powerful construct of "Averaging Up" would have greatly benefitted from buying more of Eicher Motors.
04:55

Today's Investing Mantra

"All I Want To Know Is Where I'm Going To Die So I'll Never Go There." - Charlie Munger.

This edition of The 5 Minute WrapUp is authored by Rohan Pinto (Research Analyst).
Today's Premium Edition.
Should You Subscribe to Nalco's OFS?
Equitymaster analyses National Aluminum Company Ltd's offer for sale (OFS).
Read On... | Get Access
Recent Articles