The Man Who Knows the Secret to Spotting 100 Baggers
Apr 21, 2017
In this issue:

» Common Traits of Multibagger Stocks
» Mutual Funds Find Markets Pricey But...
» Sensex 40,000 remains on course
» Market roundup
» ...and more!
Forty five years. That is how long ago Thomas Phelps published his now famous book 100 to 1 in the Stock Market. But the relevance and succinctness of the contents of the book were lost on most of us. For decades. That is until a gentleman who answers to the name of Chris Mayer took inspiration from the book for his herculean project.
I had the privilege of meeting Mr Mayer at a few conferences of Agora Financial. But it was only 2015 when he published his own book 100 Baggers, that I realized why Phelps' book is as much an investor's Bible as are Graham's Intelligent Investor and Security Analysis.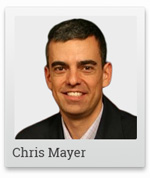 What Chris Mayer did was that he studied in-depth about 365 stocks returning at least 100x between 1962-2014. That's loads of research whichever way you look at it. And he presented what he called the secrets to finding 100 baggers in his book by the same name.
Now, my colleagues Rohan and Kunal, as you already know, are on a mission to track every smart investor who can give you an edge. Their interviews with Kenneth Andrade, Ashwath Damodaran and Sanjay Bakshi have been widely appreciated by our readers.
And recently they had the chance to have a one-one-one with Mr Mayer too...
What got you interested in stock markets?
I remember being curious about the 1987 crash. I was 15 then. I remember just being fascinated by this thing called 'the stock market' and wanting to know more about it. The only investor I could think of then was the most famous one of all: Warren Buffett. So I started to read and study his career. He talked about his teacher, Benjamin Graham and so I read and studied his books as well. I remember holding Graham's Security Analysis, a big fat book, with a sense of wonder. I couldn't understand it. It was like a book of magic spells to me. But I wanted to learn. And so that set me on my path studying finance.
Could you define in brief your investment philosophy?
There's an acronym I use that sums up what I'm looking for: CODE. C is for Cheap - I want to buy stocks that are undervalued. O is for owner-operator. I want to buy stocks where the people running them have skin in the game. D is for disclosure, meaning the public disclosures should not raise any red flags. And E is for Excellent financial condition. I look for companies with great balance sheets.
I think of stocks as representing ownership interests in businesses and I aim to hold them for a long time.
Who has been your biggest inspiration?
Hard to say... I've taken inspiration from many different investors - Warren Buffett and Charlie Munger, of course, and Ben Graham. But also Peter Lynch, Martin Whitman, Seth Klarman and Joel Greenblatt. I've also been inspired by lesser known investors such as Murray Stahl and Steve Bregman at Horizon Kinetics, Martin Sosnoff (who wrote a few entertaining books on investing) and Thomas Phelps (the author of 100 to 1 in the Stock Market).
What according to you is the most difficult part in investing?
Selling. Nobody is a good seller.
Waiting can be hard too. It's hard to be patient and give your ideas time to work, to allow the power of compounding to work for you, and sit through the crazy ups and downs of the market - and your own emotions.
If you could change one thing about your investing approach in the past what would that be?
I wish I'd taken an approach more like what I write about in my book 100-baggers earlier. I think I would be much wealthier. Early in my career, I started out more as a conventional value investor in the Graham mould. I'd buy a cheap stock and when it became more fully priced I'd sell it... I would've been much, much better off looking for quality businesses I could've sat on for 20 years.
Could you tell us something about your mistakes in picking stocks?
When asked this question, most investors will think of stocks where they lost money. But my first reaction is to think of stocks I never bought that went up huge. These are mistakes of omission, as opposed to mistakes of commission. Mistakes of omission are easy to hide. No one sees them except you, but they are the most costly by far. Why didn't I ever own Apple, for example? A great stock right under my nose...
I guess my biggest mistakes in picking stock have always come when I've gotten involved in a lower quality business. You think a business is okay, but it turns out not to be what you thought it was. I think you're better off sticking with high-quality assets, even if you have to pay up a little, than buying the cheaper inferior business.
What kind of businesses do you think will be the biggest wealth creators over the next two decades?
They will probably be businesses that solve the biggest human problems. The company that does actually cure cancer, or the company that makes 3-D printing affordable to the masses, or the first gene-editing company that makes a widely available commercial product... My guess would be those sorts of businesses.
But there are other things that are less obvious that I think can create a lot of wealth. Aerospace is an interesting one because the number of passenger miles flown seems to only go up. Financials such as banks and insurers reliably generate wealth. There is always a consumer brand that creates something new.
Also, let us not forget the rapidly developing markets such as India and China. Probably there will be enormous wealth creation in these countries over the next twenty years and in the businesses that serve these populations.
What do you think is the 'one thing' that every Indian investor should keep in mind?
Stick to businesses where time is your friend. There will be lots of ups and downs, but if you buy quality assets that you think are a near cinch to be worth a lot more money in 5 years or ten years, you'll be fine.
If you had an extra hour each day what would you like to do?
Probably more of the same things that I spend most of time doing now. Read and think.
Do you prefer a concentrated portfolio or a diversified one and why?
Definitely concentrated. It's hard to find good ideas. It's easier to find 10 good ideas than 30. Why own your 30th best idea? Why own your 20th best idea?
What is your preferred Valuation metric and why?
My favorite is to see what private buyers are paying for the similar assets as I can buy in the public markets. If, for exampe, I see private buyers paying $150,000 a room for hotel properties in the private markets, but I can buy them for $100,000 in the public markets, that might point to something interesting. We call it "private market value."
It's my favorite because it's usually overlooked by most investors who are focused on things you can readily look up such as price-earnings ratio, dividend yield, price to book ratio, etc.
But I use whatever valuation metric is most appropriate for the business at hand.
Please tell us about:
Your Top Three Favourite Books

Investing books? I'll pick three are less well known...

100 to 1 in the Stock Market by Thomas Phelps

Humble on Wall Street by Martin Sosnoff

Modern Security Analysis by Martin Whitman

Your Favourite Annual Reports

Berkshire Hathaway

Fairfax Financial Holdings

Markel

Your Favourite Movie/TV Series

The Big Lebowski
Kindly pick one of these:
Graham or Fisher or Lynch

I grew up on Graham and to a lesser extent Fisher, but today I'd pick Lynch... His books One Up on Wall Street and Beating the Street are still worth reading today.

Alphabet or Apple or Amazon

Amazon, because I use it all the time and love it.

Movies or Annual reports

Annual reports. I don't watch many movies in any given year. Maybe 5, tops.

Growth (Size of the Opportunity) or Valuation

Valuation... I really like growth and the opportunity set, but if the valuation doesn't make sense, I'm not buying it.

Great Management or Business Moat

A tough one. I'll take great management because there are plenty of businesses that don't have much of a moat - like in insurance - where I'm happy to invest with great management (Berkshire, Markel, Fairfax, etc.). Moats are tricky. Very few companies have a real moat and most moats are crossed over time.... Whereas, smart people don't usually get dumb.

Historical Performance or Future Expectations

Historical performance. Track record can be everything in investing. If you did nothing but invest with people who had great 10-year+ track records, you'd do quite well.

Cash Flow Statement or P&L

Cash flow. It's much harder to fake cash. And, as we used to say in my banking days, cash flow repays loans, not earnings.
Stay tuned. As Rohan and Kunal travel the length and breadth of the country to bring these pearls of wisdom from the smartest minds in investing, you will find yourself asking for more...
--- Advertisement ---
Sensex 30,000 Has Happened...What About 40,000?

On 5th April, though only for a short time, Sensex crossed the 30,000 barrier.

Now, for some, this recent bull-run could have come a surprise.

But those readers who have been reading our emails regularly, could have seen this coming months ago...

Because, in March 2016, our research team made its biggest predictions ever that Sensex could reach 40,000 levels in just 2-3 years.

But now, looking at the last 12 months, it seems that we could actually reach there sooner than anyone expected.

So, don't delay... Click here to find out how to prepare for Sensex 40,000.
------------------------------
02:30

Chart of the Day

There have been several Indian companies that started small but reached dizzying heights on the strength of their businesses. These wealth creators are certainly drool worthy.

But the million-dollar question that arises is how does one discover them early on to capitalise their potential to the fullest?

Chris Mayer's secret to spotting 100 Baggers has a universal appeal and is very much applicable in the Indian markets. There is no rocket science in his process. It is based on simple yet powerful indicators to watch out for to unearth potential multibaggers from small and unknown companies.

According to Chris Mayers, all the 365 100-baggers from his study shared three common characteristics. The first characteristic is the ability to expand into national/international markets. Big returns are forthcoming only if a company has a good potential to grow and expand its operations. If the company becomes big in size such that the market gets saturated, then business growth also slows down.

The second characteristic is that the company should be able generate strong returns on invested capital of 20% or more.

The third and the most important characteristic is the ability to reinvest profits and continue earning high returns. The company should be able to plough back profits into the business and earn a return which is at least equal to the current return on capital. Only then can such a company turn out to be value multiplier in the long run. On the other hand, the companies that mindlessly expand organically or inorganically ultimately end up being wealth destroyers.

Our long-term recommendation service ValuePro follows a similar strategy and has given several multibaggers over the years.
Multibagger Stocks in Indian Markets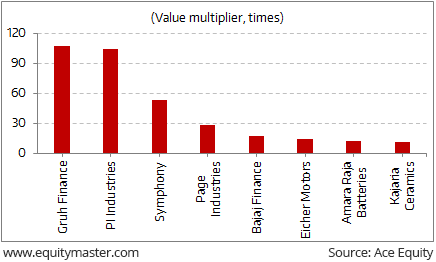 The fourth quarter earnings of most companies may not exactly offer any positive surprises. But we are not worried about that. For our calculations show India Inc's earnings upside has the potential to pocket some handsome returns for those who ride the wave over the long term.
Here's what Co-Head of Research Rahul Shah wrote about the very real possibility of a 70% upside in the Sensex exactly a year back:
The aggregate data we have pulled for Nifty companies suggests that profit margins were at a ten-year low at the end of FY15. Even if they were to rise to the average of the last ten years, not immediately, but three years out, the upside would close to 70%.

Put differently, markets will go up 70% over the next three years if profit margins revert to the mean.
The Sensex has already breached 30,000 levels. And every time the market corrects, it's an opportunity to benefit even more from the likely upside.
What is important for you to know is the undercurrent that will drive the Sensex to 40,000 levels and the stocks that will lead the earnings surge.
Download our special report - Sensex 40,000: 4 Stocks to Profit from the Coming Stock Market Wave
Indian stock markets are scaling new highs. So far in 2017, the BSE Sensex has yielded a return of 10% which is the highest among global indices. However, as the markets rally it also becomes pricier for new investors entering the market. With the Sensex presently trading at a P/E multiple of 22.5 times, equity fund managers are increasingly finding it difficult to find good investment opportunities at reasonable levels. Therefore, they have decided to play safe. If market reports are to be believed, then the cash levels at equity mutual funds has risen to a five-year high. In the March 2016 quarter, the cash stood at 6% of the total assets of mutual funds.
However, this does not mean that there is a dearth of good stocks at these levels. Money managers and fund managers may be constrained by the restrictions to invest only in large cap stocks with abundant liquidity. But with a rigorous bottom-up selection process in place, our small cap recommendation service, Hidden Treasure, has not faced any paucity due to the stock rally.
Here is what Richa, the editor of Hidden Treasure, had to say in recent update,
Indian equity markets opened the day on a positive note. At the time of writing, BSE Sensex was trading higher by 109 points and NSE Nifty was higher by 37 points. Both the mid cap and small cap indices are trading up by 0.5% and 0.6%, respectively. Stocks from the energy and metal sectors are the major gainers.
04:45

Today's Investing Mantra

"An investor should ordinarily hold a small piece of an outstanding business with the same tenacity that an owner would exhibit if he owned all of that business." - Warren Buffett

This edition of The 5 Minute WrapUp is authored by Tanushree Banerjee (Research Analyst) and Madhu Gupta (Research Analyst).
Today's Premium Edition.
Will Monsoon Profits Rain on FMCG Companies?
How the monsoon affects fortunes of FMCG companies.
Read On... | Get Access
Recent Articles