The Simplest Way to Find Safe Multibagger Stocks
Apr 22, 2017
In this issue:

» The Power of Brands
» Equitymaster Turns 21
» The Stock with Rahul Dravid like Consistency
» And more!
What if I told you there's a method to easily identify potential multibaggers?
You probably wouldn't believe me.
That's okay. I understand the scepticism.
But it is possible. There is a way.
It's not a guaranteed method. But it does work... given enough time.
Discover Now: One Stock for Potentially Life-changing Gains
And yes, it is simple to understand.
In fact, the most difficult thing about it is not related to investing per se.
This method works only when you are willing to open your mind to future possibilities and have patience.
I'll explain with a short history lesson. I learned this important lesson recently from the Collaborative Fund blog.
Let's begin by visualising the following...
Location: USA
Time: Late 18th century (pre-industrialisation)
How did people live?
Back then, neither cities nor railroads were well-developed. Life was local.
Most people didn't travel far. They found work near their town. They built their own homes with locally available materials. They grew their own food near their homes. They sew their own clothes.
Commerce was conducted face-to-face.
Then things changed completely. The industrial revolution came along.
Railroads quickly transported people and goods far and wide. Everyone started looking for higher paying jobs. These jobs were in the cities. As people poured in, cities grew vertically to accommodate them.
The US was divided into the thinly populated countryside and the densely populated urban areas.
Today, we take urbanisation for granted. But at that time, it was revolutionary.
However, people soon faced a serious problem. For the first time, they were eating canned food. In other words, they were disconnected from the people producing the food.
--- Advertisement ---
FREE Event on Equitymaster's New Project

On May 17, we are holding a FREE event to reveal Equitymaster's Great Indian Wealth Project.

At this event, we'll reveal the details of your first stock for a potential Rs 7 crore in long-term wealth.

Seats for this event are filling up fast.

Since there are limited seats, we urge you to register at the earliest.

Click here for free sign-up
------------------------------
The city people soon realised that the food producers were not accountable to them. If the quality of canned food was poor, as it often was, they couldn't do anything about it.
They didn't know what they were eating. They were in constant danger of buying unwholesome food. The middlemen in this business were unscrupulous. The public was uneducated. No one knew who to trust.
A man called William Underwood solved this problem.
His company perfected and sold a type of meat spread. He named it 'Deviled Ham'.
What made his product different from the competition?
First, he ensured the same quality and quantity of meat went into every can.
Second, he put a fiery red devil logo on every can. He added a tagline: 'Branded with the devil, but fit for gods.'
No matter what part of the country they were in, consumers saw the red devil logo and knew what they were getting. They knew it was a specific product, made by a specific company, under specific quality standards. Thus, people associated the devil logo with quality and consistency.
The logo recreated the familiarity that people were used to because they felt they were buying from someone they knew.
In 1870, the company trademarked the red devil logo. It is the oldest food trademark still in use in the US. It was America's first brand.
Interesting, no doubt, but why the history lesson?
Think of the biggest wealth creators in the stock market either in the US or in India. What do many of them have in common?
That's right. A powerful brand.
In the US, companies with powerful brands like McDonalds, Coca-Cola, Pepsi, Johnson and Johnson, Gillette, and Apple have created unbelievable wealth for shareholders.
Customers trust them implicitly. Whether it's a cheap burger or a very expensive phone, people don't think too much before buying these brands.
This level of trust gives these companies pricing power. To various degrees, they can charge high prices and people will still buy their products.
Some examples from the Indian markets would be Page Industries, Asian Paints, Nestle, Colgate, Titan, ITC, and Bajaj Corp.
And not all of them are in consumer sectors. Indian companies with strong brand recognition operate in the financial, pharma, auto, and IT sectors as well.
This is the reason long-term shareholders in these companies are rich. Even the world's greatest investor, Warren Buffett, became rich by investing in these kinds of stocks.
If you buy these stocks at the right price and don't sell quickly, you will most likely have a multibagger in your hands. Best of all, these are relatively safe stocks.
It's that simple.
But wait...no one knows the future. How can we be sure these brands will last long enough? After all, stocks need time to become multibaggers...at least a few years.
Thankfully, Rohan Pinto and his ValuePro team have put together a list of four stocks you could consider buying today. These are stocks even Warren Buffett would find tempting.
Rohan believes these are relatively safe stocks with the potential to multiply at least four to six times over the next five to ten years...even if you buy them in this expensive market.
I strongly recommend this report. You can gain access to it here.
--- Advertisement ---
Sensex 30,000 Has Happened...What About 40,000?

On 5th April, though only for a short time, Sensex crossed the 30,000 barrier.

Now, for some, this recent bull-run could have come a surprise.

But those readers who have been reading our emails regularly, could have seen this coming months ago...

Because, in March 2016, our research team made its biggest predictions ever that Sensex could reach 40,000 levels in just 2-3 years.

But now, looking at the last 12 months, it seems that we could actually reach there sooner than anyone expected.

So, don't delay... Click here to find out how to prepare for Sensex 40,000.
------------------------------
Equitymaster turned twenty-one today. We are in a celebratory mood.
On April 22, 1996, there was an ad in the Economic Times. It announced the launch of www.QuantumIndia.com, India's first financial website.
The country had barely 10,000 VSNL internet connections then, with speeds of 56 kbps. Even that connection cost a few lakhs every year!
Back then, the idea of getting financial information on the internet was alien. And the commitment to deliver honest, sensible, well-articulated information and views to all investors, was a truly radical concept.
It has been quite a journey and we have come a long way.
It's our pledge to never distance ourselves from the very reasons you trust us.
As we look forward to the next 21 years, we wish to thank all of you for your continued support.
04:10

Chart of the Day

We first recommended HDFC Bank under ValuePro (subscription required) in Jan-2012.

Since then the stock has been a consistent outperformer. Since our recommendation, the stock has given an absolute return of 250% compared to BSE Sensex returns of 89%.

The only entity that can boast of Rahul Dravid-like consistency and dependability over a very long term!

This is how we described the company in our recommendation report in ValuePro.
HDFC Bank: The Solid Outperformer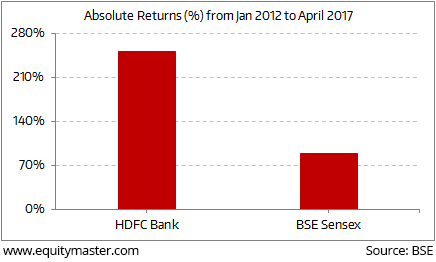 HDFC Bank declared its fourth quarter and full year FY17 results yesterday. Despite a difficult environment, the bank came out with good set of numbers. Now, at ValuePro, our process is simple. We look for quality companies with a long-time horizon available at a margin of safety. We believe, if the process is right then the proceeds take care of themselves.
Investors were cautious ahead of the first round of the French Presidential elections ending next week. Fall in crude oil prices amidst oversupply concerns also adversely affected Global markets this week. Crude prices fell by 6.4% this week on growing concerns over increasing U.S production affecting OPEC's attempts to reduce the global oil shortage.US Markets ended 0.5% higher this week.
UK markets ended lower by 2.6% this week after the Government's surprise call for a national election on Tuesday. Prime Minister Theresa May called for an early vote on June 8, causing equity markets to fall. Retail sales in UK on Friday showed the biggest quarterly fall in seven years as price rise suppressed demand amongst consumers.
Chinese investors have been nervous due to recent decline in steel and coal prices. The latest IMF report on China warned that excessive dependence on credit for economic growth could result in an economic imbalance in the future. The Chinese market ended lower by 3.1% as compared to last week.
Back home, Indian stock markets closed lower by 0.3% over the last week. IT and Pharma stocks dragged the markets lower due to global factors currently affecting these two sectors. Recent protectionist policies hinted by US and other global leaders could see IT stocks remaining subdued in the near future.
Meanwhile, the World Bank in latest report has stated that India's GDP is expected to see uptick from 6.8% in 2016-2017 to 7.2% by current fiscal year and rise further to 7.5% in 2018-19 fiscal. It also forecasted that India's economic growth will rise slowly to 7.7% in 2019-2020 supported by a recovery in private investments.
Performance During the Week Ended 22th April, 2017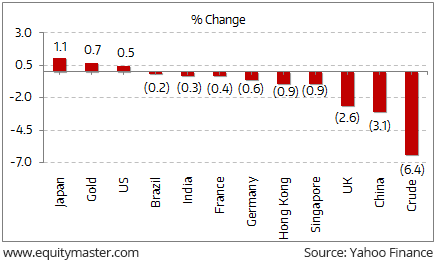 04:55

Weekend Investing Mantra

"Investing is simple, but not easy." - Warren Buffett
Today's Premium Edition.
Today being a Saturday, there is no Premium edition being published. But you can always read our most recent issue here...
Recent Articles