Revealing the Trade Secrets of India's Superinvestors
Apr 26, 2017
In this issue

» Can India Catch Up to China?
» We Have Gone Back to Cash After Notebandi
» Our View on the S Chand IPO
» And more!
Everyone has their favourite self-help quote. Mine's from Charlie Munger: 'Go to bed smarter than when you woke up.'
I have a neat little folder where I save all the best essays and quotes I come across. And every month, I take stock of these packets of wisdom. If I can add 25-30 items to the folder every month, I know I've gone to bed smarter most days. If not, I try harder next month. (Give this habit a shot. You'd be amazed at the transformation to your thinking.)
When I took stock recently, I noticed most of the wisdom from the last month came from the world of investing.
In fact, almost all of it could be traced to a single source: The Superinvestor Project, the brainchild of my colleagues Rohan and Kunal...
Kenneth Andrade is one of Rohan's favorite superinvestors.
It's easy to see why. Mr Andrade not only beats the indices black and blue; he does so with an investment framework entirely his own.
So, when Rohan told me Andrade agreed to an interview for the superinvestor project, I knew I'd get a lot of fodder for my 'go to bed smarter' folder.
Mr Andrade didn't disappoint. Here's an excerpt from the interview:
I look for price to be paid for any company. I also look at status of the industry the company is in.

I go back into history and look for companies that have shown resilience across multiple business cycles. If they have survived through multiple cycles, it establishes their sustainability and longevity.

I learnt from the mistakes that other people made. What not to do is also as important as what to do. In the last fifteen years, a lot of management have taught me what not to do.
Access the full interview here for free.
Rohan and Kunal's interview with Professor Sanjay Bakshi was another ripper. Kudos to the guys for asking questions that brought out the full range of the professor's multidisciplinary arsenal. From the interview:
Deliberate practice is required to be successful in any craft. This applies to investing as well. Focus on learning. Keep at it. And you will get better over time through deliberate practice.

I am a pattern seeker. I seek success patterns and avoid failure patterns. One needs to find common patterns over and over again across businesses. One pattern I seek is that of an Owner-operator with a right mix of conservatism and aggression and 'soul in the game'.

The past should be used as a guide, but it's foolish to assume that everything will mean revert. Sometimes, mean reversion doesn't work.
Access the two-part interview with the value investing guru Sanjay Bakshi here and here.
The guys got interviews with other investing luminaries such as Professor Aswath Damodaran and noted financial author Chris Mayer who is known for his in-depth study of more than three hundred 100-bagger stocks.
I particularly liked Chris' take on his favoured valuation metric:
My favorite is to see what private buyers are paying for the similar assets as I can buy in the public markets. If, for example, I see private buyers paying $150,000 a room for hotel properties in the private markets, but I can buy them for $100,000 in the public markets, that might point to something interesting. We call it 'private market value'.

It's my favorite because it's usually overlooked by most investors who are focused on things you can readily look up such as price-earnings ratio, dividend yield, price to book ratio, etc.
Speaking of valuations, how can you bring up the topic and not mention Professor Aswath Damodaran, a foremost authority on valuations?
To my surprise, though, the professor doesn't believe in using valuation metrics of any sort.
To be honest, if you pick stocks based on metrics, you should throw in the towel and just buy an index fund or ETF. After all, if you can screen stocks based on metrics, what makes you think that an automated process cannot do it much more efficiently and cheaply?
There are always comments in these interviews that you'll want to mark out and think more deeply about later. And there's enough material in these interviews to quench your thirst for investment wisdom for days to come.
Rohan and Kunal just made getting access to all of these insights easier than ever.
They compiled all of their interviews for the Superinvestor Project into a special report called The Superinvestors of India.
The report will make a wonderful addition to your value investing library.
May the lessons bring you long-term investing success.
--- Advertisement ---
Already Amongst Top 50... Last Chance To Claim Your Book

Within months of launch, Vivek's new book - India's Big Government, is already amongst the Top 50 Books, in its category, on Amazon India.

And in our view, it is one book that every Indian must read in 2017.

So, if you still haven't claimed your copy...this could be your last chance.

Reserve your copy today and all you have to pay is Rs 499 (to cover the postage and handling charges) to get a hardbound copy (Worth Rs 2,950) delivered...right at your doorstep...anywhere in India...Absolutely Free.

So, don't delay...

Click here to claim your personal hardbound copy of India's Big Government.
------------------------------
03:40

Chart of the Day

Will India become the next China?

This is a question that keeps coming up regularly. India's GDP growth is the highest among the world's advanced economies.

While we have serious reservations about India's GDP numbers, we have no doubt that India is doing much better than other emerging economies.

But today's chart throws up a startling revelation. As per an article in Livemint, apart from China and India, the rest of the emerging economies have not done very well.
China Way Ahead of All Emerging Markets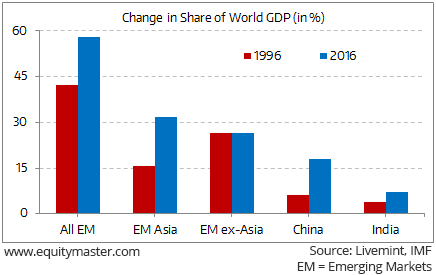 Over the last two decades, China's share of world output went up from 6.3% to 17.8%. On the other hand, the share of emerging markets to world output has improved from 42.3% in 1996 to 58.1% in 2016.
This means over the last twenty years China has accounted for 11.5 percentage points out of 15.8 percentage points increase in the share of developing economies.
What was India's contribution?
India's share grew from 3.9% to 7.2% of world GDP over the last twenty years. That's just a 3.3 percentage point increase.
Just this one statistic tells us how much India needs to grow if we are to catch up with China. In fact, there's strong argument that says we may never catch up with China.
Can India replicate the Chinese miracle over the next twenty years? Only time will tell. It's important to remember that what China has achieved is unique. India can do well even without matching China's historical growth rates.
We are confident that even if we don't match China, there will be many opportunities to create wealth in the Indian markets.
Notebandi was supposed to give a boost to Digital India. Unfortunately, that has not been the case. Reports from across the country, suggest that people from all walks of life have reverted to cash.
This is a disappointing but understandable none the less. Old habits die hard after all.
But there are other issues as well. In rural India, the lack of knowledge is a major barrier. Even though rural folk are aware of digital alternatives, they do not know how to use them. This is not going to change any time soon.
As an article in the Business Standard points out, farmers and rural labourers need cash for daily transactions. As the penetration of smart phones and the traditional banking network is not strong, rural India has no alternative but to go back to cash.
For more perspective on this important issue, I recommend Vivek Kaul's insightful piece explaining how and why Indians are going back to cash.
The IPO of S Chand and Co has opened today. Gain access to our IPO note here. (Subscription required).
The markets have opened on a strong note today with the Sensex trading above the 30,000 mark, higher by 157 points at the time of writing. Nifty was higher by 46 points. Both the BSE Mid Cap as well as the BSE Small Cap indices were also trading strong, up by 0.4% each. Amongst sectors, metals, auto and FMCG stocks were seen attracting maximum buyer interest.
4:50

Today's Investing Mantra

"Opportunities come infrequently. When it rains gold, put out the bucket, not the thimble." - Warren Buffett

This edition of The 5 Minute WrapUp is authored by Rahul Shah (Research Analyst).
Today's Premium Edition.
S Chand IPO: Our View
Should you subscribe to the IPO of S Chand and Company Limited?
Read On... | Get Access
Recent Articles