This Future-Ready Company Is Our Next Recommendation
Apr 26, 2019
This month's recommendation reminds me of a famous song written by Bob Dylan - The Times They Are a-Changin.
Although this song was written in 1963, it's more relevant now than ever.
In a way, it's an anthem for a future where change is the only constant.
Just look around... You will understand what I mean.
I mean, we are talking about electric vehicles (EV) and driverless cars. OEMs are committed to producing a variety of EV models in the coming years. Similarly, self-drive testing is also underway.
Watch Now: The Instant Income Summit
Then, there's the new way through which media content is delivered. It's known as OTT or over-the-top. Here, content is delivered via an internet connection rather than through a traditional cable/broadcast provider.
Not to mention, 5G technology is coming in a big way. This will dramatically improve internet speed. Response time will also be much faster. It will be the connective tissue for the Internet of Things (IoT), autonomous vehicles, and mobile media.
We are clearly at the threshold of a new era...
An era where technologies such as robotics, artificial intelligence, virtual and augmented reality, and IoT will define our future.
Are You Future Ready?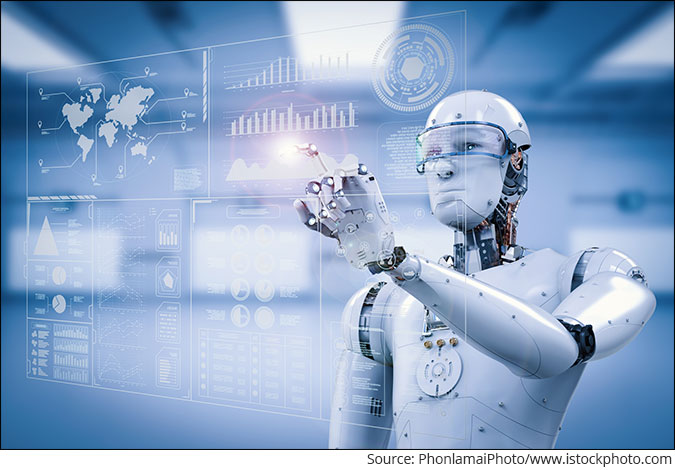 These technologies have compelled companies to transform their businesses to meet changing consumer expectations.
It became imperative for companies to be agile and adaptive. It's essential for them to have a deep understanding of emerging technologies.
What if there was a company which helped organisations become future-ready?
That would be in a great position for massive growth.
And guess what - the good news is we've found exactly such a company.
In fact, the mission statement of the company is about helping its clients become future ready.
In order to help its customers become future-ready companies, this company itself became one.
--- Advertisement ---
Asian Paints offered 2,372%, This Stock Has Similar Potential

Asian Paints stock went from Rs 72 in 2009 to Rs 1,780 now.

A mind-blowing return of 2,372%

Do you know, there is one stock which has similar potential?

A little company which very few people know about.

In fact, Asian Paints itself relies heavily on the technology of this company.

Its stock price is already up by 35% in last one year.

With its entry into a fast growing Rs 4 trillion industry... there is no limit to how high the stock price can potentially go.

More details about this stock will be revealed at our 'One Stock Crorepati' Mega Summit on 17th July.

Click here to sign-up.
------------------------------
Over the years, it has invested heavily in key digital technologies. This includes the likes of artificial intelligence, extended reality, and automation.
Similarly, the company has also invested in developing products and solutions that leverage digital technologies. This includes key verticals such as automotive, media and communication.
Let's take the automotive vertical, for example.
The company is developing its own intellectual property in the autonomous driving (driverless car) space. And in fact, last year, the company has licensed it to one of the big auto OEMs.
For this company, the key growth driver is the pace of technological change.
If the technology is static, then that's bad news for the company.
But that's not the case.
Technology is as dynamic as it's ever been.
What's more, the stock has seen a correction of more than 35% from its highs. Finally, the company is available at reasonable valuations now.
We published a detailed recommendation report for this fantastic opportunity just last night.
If you are a Smart Money Secrets subscriber, you can read it here.
If you haven't signed up for Smart Money Secrets yet, go ahead and do so here.
And cheers to the future!
Chart of the Day
This month's Smart Money Secrets recommendation scores well as far as financials are concerned.
Look at this chart...
High Growth + Healthy ROE+ Robust Margins =Strong Financials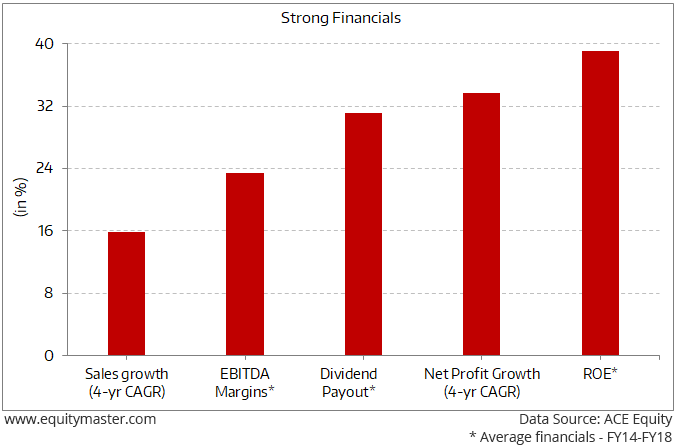 The company has a strong balance sheet with zero debt. Similarly, the company is in a sweet spot considering strong revenue growth and healthy return ratios.
Due to its presence in a niche area and strong domain focus, the company has an average EBITDA margin of ~24%.
Not to mention, the company has more than Rs 4 billion in cash.
This will act as a war-chest as the company is actively looking at an acquisition in niche area which would give access to new capabilities and new client base. In a way, the company is future ready on this front as well.
The company scores well in our own proprietary tool - Smart Money ScoreTM.
I believe, the potential upside in this stock is 47%.
We have just published a recommendation report yesterday.
If you haven't yet signed up for Smart Money Secrets, you can do so here...
Warm regards,


Sarvajeet Bodas ,
Co-editor and Research Analyst, Smart Money Secrets
PS: This fantastic future-ready company is a great buy right now. Don't delay - you don't want to miss its inevitable rise. Give your portfolio a chance for significant profits - sign up here.
Recent Articles