Superinvestors or Santas Who Visit us More Than Once a Year?
Apr 28, 2017
In this issue:

» Mohnish Pabrai's Market Winning Strategies
» Central Bank Liquidity Driving Markets
» Three Smallcaps in Our 'Top Buy' list
» Market roundup
» ...and more!
The Superinvestors of Graham and Doddsville.
No other article on value investing has such a cult following. Published thirty-three years ago, it remains - and will continue to remain - relevant to investors worldwide.
The article, authored by Warren Buffett, was the first instance of a superinvestor attributing his success to the genius of his mentor. In fact, Buffett went a step further. He claimed that all nine of the most successful fund managers at the time were fellow disciples of Benjamin Graham...that copying Graham's principles was the key to their success.
Buffett's partner, Charlie Munger, wasn't directly tutored by Graham. But he made no bones about copying tried and tested techniques:
I believe in the discipline of mastering the best that other people have ever figured out. I don't believe in just sitting down and trying to dream it all up yourself. Nobody's that smart...
Years later, Mohnish Pabrai, a self-proclaimed disciple of Buffett, attributed his success to the 'Buffett School of Value Investing'.
Pabrai also claimed that copying the most successful value investors was in itself a smart technique - provided you copied intelligently.
Years ago, I was struck by these lines from Pabrai:
Santa knocks on all our doors not once, but four times a year. During his offseason, he reliably shows up bearing profitable gifts on February 14, May 15, August 14, and November 14. These are the deadlines for 13F filings.
The 13F is a quarterly filing that institutional investment managers with more than US$100 million in assets are required to submit to the US SEC - basically a disclosure of their portfolio positions.
I envied Pabrai for having access to such treasure trove of information. And wondered if there were such super investors in India. And whether it will ever be possible to study their investing technique.
That was until my colleagues Kunal and Rohan stumbled upon an idea. They made a list of their favourite super investors that they wish to meet. And the list turned out to be the who's who of successful yet relatively unknown value investors in India.
What is more, if not 13F, our own stock exchanges now offer some valuable information. The stock exchange requires every company to disclose all shareholders with more than 1% stake in the company. This is just one source of information about where the super investors are directing their smart money to. Apart from this, the information on bulk and block deals is yet another way to study the superinvestors' actions.
As you guessed it, this information is made available to the exchanges multiple times a year. And like Pabrai says, it's akin to Santa visiting us more than once a year!
But you must be wondering...
Who are these Superinvestors of India?
Are they truly successful? And what made them successful?
Well, Kunal and Rohan have laid out their detailed one-on-one conversation with these superinvestors in an exclusive report.
Download a free copy of - The Super Investors Of India.
--- Advertisement ---
The Secrets of Super Investors

Finally Revealed! The Super Investors of India...And the secrets behind their success. Find out who they are...how they pick stocks.

It's like riding in the sidecar with these super investors and learning how to pick stocks...

Grab Your Copy of this Free Report Now!
------------------------------
02:30

Chart of the Day

Mohnish Pabrai has been an advocate of adopting the strategy of acclaimed value investors to make smart gains in the investing world. And coming from a value investor who himself manages investor funds, the litmus test lies in the performance of his fund.

A look at the numbers and Pabrai's investment strategy clearly wins hands down. During the 16 year tenure since inception in June 2000, the fund has yielded stellar returns of over 400% beating the broad indices by a wide margin. The benchmark S&P index has been able to give returns of a mere 90% over the same period. What is noteworthy is that there were years when the funds' gains got partly wiped off but patiently sticking to the strategy has not only helped recoup but multiply gains over the long term.
Mohnish Pabrai's Market Beating Fund Performance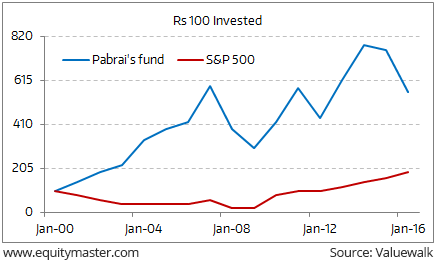 The BSE Sensex breached the 30,000 mark yet again. But it is not just the Indian stock market that is on a roll. The MSCI emerging market index, the Indonesian market and the Korean indices have also scaled new highs. What comes as a surprise is how the equity markets have managed to remain insulated from stumbling factors such as the growing protectionism across the developed world, uncertainty over US policies and rising geopolitical concerns.
The liquidity flooding the equity markets this time is coming from global central banks. If reports are to be believed, then the European Central Bank and Bank of Japan have purchased financial assets to the tune of US$ 1 trillion this year. Therefore, as the central banks around the world continue with their buying spree, the liquidity is most likely to flow into the stock and bond markets. Trading at a P/E multiple of 22.5 times, the BSE Sensex is certainly not cheap. And with the scale tilted more towards liquidity rather than fundamentals, investors need to exercise caution while fishing in heated waters.
While the broad indices have been surging ahead, the small cap stocks are literally on fire. The small cap index recently touched lifetime highs and is trading at a PE of over 68 times. The small cap stocks seem to be in the overpriced territory. However, Richa Agarwal, the Managing Editor of Hidden Treasure, remains optimistic of finding good stocks to invest even in these overheated market conditions.
Over to Richa,
Despite the run up, for those looking beyond the index, the opportunities are aplenty.There is a universe of 290 stocks outside the index, with market cap of Rs 50 billion with comfortable annual liquidity.

Meanwhile, with a bottom up approach of analysing stocks, we have around ten actionable opportunities. Three of these stocks make it to the 'Top Stocks to Consider Buying' list.
Richa recently laid out her success formula for smallcap investing (requires subscription).
Indian equity markets opened the day on a negative note. At the time of writing, BSE Sensex was trading lower by 78 points and NSE-Nifty was lower by 33 points. Both the mid cap and small cap indices are trading down by 0.1% and 0.2%, respectively. Stocks from the FMCG and realty sectors are witnessing selling pressure.
04:45

Today's Investing Mantra

"The Stock Market is designed to transfer money from the Active to the Patient."- Warren Buffett

Editor's note: There will be no issue of The 5 Minute Wrapup on 29th April and 1st May 2017.

This edition of The 5 Minute WrapUp is authored by Tanushree Banerjee (Research Analyst) and Madhu Gupta (Research Analyst).
Today's Premium Edition.
Will Rising Input Costs Put Pressure on Steel Companies?
Steel companies could be under pressure due to rising raw material prices.
Read On... | Get Access
Recent Articles