Elections 2019: The Way You Vote Has an Impact on Your Portfolio Too
Apr 29, 2019
We're right in the middle of the much-touted, much-hyped grand opera of India - the general elections.
Today, I will participate in the world's largest democratic exercise and cast my vote along with fellow Mumbaikars. (By the time you read this, I may already have ink on my finger).
In less than a month, on 23 May, we will know who gets the mandate to serve the country.
Across the media, the last few weeks have been ALL about elections.
High-decibel political campaigning, conspiracy theories, mudslinging - the election season is like the largest theatrical event in the country.
It occurred to me during the weekend that elections and stock investing have many parallels.
For instance, one of the biggest similarities between elections and investing is that both are highly sentiment-driven processes.
Often, I see that people have strong political loyalties and they tend to be very guarded and sentimental about them. Challenge them and you will find yourself in the line of fire.
It's just like a cricket match. People want their teams to beat the opponents and become victorious.
Politicians across the ideological spectrum do their best to polarize the vote bank by mobilizing emotions of extreme fear, hatred and anger. Enemies are invented, doomsday prophesies are made. All attempts are made to draw attention away from real, relevant, burning issues confronting the country. Any attempt to make political servants accountable is met with whataboutery.
In comparison, the stock markets seem quite sophisticated. But even Mr Market is prone to bipolar disorders from time to time. Investors often get carried away by emotions of extreme greed and fear, and end up with bad investment decisions.
In both politics and stock markets, it is often the gullible small investor/voter who ends up burning his fingers.
I believe that the way you vote can have a big influence on your stock portfolio as well. So, what can you do to be both - responsible citizens as well as successful investors?
Keep a check on your 'sentimeter'



As a voter and an investor, your greatest strength can be your emotional intelligence so that you can make independent, unbiased decisions. By emotional intelligence, I don't mean you eliminate your feelings and sentiments. That's impossible. We can neither stop being emotional, nor can be eliminate biases from our thinking. But what you can do - and this is what all great investors do - is to become fully aware of your limitations.

In fact, the first step is to simply acknowledge that our views are highly influenced by our biases and emotions. Once you arrive in this reasonable mental space, you are able to see things in a more holistic way.

Embrace boredom



Many people blame political leaders for dumbing down the political discourse to such a low that no real issues are discussed.

But think about this - how many people will be excited if politicians and the media discuss about the long-term challenges that India faces - unemployment, malnutrition, dismal state of the education system, pollution and environmental disasters, water scarcity, and so on.

Most people would give a big yawn. Long-term issues are boring and complex. There are no quick-fix solutions. But the human brain is conditioned for instant gratification. So, we like political gossip and sensationalism. It stimulates the brain, requires very little thinking, and is entertaining.

Ditto for investing...

Many market participants find long-term investing too boring. It doesn't offer them much action and thrill.

Renowned investor and hedge fund manager George Soros once said:

If investing is entertaining, if you're having fun, you're probably not making any money. Good investing is boring.

I couldn't agree more. I know people who spend hours glued to the screen. They closely track stock prices and follow every piece of news. They constantly live with the feeling that they are getting better and better at the game. But little do they know that their 'doing' is their greatest undoing.

Here's another quote by American investor Jesse Livermore:

It never was my thinking that made the big money for me. It always was my sitting.

Be choosy about who you listen to...



Besides your money, your most precious resources are your time and attention.

We're in the middle of an information cyclone, that just keeps getting bigger. Every moment, we're being bombarded with tonnes of information, most of which is plain noise and useless.

Look at the political speeches or the mainstream media debates on television. Is there any valuable content in them that is useful for you as a voter? Zero.

The social media is filled with garbage. Yet we spend endless hours expending our 'attention' on all the junk that is placed before us.

I believe that information is like food. What you consume, so you become.

As investors, how efficiently are you using your time and attention?

Top-down or bottom-up?



It baffles me that all political debates in India end with just two possibilities - Narendra Modi and Rahul Gandhi, and that voters have only two real choices. I'm not saying this is entirely false. But it is certainly overhyped.

The reason for the hype is that it is easier to sell one idea, one brand, one image, one person, as against hundreds of diverse ideas.

In investing, too, I see a lot of people asking everyday where the Sensex will go.

In 2018, everyone saw that their portfolios were heading elsewhere, and the Sensex was heading elsewhere.

Yet, people assign too much importance to it.

There is no deny that the overall trend in the market matters. But you should be most concerned about the future prospects of the businesses that you own in your portfolio.

Similarly, while you may feel aligned to certain political ideologies, don't ignore the representatives in your constituencies.

Your job doesn't end after pressing the button



Voting is a very critical aspect of a democratic system of government. Hence, it is important to vote, and to do it wisely. But your job as a responsible citizen doesn't end there. The nation-building process requires all of us to be active participants in civil society. We have to make our political representatives work for us.

Likewise, your job as an investor doesn't end when you make an investment. It's always a work-in-progress. I don't recommend you obsess over the daily stock price movements and the sundry ups and downs in business operations. But never take your eyes off the key long-term factors that will determine your long-term returns.

So, vote wisely, invest wisely...
Chart of the Day
One of the key factors affecting the stock market trend is 'liquidity'. In other words, the flow of funds into the stock markets.
One of the big themes that I have been tracking closely is the structural change in the Indian stock markets wherein domestic investors have emerged as key players.
In the past, foreign investors played an influential role in setting the direction of the markets. Unfortunately, this source of liquidity was not a very reliable source of long-term liquidity as FII/FPI flows tend to be quite fickle. And their actions are also determined by other global factors.
Domestic liquidity coming in through mutual funds is a relatively stable, long-term source. Particularly, the Systematic Investment Plan (SIP) route is the most reliable, regular, and long-term source of inflows into the markets as investors periodically invest a fixed amount in a mutual fund scheme.
The SIP route helps in averaging costs and investing in a disciplined manner without worrying about timing the market. For these reasons, SIPs have been gaining popularity among Indian mutual fund investors.
Mutual Fund SIPs Grow at 45% CAGR in 2 Years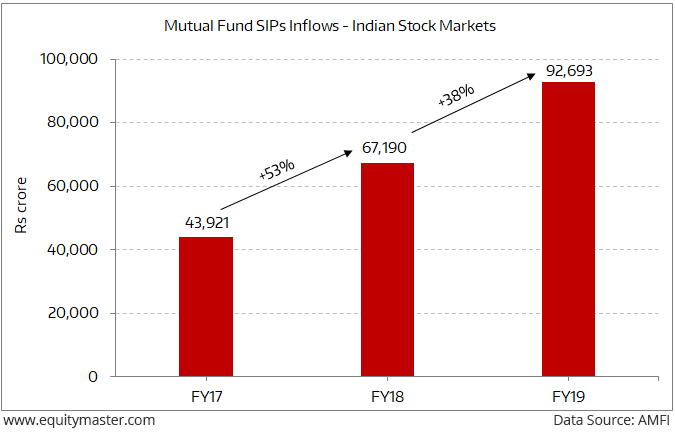 The chart of the day shows the trend in SIP inflows over the last three financial years. During this period, SIP contributions have grown from Rs 43,921 crore in FY2016-17 to Rs 92,693 crore in FY2018-19, growing at compounded annual rate of 45%.
Currently, there are about 2.62 crore SIP accounts through which investors regularly invest in various Indian mutual fund schemes. As per AMFI data, the mutual fund industry added an average of about 9.13 lakh SIP accounts each month during the financial year 2018-19, with an average SIP size of about Rs 3,070 per SIP account.
Warm regards,



Ankit Shah
Editor and Research Analyst, Equitymaster Insider
PS: This fantastic future-ready company is a great buy right now. Don't delay - you don't want to miss its inevitable rise. Give your portfolio a chance for significant profits - sign up here.
Recent Articles