Yes Bank and the Setup Contrarian Investors Dream About
May 2, 2019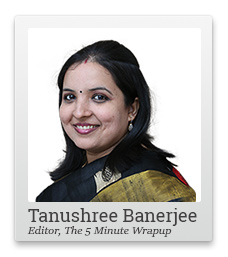 Merrill Lynch got out of the commodities business in 1998. The bank hadn't been making any money in commodities for quite a few years.
The same year, veteran investor Jim Rogers launched his commodity index fund.
What happened next?
The Rogers International Commodity Index soared from a starting value of 1,000 in 1998 to a peak of 6,000 a decade later.
This is the kind of stuff you often hear legends talk about. Here's another such instance.
FLASH SALE: Grab 1 Year of Hidden Treasure for FREE...
In June 1960, an anonymous tipster called American Express to expose a massive fraud at Allied Crude Vegetable Oil Refining Corporation. At the time, Allied was the largest customer of American Express's field warehousing subsidiary. It had guaranteed millions of dollars' worth of Allied's soybean oil inventory. The salad oil company faked its inventory, filling its tanks with seawater and only a modest amount of oil. Because oil is less dense than water, it would float at the top, making it appear as though the company had much more oil than it actually possessed.
The shares of American Express fell by over 40% in days. Most funds sold the stock of the credit card company fearing bankruptcy.
Buffett seized the opportunity to buy 5% of the company for US$ 13 m. He later sold his holding for a profit of US$ 20 m.
In both cases, the legendary investors, Rogers and Buffett identified a similar set up:
Assets being deeply undervalued because of near term risks
Big investors moving out of the assets
And they lost no time to take advantage of the market mispricing to make their biggest contrarian bets.
Well, such incidents are rare. Most contrarian investors just dream of such a set up. But when they do occur, only a few have the nerve to act on them.
Yes Bank's losses in the March quarter of financial year 2018-19 were not completely unexpected. Nor is this the first instance of an incumbent CEO front loading all the pain in the books. So that it's easier to take corrective action in future. Banks particularly, have repeatedly seen such action in recent years.
But for brokers and funds that must meet their quarterly and annual profit prediction, the loss may have come as a shocker.
Macquarie's, HSBC's and Citibank's simultaneous downgrade of the stock of Yes Bank hardly seems different from what most fund managers do during such crisis.
--- Advertisement ---
Happy Independence Day (Gift Below)

Are you taking advantage of our Independence Day Sale?

Right now, we're offering our readers a chance to Claim 1 FREE YEAR of Hidden Treasure - our most trusted smallcap service.

This means you can Get Our Best Smallcap Picks - FREE for A Year!

Yes, this might be your best chance to Build Potentially LIFE-CHANGING WEALTH.

But the Offer Goes Away in Less Than 72 Hours.

See How to Claim Your FREE YEAR Right Now.
------------------------------
But remember the 'set up' that got Rogers and Buffett interested? And do you see the signs here?
Yes Bank may continue to report disappointing numbers for few more quarters.
Contrarian investors must have the patience and the grit to sit through such crisis when it comes to safe stocks.
Like author Nick Murray wrote...
All financial success comes from acting on a plan. A lot of financial failure comes from reacting to the market.
Chart of the Day
Smallcaps are certainly a good place to look for big returns.
But that does not mean big bluechips offer you any less over long time frames. In fact, the best contrarian bets on such safe stocks could even offer you handsome three and digit returns.
If you still need more proof, take a look at the following chart.
The Sensex, BSE Midcap index and BSE Smallcap index have had differing degrees of volatility over past fifteen years.
But the returns from the three different indices are mostly in line since 2004. Rs 100 invested in any of these indices in 2004 would have yielded about Rs 700 by March 2019.
In fact, the gap in the compounded annual return of the Sensex and Smallcap index is less than 1%.
Difference in 15 year CAGR of Sensex and BSE Smallcap Index is Less than 1%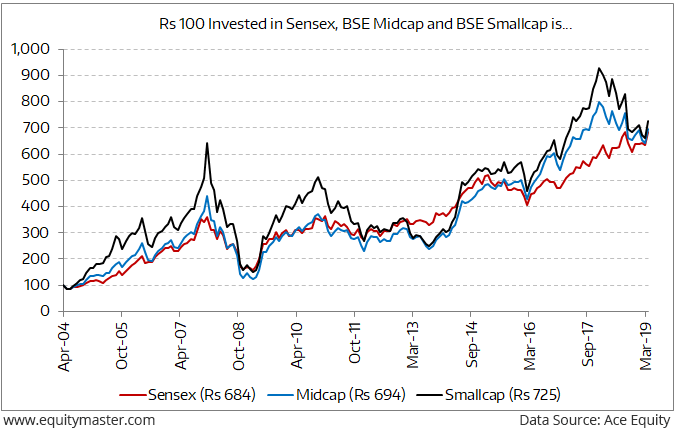 Warm regards,



Tanushree Banerjee
Editor and Research Analyst, The 5 Minute WrapUp
PS: At 5 PM, on 14 May, Tanushree will reveal the Greatest Money-Making Opportunity that few Indians know about! Claim your FREE seat now.
Recent Articles