This Company is Valued at US$ 38 Billion. Here's Why...
May 3, 2019
I love travelling abroad.
A trip a year is what my husband and I try to fit in our busy schedules.
What's more, planning for the trip is every bit as exciting as the trip itself.
Once we have decided the broad itinerary, the first thing we always do is book the air tickets, and then make the hotel bookings.
These are the first critical steps if you want to avail good rates.
Air tickets are now easy to buy thanks to online booking portals such as MakemyTrip, Cleartrip, Yatra to name a few. We have mostly gone in for MakemyTrip simply because of the competitive rates offered and a wider choice of flights. The same can be said for hotel bookings too.
We are always interested in how the hotel trends play out. Besides traditional hotels where you book a room, we have also looked at options such as smaller 'bed & breakfasts' or even apartments, if we are part of a larger group.
In this regard, there is one trend has caught the fancy of the average traveler - Airbnb.
Airbnb lets you book accommodation by website or app, pay as you want, and stay for a pre-decided duration.
For this, Airbnb gets a commission.
The folks who run Airbnb believe they will earn as much as US$ 3.5 billion a year by 2020, before interest, taxes, and depreciation, according to Fortune's Leigh Gallagher.
Why is that?
Herein lies the key to making big profits, dear reader.
Airbnb wouldn't have been such a success in such a short time had they planned on building or buying hotels.
Since its founding in 2008, Airbnb has spent less than US$ 300 million of the $3 billion it has raised from outside.
On the other hand, Hilton Hotel had US$ 7.2 billion in expenses in the first nine months of last year alone!
Airbnb has nearly 5 million lodging options across 81,000 cities all around the world. It was reportedly valued at least US$ 38 billion in May 2018, as reported by the Trefis team in Forbes.com.
My point, dear reader, is that Airbnb's growth has been fueled by following an asset light business model.
In fact, I wrote to you recently, how asset light businesses are rewarding shareholders.
Many businesses these days are seeking new and innovative ways to scale up fast, effectively, and efficiently.

This has given rise many alternate models of operations, including the concept of going 'asset-light'.

Companies go asset-light by owning fewer capital assets compared to their operational assets. They do this by reducing various capital assets like land, buildings, plant and machinery, cars, etc.

Thus, the costs reduce and companies can adapt faster to changing demand. In other words, they become more agile.
And this phenomenon is not just confined to global companies.
Asset light business models in India have rewarded shareholders greatly. I wrote about Jubilant FoodWorks in this regard.
But there's more...
For our Smart Money Secrets subscribers, Sarvajeet and I have identified 3 stocks which have an asset-light business model.
We call them 'Click-of-a-Button' stocks.
In fact, one of them is in the travel sector!
We believe all 3 stocks have massive wealth building potential in the long-term. We recently published a premium report about these 3 'Click-of-a-Button' stocks for our subscribers.
If you have subscribed to Smart Money Secrets, you can click here to download the report.
If you haven't subscribed to Smart Money Secrets yet, you can sign up here.
Chart of the Day
Airbnb is a classic example of a company that follows an asset light business model with the potential to enable shareholders make some strong gains going forward.
But there are quite a few such examples in India too. Indeed, Sarvajeet and I have identified 3 such stocks, which we are calling 'Click-of-a-Button' stocks.
What more, one of these three stocks is also in the travel space.
This company is one of the big players in corporate travels. It has consistently beaten the Sensex.
This Travel Stock Has Consistently Beaten the Sensex...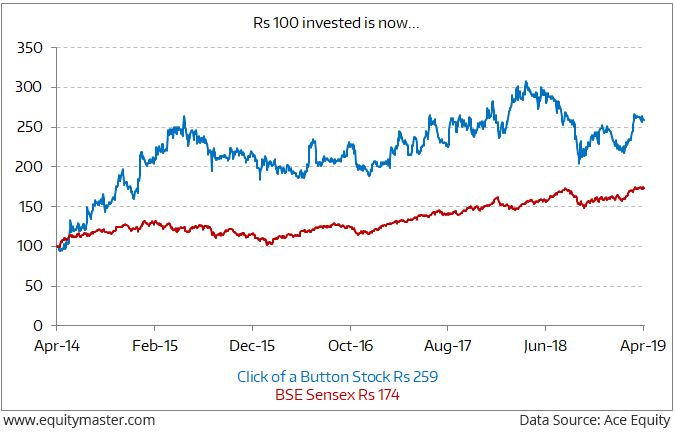 Warm regards,



Radhika Pandit
Co-editor and Research Analyst, Smart Money Secrets
PS: Dear reader, at 5 PM on 17 May, Tanushree Banerjee will reveal the Greatest Money-Making Opportunity very few Indians know about! Get the details of this event here.
Recent Articles