While Buffett Killed the Dow, This Obscure Investor Killed Buffett
May 4, 2017
In this issue:

» Rick's Gurien's outperformance in the 1960's and 70's
» What we look forward to in Berkshire's 52nd Annual Meeting
» Market update
» And more...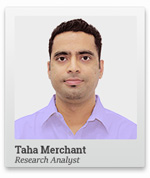 Warren Buffett is known to have once exclaimed, 'The highest rates of return I've ever achieved were in the 1950s. I killed the Dow. You ought to see the numbers.'
And it's true. Buffett's best years, in terms of percentage returns, were is initial years.
What exactly were the numbers?
Well, Buffett formed the Buffett Partnership in 1957, which was his investment vehicle to manage his and others' money. He shut the partnership in 1969.
Over this thirteen-year period, Buffett's partnership earned a compounded annual return of 29.5% and a cumulative return of 2,795%. This compares to benchmark returns from the Dow Jones Industrial Average of 7.4% annually and 153% cumulatively over the same period.
As Buffett said, he killed the Dow.
But there's another value investor who surpassed even Buffett's record around that time. And that too, over a longer period than the Buffett Partnership.
His name was Rick Guerin, and the name of his investment vehicle - Pacific Partners. Rick, in the nineteen years from 1965 to 1983, against a cumulative gain of 316% for the benchmark S&P 500, came off with 22,200%. Compounded on an annual basis, this comes to 32.9% versus 7.8% for the benchmark S&P.
Rick was a pal of Charlie Munger and fortunately lacked a business school education. In other words, he hadn't had the 'efficient market hypothesis' shoved down his throat. He was instead a math major at USC and then went to work as a salesman for IBM for a while. Soon after Buffett met Charlie, Charlie got to Rick.
Sadly, not much is known about Rick and the specific style of value investing he used to achieve his mind-boggling results. To our dismay, his exact methods remain shrouded in mystery.
Back home in India, we too have many not-so-well-known investors and fund managers who have been racking up phenomenal returns for their investors. Most of their methods too remain under wraps.
Just who are these Superinvestors of India? How are they picking stocks? Which stocks are they picking?
Just how successful are they? And how did they get that way?
Luckily for us, my colleagues Rohan and Kunal have spent months working on their 'superinvestor project'. They've travelled much of India to meet with and pick the brains of these relatively unknown superinvestors.
And now they've published their conversations - along with their own detailed notes and takeaways from these rare interviews - in an exclusive ebook.
Download your free copy of The Super Investors Of India today.
02:30

Chart of the Day

Rick's Gurien's outperformance versus the benchmark index in the 1960's and 70's is strikingly similar to that of Buffett. Albeit a lot better in absolute terms.

From 1957 to 1969, Buffett achieved an average return of 29.5% and a cumulative return of 2,794.9%!

In this timeframe, the S&P had a negative return in 5 out 12 years. Buffett had a positive return in all 12 years, with his most successful year, 1968, reaching a remarkable 58.8%.
Rick Gurien's Outperformance to S&P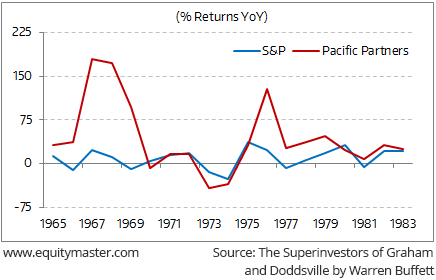 The decades of 1960s and 70s were when Buffett was at the point of making a shift from using Benjamin Graham's net net strategies to buying great businesses at a fair price.
For instance, in 1963, American Express took one of the worst hits in the scandal as its subsidiary, stored, inspected and vouched for the oil that was used as collateral for bank loans. American Express' stock promptly dropped 50% and many feared the company would go bankrupt. As legend goes, a young Warren Buffett, decided to make a huge investment in American Express. This was after having lunch in a restaurant and seeing people all around him continue to use their American Express credit cards. Although American Express made a bad investment and did a poor job of due diligence it survived and thrived. And that's because its main product, credit cards would always be needed.
Now Buffett fans are just days away from converging at what they fondly call the Woodstock of Capitalists. The 52nd Annual Shareholders Meeting of Berkshire Hathaway will have thousands in attendance. Millions of others will catch the octogenarian Buffett and nonagenarian Munger in action on Yahoo's live streaming. But the big debate is whether Buffett has lost his magic touch. Whether Berkshire will continue its underperformance to the S&P index in recent years. And whether his fans should shift to the passive style of index investing, as Buffett suggested in his last annual letter.
The answer to these questions could be found in these words from Buffett at 1998 annual meeting...
I'm very thankful to be alive in this time and place, where my one skill, allocating capital, matters. In another time and pace, I may have wound up as lunch for an animal.
Buffett has always reinforced his skill in terms of being a brilliant allocator of capital. That's the reason he wrote regularly in the annual Chairman's Letters about evaluating Berkshire in terms of growth in book value per share. And that is the metric he benchmarked against the S&P too.
Analytically, we know that growing book value per se is easy to do. Just keep piling on capital. And what is earned is simply left to sit in the business. However, implicit in Buffett's evaluation metric is a second requirement. Berkshire needs the equity capital deployed or retained in the business to continuously generate higher return on capital. Or be reinvested in businesses that could generate higher return on capital.
Given the size of its cash pile, reinvesting for higher returns on capital has become the biggest challenge for Berkshire. A problem that the acquisitions in recent years have not been able to solve.
It is therefore, possibly inevitable, for Buffett and his fund managers to look for greener pastures in emerging markets. There are several businesses in India which qualify for the Buffett metrics and yet offer value for the long term. Our ValuePro subscribers already have some heads up on this. And there is a good chance that like his partner Munger, Buffett too may be giving a serious thought to investing in India.
The Indian stock markets were trading strong at the time writing on the back of sustained buying activity across most index heavyweights. At the time of writing, the BSE-Sensex was trading up by around 175 points. Gains were largely seen in banking and pharma stocks.
04:56

Investment Mantra of the Day

"It is extraordinary to me that the idea of buying dollar bills for 40 cents takes immediately with people or it doesn't take at all. It's like an inoculation. If it doesn't grab a person right away, I find that you can talk to him for years and show him records, and it doesn't make any difference. They just don't seem able to grasp the concept, simple as it is." - Warren Buffett
Today's Premium Edition.
Do Earnings Reflect the Valuations in the FMCG Sector?
Are high valuations of FMCG firms backed by earnings?
Read On... | Get Access
Recent Articles