20% Returns Every Year For 51 Years
May 5, 2017
In this issue:

» ADB Forecasts India's GDP growth for FY18
» NPA Resolution Package for Banks
» Market Update
» And more...
00:00

Chart of the day
Well, it's that time of the year again - when value investors make pilgrimage to Omaha, their Mecca, for the Berkshire Hathaway annual general meeting.
Tomorrow, 6 May 2017, Berkshire's 53rd AGM will be streamed live.
What will be the highlights this year?
Typically in AGMs, Berkshire's performance and future growth drivers remain the focal point.
Warren Buffett in his 2016 annual letter to shareholders has already shared his valuable insights on the Berkshire's business performance.
The document is yet again an enriching guide for value investors to replicate Berkshire's phenomenal performance.
And Berkshire has indeed earned superlative returns - 20% every year for the last 51 years compared to just 10% for the S&P 500.
Berkshire largely outperforming S&P 500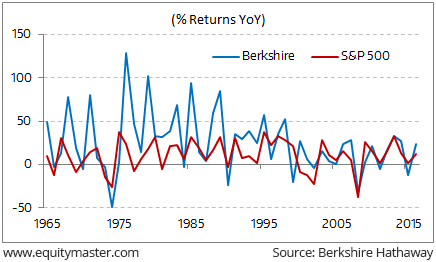 The pillars of Berkshire's stupendous performance have been its long-standing investments in cash generating companies such as Coca Cola and See's Candy. But the biggest driver of its growth is the insurance business that it acquired in 1967.
Insurance companies receive premiums upfront for claims that may be filed in the future. Thus, they're are armed with large amounts of money termed as float as the money eventually must be paid back. But the advantage of the float money is that it can not only be used to service Berkshire's day-to-day business needs but can also be invested for higher returns. Moreover, as the insurance business grows, the interest-free float money grows along with it.
Berkshire's float has grown from US$39 million in 1970 to US$92 billion in 2016 and recently crossed US$100 billion.
In other words, companies that generate low-cost capital internally have an edge. These businesses don't depend on external funds for growth and are in a better position to ride out business cycles.
Therefore, Berkshire's superlative performance over the years can be traced to its investments in businesses that either throw up a lot of cash or have access to interest-free capital.
These are the type of companies high on the ValuePro team's shortlist. We've had great success with them in the past over the long term, which is reflected in ValuePro's market-beating performance since inception in 2009.
Going ahead, Berkshire Hathway's acquisition led growth strategy is limited by the deal size. Also, the company's sizeable stakes in the once hated airline business have also come in for a lot of flak.
The compulsion to bet on large sized companies may continue to hinder Berkshire's future growth. But no such compulsion for our subscribers who buy Buffett-would- buy kind of stocks recommended in ValuePro. In fact the team just recommended four nimble businesses with durable and sustainable moats. Click here (Subscription required) to know more.
--- Advertisement ---
The Secrets of Super Investors

Finally Revealed! The Super Investors of India...And the secrets behind their success. Find out who they are...how they pick stocks.

It's like riding in the sidecar with these super investors and learning how to pick stocks...

Grab Your Copy of this Free Report Now!
------------------------------
Talking of success of super investors like Warren Buffett and Charlie Munger, do you know who the successful super investors of India are? And more importantly, how do they pick stocks? Which stocks are they picking? How have they been able to make a killing when ordinary investors never seem to make any serious money?
My colleagues Rohan and Kunal just made getting access to all of these insights easier than ever. They compiled all of their interviews for the Superinvestor Project into a special report called The Superinvestors of India.
What more, they are also tracking promoter activity and bulk and block deals to get insights on where the more knowledgeable investors are putting their money.
To know more about these superinvestors and their stock picking approach, download a free copy of - The Super Investors of India.
Past six-seven months have been quite eventful. We had the US Election, Notebandi, and Union Budget of 17-18. This was followed by state elections. And now, its the earnings season for the final quarter and financial year FY17. With such events as the backdrop, we have seen several GDP estimates for FY17 as well as FY18.
Here's the latest one for FY18 as well as FY19. This time, it's from the Asian Development Bank (ADB). As per ADB, The Indian economy will grow by 7.4% in FY18 and 7.6% in FY19. This is mainly on the back of an improved business enabling environment. This includes bankruptcy and goods and services tax (GST) laws. As per ADB, the negative impact of notebandi was short-lived and it sees medium-term growth acceleration of the Indian economy.
With GST is likely to be rolled out from 1 July 2017, it will be interesting to see how economic growth estimate pans out for FY18. Watch this space.
Talking about the Indian Economy, the banking sector is the pillar and plays an important role of a financial intermediary. However, banks are struggling with Non-Performing assets (NPAs) for quite some time. Stressed assets have been consistently rising over the last few years. Because of this, banks need to set aside ever-increasing sums of money as provisions. Now, due to rising provisions, banks (particularly public sector banks) are reeling under losses. PSBs are saddled with bad loans to the tune of a staggering Rs 6 lakh crore. This means these banks are on the edge of breaching Basel-III capital adequacy norms. The end result is a slowdown in credit growth. This has become a vicious cycle.
To solve this issue, the cabinet on Wednesday cleared the NPA resolution package that includes an ordinance to empower the central bank to more effectively deal with bad assets. Currently, there is no enabling provision that allows the Reserve Bank of India to act on behalf of PSBs for resolving bad loans. With the changed law, the RBI would get more direct powers to deal with bad loans.
Now, interference of RBI in the resolution of bad loans would certainly accelerate the redressal process. However, it may raise questions of conflict of interest. This is because regulators are at an arm's length from the commercial decisions of the banks they regulate in order to preserve systemic stability. Nevertheless, we believe this is a positive development for the banking sector.
At the time of writing, share markets in India were trading marginally lower. Barring Oil & Gas stocks, all sectoral indices have opened the day in red with stocks from metal sector and Auto sector leading the losses.
The BSE Sensex was trading down 100 points (down 0.3%) and the NSE Nifty was trading down by 26 points (down 0.3%). The BSE Mid Cap index was trading down by 0.1%, while the BSE Small Cap index was trading down by 0.03%.
04:56

Investment Mantra of the Day

"We don't have to be smarter than the rest. We have to be more disciplined than the rest." - Warren Buffett

This edition of The 5 Minute WrapUp is authored by Madhu Gupta (Research Analyst).
Today's Premium Edition.
A Quick Look at the Auto-Ancillary Industry
Is the auto ancillary industry in a sweet spot? What is the structure of this industry? Read more to find out...
Read On... | Get Access
Recent Articles