A 10-Bagger in Just 6 Years! The Rebirth of India Will Create More Big Winners Like This
May 7, 2019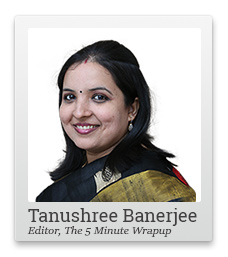 A supercomputer startup was born in Stanford University in the 1970s. Its architecture called for stringent conditions and high costs. But this niche innovation had two early adopters. These were India's leading companies in IT and automobile.
The Indian corporate group wanted to bring the supercomputer to India. It applied for a government licence in the 1980s.
But India's notorious Licence Raj meant approvals took eight years. By then, the supercomputer's hardware became obsolete. In the US, the company became defunct. But its Indian avatar went on to bag high-profile clients, such as ONGC and DRDO.
The constant change of technology and exodus of clients continued to haunt this entity till 2009. The biggest blow came from its Japanese electronics and auto customers. Squeezed by the recession, they pulled out their business in a matter of weeks.
But even during the difficult years, this niche technology company kept building its capabilities. It hired the best talent and cultivated the capability of servicing companies across sectors. As a result, when the economic situation improved, the company fetched clients across industries - from automotive to consumer goods - making future-ready products.
--- Advertisement ---


Will Sensex Hit 100,000 After General Elections?

Senior Analyst and our Co-head of Research Tanushree Banerjee has just released a special guide.

In this guide she has identified an irreversible trend that could push Sensex above 100,000.

And in that process, could allow early investors to potentially make life-changing gains.

You can download it for free.

And if you really want to benefit massively from this guide…then join us for the Rebirth of India free MEGA Summit at 5pm on 16th May.

We expect thousands of Indians to join us for this summit and we have a limited capacity.

So if you don't want to miss out then…



Download Your FREE Guide Now – In Just 1-Click!!
(Plus automatically get a free seat in Rebirth of India MEGA SUMMIT)


------------------------------
What happened next?
Its financials improved dramatically. Cash flows got stronger. And valuations soared.
The company has become a ten bagger in the last six years.
And if you think this entity is a one off, think again.
The startup scene in India is widely reported. It is common to read stories of struggling startups in the media.
But that is not the reality on the ground.
The fact is that India's startups are thriving. Deals are being done as fast as ever. Money is flowing in to the sector. VCs and angel investors are positive about the future.
2018 was a particularly positive year.
There are several new entrants to India's unicorn club.
As per Yourstory, startup funding deals increased from 630 in 2017 to 670 in 2018. More than 24 startups raised over US$ 100 million.
Of course, this is not to say that every technology startup could be successful. Or that many of them could become the next Google or Apple. Far from it.
--- Advertisement ---


Here's How One Stock Gave its Investors 1,99,014% Returns

If one had invested just Rs 1,000 in Symphony Ltd. in 2001, he would have made Rs 20 lacs by now.

What's interesting is the fact that this company earlier filed for bankruptcy in 2001-2002.

But its able management made a significant turnaround and in that process made their long-term investors holy rich.

Successful turnarounds are rare but Richa seems to have found one.

While no one can guarantee returns on any stock, she strongly feels this recently recommended stock has a long way to go from here.

Just in 5 years, this company's net losses have turned into double digit net profit margins. And that's just the beginning.

If you're someone who can look beyond the history and want to spot the rare plays then…

This could potentially become your once-in-a-decade opportunity to make money.
------------------------------
But there is no denying that some of the biggest investments and best talents are coming to the niche technology startups in India.
I am following this trend closely for my Rebirth of India project.
And I believe that there are several ten baggers in the making for investors who are willing to be patient to invest and stay invested in Rebirth of India stocks.
Chart of the Day
"The magical metal was no match for the American mettle," wrote Warren Buffett, in his signature witty prose referring to gold, in the latest Berkshire Annual report.
He went on to write...
Those who regularly preach doom because of government budget deficits (as I regularly did myself for many years) might note that our country's national debt has increased roughly 400-fold during the last of my 77-year periods.

Suppose you had foreseen this increase and panicked at the prospect of runaway deficits and a worthless currency. Instead of buying stocks, this fortune-telling investor might have bought 3 and a quarter ounces of gold for $114.75.

You would now have an asset worth about $4,200, less than 1% of what would have been realized from a simple unmanaged investment in American business.
Buffett is known for his negative views on the zero economic potential of gold.
But, gold has always been a staple investment for Indian households. More so on occasions like Akshaya Tritiya.
There are various opinions on what proportion of the portfolio could be allocated to the yellow metal.
Can I say?
The magical metal will be no match for the Indian mettle over the next decade.
So, by all means buy some gold for inflation hedge.
But don't lose sight of the Rebirth of India opportunity.
Stocks versus Gold Over Past 5 Years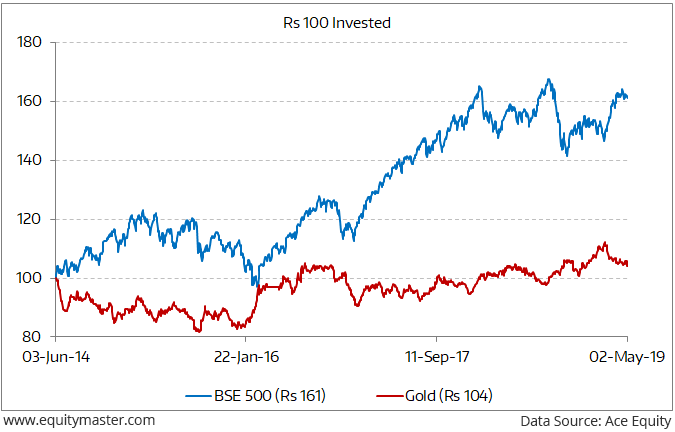 Warm regards,



Tanushree Banerjee
Editor and Research Analyst, The 5 Minute WrapUp
PS: Dear reader, at 5 PM on 16 May, Tanushree Banerjee will reveal the Greatest Money-Making Opportunity very few Indians know about! Get the details of this event here.
Recent Articles