When Kattappa Killed the Gullible Investor
May 8, 2017
In this issue

» Are FIIs bullish on India?
» Berkshire Hathaway AGM draws 40,000 investors
» Our View on the HUDCO IPO
» And more!
It was July 2015. I was in Penang, Malaysia, with my wife and two friends from Estonia. One fine afternoon, we had no excursion planned and plenty of time to kill. We decided to give our European friends a taste of Indian cinema. We headed to a nearby multiplex. And spent the next couple of hours immersed in the epic fantasy film Baahubali: The Beginning.
In the final scene, Kattappa, the royal slave, admits to killing Baahubali. A flashback scene shows Kattappa piercing a sword through Baahubali's back. The movie ends, abruptly, in suspense.
When we came out, this one question troubled us to no end: Why on earth did Kattappa, the most loyal servant, kill Baahubali?
Ever since then, I've been waiting for the second instalment... just to know the secret to this mystery.
Finally, after almost a two-year wait, the mystery was revealed. This time, in Mumbai, with my family, over samosas and coffee.
So, here's the truth...
Kattappa didn't really kill Baahubali...
Authority bias did.
Kattappa is conditioned to blindly, unquestioningly follow the orders of Mahishmati's ruler. So bidding farewell to sense and sanity, Kattappa follows the orders of the high command and kills his beloved Baahubali.
One massive blunder and behold the consequences: the loss of lives and the misery that engulfed the entire kingdom for a quarter century. Couldn't Kattappa have avoided this tragic mistake?
Some basic questioning...some logical thinking...fact-checking...a quick SWOT analysis...and Baahubali could have been saved.
Of courses, movies are movies. Exaggerated and over-dramatised. But the field in which I work - the stock market - has no less drama and masala.
Over the years, I have witnessed hundreds of cases of what I call the 'Kattappa syndrome' - authority bias killing investor portfolios.
I've known people who bought stocks and lost money simply following the so-called experts on television.
I've known friends and relatives who bought stocks and lost money following tips and rumours about the involvement of a big, famous investor.
I've known many, many people who bought stocks and lost money buying fake promises from brokers and promoters (read Reliance Power IPO).
In each of these cases, it's the 'Kattappa syndrome' at work.
Gullible investors following authority blindly and digging holes in their stock portfolios.
Our long-time readers are aware that one of our missions at Equitymaster has been to protect the small investor from the 'Kattappa syndrome'.
Sometime last year, my colleague Rohan Pinto came up with a novel idea.
It was about turning the 'Kattappa syndrome' on its head.
His premise was simple: Instead of falling prey to authority bias, could we take advantage of the ideas and actions of superstar investors, investing gurus, and the smart money?
The answer is a big yes!
For almost a year, Rohan and Kunal have been working passionately on this big project. They've been identifying, studying, and interviewing some of the most astute investing minds in India. And now, they've published their conversations - along with their own detailed notes and takeaways from these rare interviews - in an exclusive ebook titled The Super Investors of India
As I write, more than 12,675 readers have already claimed their free copy of Rohan and Kunal's new ebook. If you are serious about investing in the stock market and you want to turn the 'Kattappa syndrome' on its head, I insist you join them.
Download your free copy of The Super Investors of India now.
--- Advertisement ---
12,500+ Copies Downloaded...

The Super Investors of India - our latest special guide, has already been downloaded by more than 12,500 readers...

And that number is going up rapidly as we speak. So, if you still haven't claimed your copy...do not delay.

It's absolutely FREE. Click here to download...
------------------------------
03:40

Chart of the Day

It's no secret that FIIs dominate the Indian markets.

Despite record inflows into mutual funds, it is the foreign investor that drives stock prices.

Keeping this in mind, it always helps to get an idea of FII sentiment.

Today's chart highlights an interesting development. Relative to India's market capitalisation, foreigners are less enthused about India compared to some other emerging market countries.

As per an article in the Business Standard, FII flows in 2017 have been impressive at US$ 6.3 billion. But it is only 0.32% of the market cap of the Indian stock market.

1% is considered a sign of a full-fledged bull market. FII flows were 1.04% of market cap in 2014 when the markets were on a roll after the NDA came to power.
FIIs Not Very Bullish at the Moment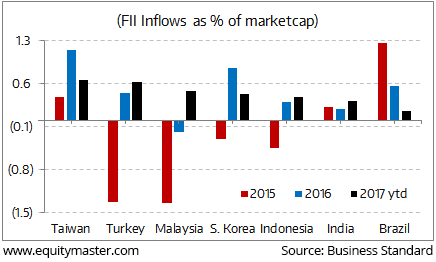 Things have not been great since then. The lack of big bang reforms was one reason why FIIs have been cautious.
However, the biggest reason has been the failure of earnings to catch up with valuations.
So far, the indices have rallied about 12% this year. If FII flows continue at the current pace and the markets absorb the huge flows, it could result in a bubble.
The only way that can be avoided will be due to a pickup in earnings. Our Sensex 40,000 call is based on the same premise.
The biggest event in the world that value investors care about has just concluded. I'm talking about the annual general meeting of Berkshire Hathaway.
Thousands descended on Omaha, Nebraska last weekend to see the grand daddies of value investing in the flesh - Warren Buffett and Charlie Munger.
As Buffett fans know, last year's AGM was streamed live for the first time. The tradition continued this year as well.
In case you missed it, don't worry. Rohan, our in-house Buffett specialist, will have a detailed note for you on Wednesday with all the key takeaways.
Speaking of Rohan, have you downloaded the free report that he and Kunal have put together?
More than 10,000 people have claimed their free copy of The Super Investors of India.
This unique guide is a manifestation of Rohan and Kunal's zeal to teach you the stock picking processes of the finest value investors in India.
Who are India's super investors? How do they pick stocks? Which stocks are they picking now?
How have they been able to make a killing when ordinary investors never seem to make any serious money?
Rohan and Kunal have all the answers...
Claim your free copy now. Click here.
The IPO of HUDCO has opened today. Gain access to our IPO note here. (Subscription required).
The markets have opened marginally higher today with the Sensex trading just below the 30,000 mark, higher by 106 points at the time of writing. Nifty was higher by 39 points. Both the BSE Mid Cap as well as the BSE Small Cap indices were also trading strong, up by 0.6% each. Amongst sectors, banks, and realty stocks were seen attracting maximum buyer interest.
04:55

Today's Investing Mantra

"Opportunities come infrequently. When it rains gold, put out the bucket, not the thimble." - Warren Buffett
Today's Premium Edition.
HUDCO IPO: Our View
Should you subscribe to the IPO of Housing and Urban Development Corporation Limited (HUDCO)?
Read On... | Get Access
Recent Articles