How We Avoided a 60% Loss in Lakshmi Vilas Bank
May 8, 2019
This story goes back to 2017.
Back then, regional banks were in focus for various reasons.
The market was positive on these stocks. There were good reasons too - management changes, professionals coming in from larger banks, the focus on retail customers, moving away from corporate loans, to name a few.
Not to mention, these regional banks were correcting their past mistakes. They were focusing on their core strength - the areas where they had a good presence.
Also, they were adopting technology to offer services almost at par with big private banks.
These banks were close to their customers. They knew their needs. Focusing on digital technology would bring an additional personal touch to the table.
There was another interesting aspect as well...
These regional private banks were taking market share from public sector banks in their regions. Public sector banks were grappling with bad loans and the lack of capital.
With this, these small regional banks appeared to be in better shape.
No wonder, during this period, shares of some of these banks outperformed.
--- Advertisement ---


Will Sensex Hit 100,000 After General Elections?

Senior Analyst and our Co-head of Research Tanushree Banerjee has just released a special guide.

In this guide she has identified an irreversible trend that could push Sensex above 100,000.

And in that process, could allow early investors to potentially make life-changing gains.

You can download it for free.

And if you really want to benefit massively from this guide...then join us for the Rebirth of India free MEGA Summit at 5pm on 16th May.

We expect thousands of Indians to join us for this summit and we have a limited capacity.

So if you don't want to miss out then...



Download Your FREE Guide Now - In Just 1-Click!!
(Plus automatically get a free seat in Rebirth of India MEGA SUMMIT)


------------------------------
The story indeed looked good.
At that time, we met many regional banks.
One of them was Lakshmi Vilas Bank (LVB).
LVB had an interesting story.
The bank had a new management team in place. The bank was shedding its old image to bring out a new look.
The new management had a clear vision and set several goals. These included deposit and loan growth targets, CASA (current account saving account) ratio targets, a focus on retail loans, and the reduction in cost-to-income ratio.
So far so good.
But the bank had its own legacy issues. These were rising bad loans, a weak balance sheet with a poor capital adequacy ratio (CAR).
The falling CAR was a concern.
The CAR is the ratio of a bank's capital in relation to its risk-weighted assets and current liabilities. The RBI has set the minimum CAR at 9% for all banks.
A ratio below 9% indicates the bank does not have enough capital to expand its operations. It ensures that banks don't expand their business without having adequate capital.
On one hand, LVB had bad loan issues and on the other, it badly needed capital to shore up its CAR.
No doubt, raising capital reduces the chances of a bank's failure. It also improves the incentive to manage risk.
However, from the stock market's perspective, higher capital means a lower return on equity. This is because the bank's profits will be spread over a larger number of shares.
It also indicates the bank finds it difficult to maintain financial solvency with its current profits. Thus, it is in constant need of additional financing.
For us, this was a big red flag. We thought this could be the beginning of a vicious cycle.
How?
With the legacy bad loans, LVB had to set aside higher provisioning.
This would negatively impact the CAR. Thus, to shore up its CAR, LVB would need to raise even more capital!
This cycle would go on and on...
We were right.
Since the start of 2017, LVB raised capital three times.
The last capital raise, came after its CAR dropped to 7.57% after the December quarter results. This was below the minimum threshold of 9%.
In fact, if you consider the December quarter results, LVB's adjusted book value (net worth minus net NPAs) was negative.
The bank is currently battling to avoid getting into the Prompt Corrective Action (PCA) framework of the RBI.
Hence a merger seems to be the last alternative.
As I wrote in an earlier issue of The 5 Minute WrapUp...
If a stock is on a falling spree, there's probably a good reason behind it. And realising that is the first step towards correcting our investing process.
This is why we didn't recommend LVB to our Smart Money Secrets subscribers. The stock fell more than 60% from its 2017 high.
But we did recommend another regional bank, from the same region, in Smart Money Secrets.
This bank also had a complete management overhaul. The new management has already shown its laser-sharp focus in implementing changes such as risk-based pricing, using algorithms in its core operations etc.
Its liability franchise is growing steadily.
The stock of this bank is trading at attractive valuations today.
In fact, at the current price, the bank is trading at its book value.
Smart Money Secrets subscribers can access the report here.
If you do not have access to Smart Money Secrets, you can sign up here...
Chart of the Day
Whenever State Bank of India (SBI) announces its quarterly result, its management always says, 'the worst is behind us', 'the worst is over'.
The management has repeated this statement after almost every quarterly result. In fact, SBI Chairman, Rajnish Kumar had to mention this last year.
People don't believe when you say that the worst is over. We have to prove now that the worst is over. So wait for next two-three quarters.
As Warren Buffett famously said, 'There's never just one cockroach in the kitchen, when you start looking around'.
This dictum is apt when it comes to banking.
Eventually, this leads to the bank underperforming the market and its peer banks.
If there is any private sector bank that has severely underperformed in the last two years, it has to be Lakshmi Vilas Bank (LVB).
Look at the chart below.
Lakshmi Vilas Bank Down 60% from Its 2017 High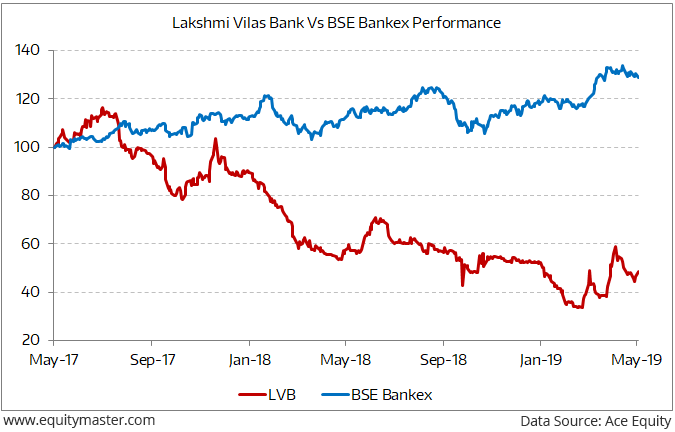 LVB declined by more than 50% in the last 2 years compared to the overall BSE Bankex showing gains of about 30%.
Here's another interesting data.
If you look at the shareholding pattern of LVB during this 2-year time frame, retail investors (Individual share capital up to Rs. 2 Lacs) have increased by 15%. The number of shares owned by them increased by 24%.
A typical example of retail investors catching a falling knife!
Warm regards,


Sarvajeet Bodas
Co-editor and Research Analyst, Smart Money Secrets
PS: Sarvajeet and Radhika, co-editors of Smart Money Secrets, are preparing their next stock recommendation report. You can get the report along with all their past recommendations by signing up for Smart Money Secrets here...
Recent Articles