Forget the Elections, the IPL Teaches You More About Investing
May 9, 2019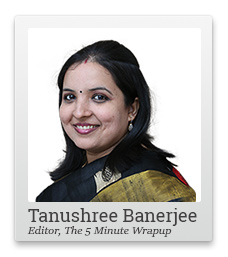 The Indian Premier League (IPL) is on in full swing.
Even after 11 years since it started, the craze keeps getting bigger and better. Viewership this year crossed 400 million during the first four weeks.
One out of every third person in India watching the IPL!
Eight teams fight it out for the title over two months. These teams are given the same budgets. You would expect a close contest between all eight teams over the years.
But does it work that way?
No.
A person who closely follows the IPL will notice a clear pattern. That of two teams dominating the tournament. The Mumbai and the Chennai franchises have contested 8 of the 11 finals over the years and have shared 6 titles between them.
Even in other sports, there are always one or two teams or individuals that are dominant.
--- Advertisement ---


This MEGA Summit Contains the Sensex 100,000 Secret

Senior Analyst and our Co-head of Research Tanushree Banerjee has just released a special guide.

In this report…She has identified an irreversible trend that could push Sensex above 100,000.

And in that process, could allow early investors to potentially make life-changing gains.

That's why we have published our special guide. You can download it here for free.

And if you really want to benefit massively from this guide…then join us for the Rebirth of India MEGA Summit at 5pm on 16th May. It's also FREE.

But we must warn you…

We expect more than 10,000 Indians to join us for this summit and we have a limited capacity.

So if you don't want to miss out then…



Download Your FREE Guide Now – In Just 1-Click!!
(Plus automatically get a free seat in Rebirth of India MEGA SUMMIT)


------------------------------
Why does this happen and what does it teach us?
You see, the winners just have something extra. It can be leadership, strategy or any unique thing they are better at.
And once they crack the code in sports or any other field, they always stay ahead of competition.
Winning becomes a habit.
What does that teach us about the investing world?
You see, the aam investor has a habit of looking for unknown stocks. They get excited when they discover a stock no one's heard of or one that has fallen a lot from its highs. The mind makes up stories of how it will be the next 100 bagger for them.
They see a small bank with no track record of earnings and expect it will become the next HDFC Bank.
I believe in the opposite - Safe Stocks.
These are stocks of companies that have cracked the code of their industry.
These are businesses with a proven track record and big a head start in strategy, geographical reach, distribution network, branding, and the quality of management.
Once they get ahead of the competition, they are likely to stay there for a very long time.
For your long term investments, dear reader, focus on these stocks.
I do the same for my subscribers. Look for safe stocks that are ahead of competition in everything they do.
Follow my 3-point manifesto for investing in these stocks.
For now, the Mumbai team that I support is in the IPL finals once again. I hope they win it once again this Sunday.
--- Advertisement ---


The Smart Way to Become Rich in 2019

Some smart companies are using 'Click-of-a-Button' strategy to scale their business and kill competitors.

This strategy has changed industry dynamics.

This strategy has redefined the way of doing business.

And this strategy has crushed some of the oldest and biggest companies all over the world.

Even smart investors are using this strategy to retire rich and early.

And now it's your chance.

Click here to know more…
------------------------------
Chart of the Day
If the India Volatility Index (VIX) score is anything to go by, we are in for a turbulent ride ahead.
The India VIX Index measures the volatility expected over the next 30 days. It touched an all-time high recently.
Market Volatility Highest in Years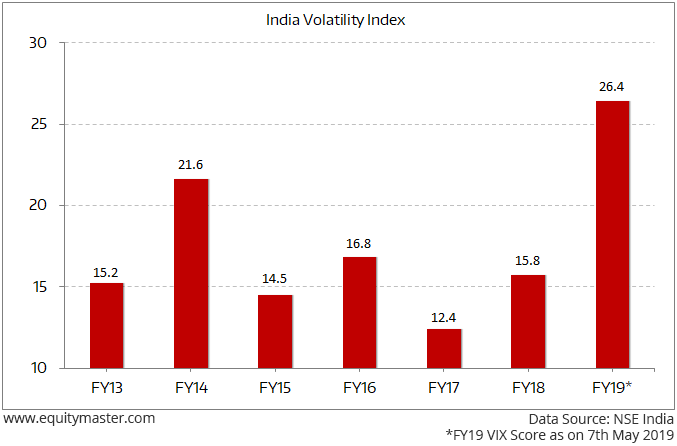 Uncertainty over the general elections, trade war threats between US and China and rising crude oil prices have all contributed to widespread fear among investors.
While the 2018 correction was mainly due to corporate governance issues back home, the threat of macro issues looms large in 2019.
For you, dear reader, it is important to ignore the short-term noise of the mainstream media.
While the volatility index is high, it is no indicator of the market direction. The index was high during 2014 as well, prior to the elections. Post that we had a multi-year bull run.
I believe safe stocks with strong fundamentals will do well regardless the short-term volatility.
In fact, the volatility might just give you an opportunity to load up on these quality businesses.
Warm regards,



Tanushree Banerjee
Editor and Research Analyst, The 5 Minute WrapUp
PS: Dear reader, at 5 PM on 16 May, Tanushree Banerjee will reveal the Greatest Money-Making Opportunity very few Indians know about! Get the details of this event here.
Recent Articles