3 Indian Stocks Replicating Amazon's Successful Strategy
May 10, 2019
Are you an avid reader?
If yes, you will agree that today we are living in an age when, as readers, we are spoilt for choice. And that is a great thing.
But you see, it was not always so.
My reading journey began as a child, when I was introduced to the books of Enid Blyton. I was entranced by her imagination.
Covid-19 Special 3x Opportunity: Five "Essential" Stocks to Buy Before the Lockdown Ends...
But books back then were always given as gifts on birthdays. Thus, I had a small collection, which after reading for the first time, were subjected to re-reads many times since then.
I remember the excitement when Crossword opened its first big store in South Mumbai. I spent hours there.
Subsequently, many such bookstores and chains opened. And as I began earning, I often visited these stores for some new recommendations.
It also happened that my reading tastes evolved and I craved for something eclectic. The bookstores in the city only stocked commercial titles.
Meanwhile, publishing houses in the UK and the US were releasing an interesting selection of books. More often than not, they were hardly available in India. One could not afford to travel to London or New York all the time.
Then came Amazon.
That was a groundbreaking development.
Now, I could order books at the click of a button.
The choice was mindboggling. I had access to books which were not always available in the physical bookstores in the city.
And it spurred another hobby - writing about what I read.
--- Advertisement ---
3 Smallcap Stocks Set for a Massive Rebound

Since the beginning of 2018, smallcap stocks have been hammered hard.

The BSE Smallcap Index has fallen by about 50% since then.

And this has made a few excellent stocks available at dirt-cheap prices.

We've identified 3 such high-potential stocks. The returns they generate from these prices could be mind-blowing.

Potentially 200%, 400%, and even 900% in the coming years.

We're holding a special online event on 9th June where we'll reveal the details of these 3 stocks.

Please click here to sign-up for free
------------------------------
Today, I am in a situation where I am overwhelmed by all these choices. Forget re-reading, it will be a miracle even if I get through all the books that I have even once!
Amazon was a big game changer and led to the demise of many traditional booksellers.
Amazon started its operations in July 1994, in Seattle. It quickly went toe-to-toe with giants like Barnes & Noble and then with the likes of Target and Walmart.
It started with books but quickly expanded to other products including electronics and fashion to name a couple.
But even though Amazon has changed the face of the retail industry, it only has a handful of brick and mortar stores.
And that has been the key to its success. It has an asset-light business model.
It has been able to scale up fast and expand rapidly in many countries.
Clearly, asset light is asset right.
But how does that work?
Companies go asset-light by owning fewer capital assets compared to their operational assets.
They do this by reducing various capital assets like land, buildings, plant and machinery, cars, etc.
Thus, their costs reduce and they can adapt faster to changing demand. In other words, they become more agile.
This is precisely what Amazon has done and is still doing.
But it doesn't have to be only Amazon.
We have our fair share of such asset light businesses in India too.
Sarvajeet and I have closely studied such companies.
And after much research, we identified 3 stocks for our Smart Money Secrets subscribers.
They all have asset-light business models.
We call them 'Click-of-a-Button' stocks.
We believe all 3 stocks have massive wealth building potential in the long-term.
We recently published a premium report about these 3 'Click-of-a-Button' stocks for our Smart Money Secrets subscribers.
If you have subscribed to Smart Money Secrets, you can click here to download the report.
If you haven't subscribed to Smart Money Secrets yet, you can sign up here.
Chart of the Day
Retail is one industry in which an asset light approach has made a huge difference. Amazon is a classic example in this space.
While researching such asset light businesses in India, Sarvajeet and I also came across a retail player with a compelling story.
As you can see in the chart below, it is a stock that has also rewarded shareholders well.
This Retail Player Has Outperformed the Smallcap Index...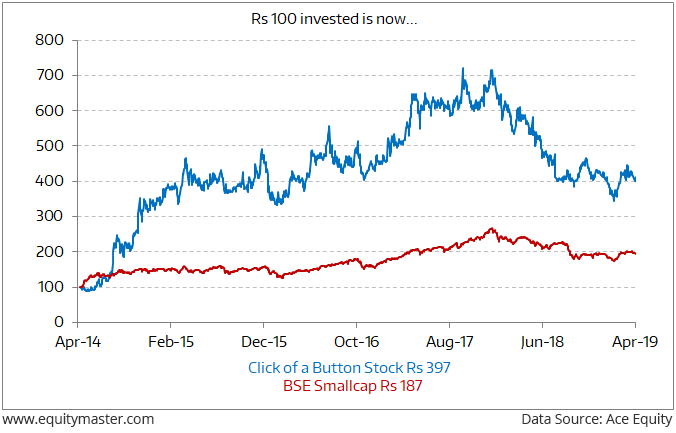 The company outsources its manufacturing to identified outsourced manufacturing firms. It also employs a franchise model for its brand outlets.
Thus, the company does not require huge capital to invest in land, building, machinery and so on. Hence, it is able to focus on its key strengths - product development, branding, and marketing.
We believe it had to be included in our premium report of 3 high potential stocks.
This report focuses on 3 Click-of-a-Button stocks we have identified for our Smart Money Secrets subscribers.
Warm regards,



Radhika Pandit
Co-editor and Research Analyst, Smart Money Secrets
PS: Dear reader, get ready for the Rebirth of India MEGA summit where Tanushree Banerjee will reveal the greatest money-making opportunity very few Indians know about! Click here to sign up for FREE...
PPS: Radhika Pandit and Sarvajeet Bodas, co-editors of Smart Money Secrets, are getting ready to recommend their next stock. If you haven't subscribed to Smart Money Secrets yet... you can do so here.
Recent Articles