The Big Change You Need to Make to Be the Investor of the Next Decade
May 15, 2018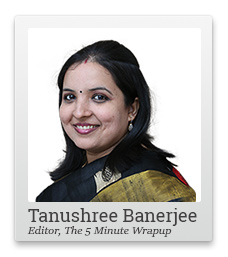 Would you like your friends and family to call you - Investor of the Decade?
They certainly should, provided you fulfilled just one criteria. That you were consistently invested in stocks in the past 10 years.
Just staying invested in stocks was good enough to have made you enough money.
You needn't have burnt midnight oil reading annual reports. You needn't have crunched financial ratios in excel sheets. Nor did you have to pour over scores of research reports to achieve this feat.
For, barring a few months of hiccups, stocks in general did brilliantly in this decade.
More importantly, stocks did far better than fixed deposits, gold and real estate.
Stocks were the new safe haven.
How did this happen?
You see, in late 2008, the world was in the middle of the global financial crisis. The US Fed, America's central bank responded by printing money... large doses of effortless money. And it found its way to Indian stocks.
FIIs jumped in first. They made a lot of easy money.
--- Advertisement ---


5 Safe Stocks to Buy Now…

The Bombay Investing Society has been giving its members solid safe stocks recommendations for over 16 years…

Recommendations that went on to generate double even triple digit returns.

And today, you have the chance to get access to 5 of its safe stocks that are a buy right now!

Click here for full details…
------------------------------
Overtime, even Indians got weaned off low-interest fixed deposits. Demonetisation dealt a blow to the appetite for gold and real estate, like never before. So, the Indian retail investor became bullish on stocks to win the game of investing.
But will that continue to be the case?
Will buying good companies at any price continue to be the best investment decision?
Will that make you the Investor of the Next Decade?
Buffett offered the clue to answer these, in his 2000 Berkshire letter to shareholders...
Indeed, the formula for valuing all assets that are purchased for financial gain has been unchanged since it was first laid out by a very smart man in about 600 B.C. The oracle was Aesop and his enduring, though somewhat incomplete, investment insight was 'a bird in the hand is worth two in the bush.' To flesh out this principle, you must answer only three questions. How certain are you that there are indeed birds in the bush? When will they emerge and how many will there be? What is the risk-free interest rate?
So,whether stocks will continue to beat other asset classes depends mostly on the direction of interest rates in the coming decade.
And the chances are that sooner than later, the interest rates will move upwards.
To continue calling yourself the Investor of the Decade, you will now need to address two questions.
Which stocks will thrive even when the rates rise?
Whether fixed income assets will offer better payoffs than stocks?
Now, interest rates are known to act like a force of gravity on stock valuations. As the rates rise, the P/E multiples tend to fall. So, even as the stocks compete with fixed income assets, to remain attractive, their valuations could head lower.
In such a scenario, companies typically resort to two tactics to lure investors.
Pay high dividends
Buyback shares
Cash rich companies will increasingly resort to either or both these tactics in the coming months. In the hope that investors will continue to stay appeased with the steady income, if not the capital gains.
Infosys is a case in point. The IT behemoth is determined to appease shareholders with the Rs 290 billion of cash on its books. Its dividend policy is to pay out at least 70% of its free cash flow as dividends each year.
With capex plans taking backseat, big dividend payouts and share buybacks could become the norm even for cash rich manufacturing companies.
Dividends, Buybacks from Cash Rich Companies Could Help Build Your Investing War Chest
Fortunately, for investors, this steady income from dividends and buybacks could be a game changer for investing in the next decade.
As interest rates move up and valuations recede, you would need nothing less than a war chest, to scoop in on value stocks in a big way. And dividends could be the best means of building that war chest.
So, it is possible to be the Investor of the Next Decade. You just need to adjust to one change - the direction of interest rates.
Hold on to stocks that can survive or even flourish when rates rise.
Keep your eyes on companies with strong cash flows and healthy balance sheets.
Make the most of the dividends and buy backs by building a war chest.
And when the time comes, scoop in on the value stocks.
Chart of the Day
Going by historical trend, there is an inverse relation between valuations and dividend payouts.
The years like FY09 and FY13, saw the dividend payout ratios of BSE-500 companies go to as high as 25%. Incidentally, these were the years in the past decade, which were the best suited for value investing (buying great businesses at deep discount).
So, as I explained, when interest rates act like a force of gravity on valuations, we could see a repeat of 2009 and 2013 like correction. A 30% crash from the peak is something I have been predicting for few months now.
And I won't be surprised, if the dividend payout ratio doubles from the current level.
Is the Dividend Payout of Indian Companies Set to Double?
Warm regards,


Tanushree Banerjee (Research Analyst)
Editor, The 5 Minute WrapUp
PS: Research analyst, Tanushree Banerjee has made a prediction: Sensex 100,000. If she's right, there will be a lot of winning stocks. But you don't need to take unnecessary risks to make solid double or triple digit gains. Tanushree's premium service, StockSelect, will safely guide you to the best stocks in the market. You can get full details here...
Recent Articles