An Investment Mistake More Destructive than the Ransomware Virus
May 16, 2017
In this issue:

» The mistake that's just as deadly Ransomware Virus
» 3 years of Modi Sarkar
» IT sector is no longer a top job creator
My key takeaway from the Berkshire AGM was Warren Buffett's mea culpa on IBM.
The same Buffett who lavished so much praise on the company now turned his back. He's sold around a third of his stake in the computing giant. And if his comments at the AGM are anything to go by, it won't be long before he parts with the rest of his holdings.
Here's what he said:
I was wrong. IBM is a big strong company, but they've got big strong competitors too. I don't value IBM the same way that I did six years ago when I started buying. I've revalued it somewhat downward.
And for perspective, here's what he said when he invested in the company in 2011.
As was the case with Coca-Cola in 1988 and the railroads in 2006, I was late to the IBM party. I have been reading the company's annual report for more than 50 years, but it wasn't until a Saturday in March last year that my thinking crystallized. As Thoreau said, 'It's not what you look at that matters, it's what you see.'
What do you make of these comments? At first glance, they sound like they're from someone who's out of their depth. It appears as if Buffett has messed this up bad.
However, looked at holistically, it highlights a hugely underrated quality of the Oracle of Omaha.
Not only is he willing to wait fifty years for a thorough understanding of his stocks, he is equally willing to quickly head for the exits if his thesis develops a flaw.
A lot of people give Buffett credit for his extraordinary stock picking and immense patience. Meanwhile, his amazing sell discipline, which is no less important to building a great long-term track record, goes largely unnoticed.
Buffett could still be wrong, of course. IBM could go on to give good returns from here. But the man has his own inner scorecard...his own way of evaluating stocks. And when cracks begin to show, he is not afraid to book a loss and move on.
Are you the same with your stocks?
Do you buy based on your own thesis and sell when the thesis is no longer true, even if it means exiting at a loss? Or do you keep holding the stock, living in psychological denial and hoping for a miracle?
If so, you are committing a big mistake...a huge double whammy of a mistake, in fact. Not only are you losing on the failed stock, you are foregoing the upside you could've had if you sold and invested in a good stock.
Our Microcap Millionaires service deals with this challenge rather uniquely. We insist on strict sell discipline: We sell our stocks after they go up 50-100%, or in two years, whichever is earlier. This rule provides clear sell guidelines and prevents us from getting sucked into an emotional vortex and messing up our selling decisions.
In fact, a big reason for Microcap Millionaires' huge success (the strategy is up more than 150% since inception in February 2014 vs the Sensex's 48%) is this rule.
I am not saying all investing strategies should have the same sell rules as Microcap Millionaires. No, that would be wrong. The rules should be a function of the kind of stocks that make up the portfolio (not to mention a reflection of the person managing the portfolio). But never ever leave home without them.
Else, like the Ransomware virus that's creating havoc all over, the lack of clear sell rules can create havoc in your portfolio.
--- Advertisement ---
17,000+ Copies Downloaded...

The Super Investors of India - our latest special guide, has already been downloaded by more than 17,000 readers...

And that number is going up rapidly as we speak. So, if you still haven't claimed your copy...do not delay.

It's absolutely FREE. Click here to download...
------------------------------
While Buffett may fret over IBM, investors here are worried about Indian IT stocks. While growth rates have slowed down, margins too have come under pressure.
Automation, and new digital technologies have made life tough for these firms. The backlash against outsourcing in the western world has only complicated matters.
The transition from being IT services vendors to providing consultative solutions has proved difficult. The new digital landscape demands higher skill sets than what employees at IT firms possess.
Re-training exercises at these firms have been on since quite some time. But many employees have found it just too difficult. As per an article in the Economic Times, out of the 4 million strong work-force in the sector, about 1.2 million are unable to upgrade their skills.
This problem is at the core of the spate of job losses in the news recently.
These firms are under serious margin pressure and will let go of those employees who they believe cannot make the crucial transition.
We believe this sad state of affairs is unavoidable. It is a necessary part of the process these firms must go through if they want to remain relevant.
However, the side effect of the transition will be a slowdown in job creation. And jobs are what India needs now.
One million people enter the Indian workforce every month. Without the IT sector as a key growth driver, the employment situation remains bleak.
04:10

Chart of the Day

Job creation is a serious problem for the government. But after three years, the Modi Sarkar is still riding high on popularity.

This is certainly true of the formal sector of the economy.

As per a poll conducted by the Economic Times, CEOs across the country are broadly happy with the progress made by the government. They have given the government an overall rating of 7 out of 10 with infrastructure being singled out for high praise.
Infra Push receives Highest Praise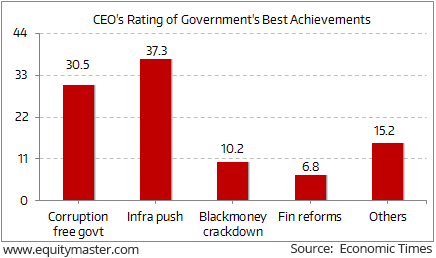 We take such surveys with a pinch of salt. Corporate India rarely speaks out against the incumbent government of the day.
However, in certain areas like power, formalisation, infrastructure push, and improving the bureaucracy the government will get high marks.
There is no doubt the government's intention to move the economy forward is sincere and many steps have been taken in that direction. However, until we see a broad-based economic recovery backed by corporate earnings growth, it would be too early to celebrate we believe.
After opening the day on a positive note, Indian share markets have continued their momentum and are presently trading in the green. Sectoral indices are trading on a positive note with stocks in the Consumer durables and Software leading the gains.
The BSE Sensex is trading up 104 points (up 0.3%) and the NSE Nifty is trading up 25 points (up 0.3%). The BSE Mid Cap index is trading flat, while the BSE Small Cap index is trading up by 0.3%
04:45

Today's Investing Mantra

"All I Want to Know Is Where I'm Going to Die So I'll Never Go There." - Charlie Munger

This edition of The 5 Minute WrapUp is authored by Rahul Shah (Research Analyst).
Today's Premium Edition.
Inox Wind: More Headwinds in the Offing?
Inox Wind's stock price plunged 17% yesterday on the back of poor performance in Q4FY17. Challenging times ahead for Inox Wind? Read more to find out...
Read On... | Get Access
Recent Articles