My Top Five Stocks After the Karnataka Elections
May 16, 2018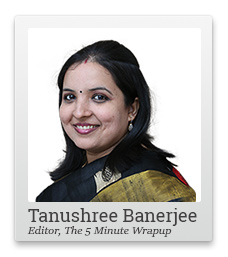 Editor's Note: Dear reader, the Karnataka elections could be a turning point for the market. The BJP did not achieve a majority but that's not the point. The market has been looking for a trigger for quite some time now...either positive or negative. We will know only in hindsight which one it is.
However, if it is a trigger, you cannot jump into any random stock and hope to make money. You need to be very selective. I believe, this is the right time for an update on my pick of the top 5 safe stocks in the market.
I wrote this two months ago.
At that time, the market's direction was unclear. Now, that could change. But the top 5 stocks have not changed. Please find my thoughts on the stocks at the end of the editorial. Read on...
---
Five Safe Stocks You Could Buy Today
Do you get the feeling that the markets are confused?
I sure do.
In the last month, the market went down, up, down, and up again.
Uncertain Times for the Benchmark Index
The net result was no gain, no loss.
It's almost like no one knows what to do. The reason for the confusion is a tug of war between the bulls and the bears.
--- Advertisement ---


It Doesn't Get Any Better Than This…

We are celebrating over 15 years of our Safe Stocks recommendation service, StockSelect.

And as part of the celebration…

We are extending you a Special Celebratory Offer, that gives 12 additional months of virtually Free Access to StockSelect.

In our view, it doesn't get any better than this…and that's why you shouldn't wait to grab this opportunity.

Click here to claim your additional 12-month access…
------------------------------
So, I'll present to you, both sides of the coin.
The Positives
Economic growth is picking up
Effects of demonetisation and GST are rapidly wearing off
Inflation is stable
The RBI remains on hold
Urban personal consumption is as strong as ever
The government continues to spend tons of money in infrastructure projects
Corporate earnings have started rising
The aam investor is still putting money into stocks and mutual funds
The Negatives
Economic growth is nowhere as high as it should be
The threat of inflation hasn't gone away
Crude oil prices are still high
Large private sector investments in the economy are negligible
Job growth remains poor
The distress in rural India hasn't been resolved
Foreign investors are selling
So, which narrative should you believe?
If you, like me, believe in putting your money in safe stocks, your answer should be clear: Neither of the two.
Why?
Well, it's simple.
Safe stocks are safe because these issues don't really affect them.
Last week, I shared with you the four characteristics of safe stocks.
Strong Brands
High Quality Management
Resilience to Economic Downturns
Low Debt
Stocks with these characteristics, have stood the test of time.
If a stock satisfies these four criteria, do you really think you need to worry about things like inflation and interest rates?
Now, don't get me wrong. I'm not saying they're not important.
But for an investor in safe stocks, these issues don't matter in the long-term.
In the long-term, I believe the Sensex will rise to 100,000.
It's inevitable in my opinion.
But before that happens, I believe, the Sensex could fall by 30% from its recent high in the short-term.
This much-needed correction will set the stage for the journey to the magical six-figures.
So, what's the best course of action?
All you need to do is remain invested in the best picks among all the safe stocks in the market.
Then wait for the market to do the rest.
In the short run, the market is a voting machine but in the long run, it is a weighing machine. - Benjamin Graham, guru of Warren Buffett
Now, an important point here...
The best picks among all the safe stocks may not be part of the Sensex or Nifty.
That's okay. They don't need to be.
Consider Asian Paints. It's part of the Sensex. But it was included only in December 2015.
Did you know that Asian Paints was a 16-bagger in the ten years before its inclusion?
Yes, that's right.
The stock delivered a 32% annualised return over a decade...before joining the benchmark index!
But here's the thing...
It was a safe stock long before the stock exchanges recognised it.
It's not very hard to find such stocks. What is hard, is being patient enough to wait for the right price to buy them.
So, what do I recommend?
In this confused stock market, I see only 5 stocks that are both safe and cheap enough to consider buying.
I recommended them in a special report last month.
I haven't changed my views since then. You could still consider them.
I believe the Sensex will triple from its current level.
You should be invested in the multibaggers that will accompany the Sensex to 100,000...even if the market falls by 30% in the short-term.
---
Well, not much has changed since I wrote this.
Some of these stocks are trading above their maximum buy prices. Others are 'buys' even at these levels.
Also, I still believe...
The Sensex will triple from its current level...and get to 100,000.
We could see a 30% market crash before that happens.
Safe stocks are your best option to ride the Sensex all the way to 100,000.
Not all bluechips qualify as safe stocks.
You must buy safe stocks only at the right price.
Now, here's my pick of the top 5 safe stocks in the market today.
You can get access to the entire list here.
Stock 1:
This large NBFC has grabbed enormous market share from PSU banks over the last few years. It has earned the reputation of a rock-solid company.
As per the latest quarterly result, it's asset quality remained rock solid. Gross NPAs are below 1.5%. The capital adequacy ratio is above 15%. Despite being a conservative lender, its interest income is growing in the low-teens.
Best of all, there could be a near-term trigger. It's planning to list one of its subsidiaries soon. I see a lot of value getting unlocked for shareholders.
Stock 2:
This large pharma company has many growth drivers ahead of it. It is tapping into the fast-growing OTC (over the counter) segment. It has received US FDA approval for a skin care treatment. It also has its eyes on speciality generics.
It looks like all the bad news is behind this company. The pricing pressure, it was facing in the US, seems to have bottomed out. So have concerns about US FDA inspections.
Best of all, it has a lot of new products in the pipeline. Its future looks bright.
Stock 3:
Do you think HDFC's grip on India's home loan market is unbreakable? Don't be so sure about that. This company is closing the gap...fast.
It has a secure business model of low-risk retail home loans. More than 80% of its customers belong to the salaried class. Asset quality is rock-solid.
Recently, its net interest margin improved to almost 3% and return on equity improved to almost 20%. Best of all, it has been paying dividends since 1990! You can't really go wrong with this.
Stock 4:
Another one from the pharma space. This company has put its USFDA woes behind it. In fact, it's now looking to actively launch new drugs in the US. It has an enormous pipeline of almost 100 drugs awaiting approval!
At the same time, its strong position in the Indian market remains intact. Its recovery post GST-implementation has been very sharp indeed. FY18 was a good year I expect the performance to continue in FY19 as well.
Stock 5:
First things first... This stock has a dividend yield more than 8%. Yes, you read that right.
Remember the news that the government has electrified all of India. Well this company played its part. It was also one of the main beneficiaries of the government's UDAY scheme.
Now, it's considering projects outside the country. Domestically, it maintains a strong portfolio and is targeting the renewable energy sector. Its high dividend yield, stable asset quality, and capital adequacy ratio over 20%, will let you sleep well at night.
Well, there you have it. My pick of the top 5 safe stocks in the market today.
Of course, there are more than 5 safe stocks in the market. In my last report to premium StockSelect members, I recommended 17 stocks, out of which 10 were buys...including the 5 above.
You can get the full list here...
Warm regards,


Tanushree Banerjee (Research Analyst)
Editor, The 5 Minute WrapUp
PS: Your editor, research analyst Tanushree Banerjee, has made a big prediction: Sensex 100,000. If she's right, there will be many winning stocks. But these winners will come with a lot of unnecessary risks. Consider safe stocks instead. Tanushree recommends them in her premium service, StockSelect. This service has established a success rate of 74% over the last 15 years. Let her guide you safely, to the best stocks in the market. Get full access to StockSelect here...
Recent Articles