The Buffett Code Gives a Buy Signal for These 3 Stocks
May 22, 2018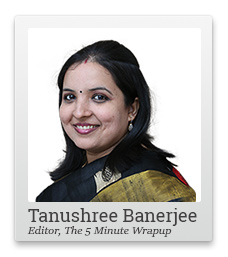 Does Warren Buffett have a code for making tons of money?
Yes, he does.
But people don't get it. So much so that he is used to being written off from time to time.
He may be the world's most successful investor...
He may be worth US$ 84 billion...
His company, Berkshire Hathaway, may be sitting on US$ 116 billion in cash...
But still...
People love to hate his style of investing.
There have been several obituaries about the demise of his investing style. Between the summer of 1998 and early 2000, for instance, Berkshire shares fell 44%. This was even as the US stock market, soared 32%.
That prompted Barron's to publish this piece in December 1999. The article suggested that Buffett 'may be losing his magic touch'. It argued that he was viewed by an increasing number of investors as too conservative, even passe.
Buffett, of course, was not worried. He continued doing what he did best: allocate capital to wealth compounding businesses that were selling below intrinsic value.
His efforts were rewarded. When the markets came to their senses, Buffett was once again a star.
Berkshire's stock price recovered to its previous levels within two years.
And then went on to triple over the next decade.
--- Advertisement ---


This Wouldn't Have Been Possible Without You…

We are celebrating more than 15 years of Tanushree Banerjee's StockSelect…

And we wouldn't have been able to reach this milestone without the support of valued readers like you.

Which is why, as a thank you…

We are giving you the opportunity to get 12 months of access, virtually free.

However, this celebratory offer is available ONLY for the next 4 days.

So, we would recommend that you do not delay and…

Click here for full details…
------------------------------
The man from Omaha was once again seen as an investing icon.
The mistake people make, every time they write-off Buffett, is in deciphering his Code.
That's the key. Once you understand this...you too can make a lot of money in the market.
But remember...very few people understand Buffett's Code.
The recent clash between Buffett and Elon Musk told me that it's happening again.
Even someone like Elon Musk doesn't get it.
But today, I'll tell you what it is...
Missing the Moats
Elon Musk argued that if the only defense against invading armies is a moat, it won't last long.
He made a mistake. A very basic mistake.
Musk doesn't realise that for Buffett, the moat is a metaphor for not just resilience but also prosperity.
There is no doubt that companies with moats need to innovate and invest capital correctly.
But they must do so in a manner that makes their moats wider. Innovation and growth will not help if it is not accompanied by profits and strong cash flows.
The reason Buffett likes Apple is because the company is reinvesting tons of cash on its books, at very attractive rates of return. And in doing so, Apple's moat, is getting wider. Musk's company Tesla, seems to be doing the opposite.
Not Hedging Macro Risks
By his own admission, Buffett does not track macro risks. His strategy is prone to such risks.
In 1973, when the OPEC proclaimed an oil embargo, oil prices shot up from US$ 3 a barrel to US$ 12 a barrel, within a year. It took a toll on the markets. So, in 1974, when the US markets had crashed 45%, Buffett said this...
What DeBeers did with diamonds, the Arabs are doing with oil; the trouble is we need oil more than diamonds. And there is the population explosion, resource scarcity, nuclear proliferation.

You can't invest in the anticipation of calamity; gold coins and art collections can't protect you against Doomsday.

You may want to construct a disaster-proof portfolio. But if you're only worried about corporate profits, panic or depression, these things don't bother me at these prices.
The Buffett Code, is all about factoring in the company's ability to overcome near term risks (whether macro or micro) to its intrinsic value.
Waiting Too Long for Too Little
Buffett often says that he loves to buy a dollar for 50 cents. To many, that logic lacks practicality and needs too much patience.
But the Buffett Code is about looking for better bargains when trying to buy wonderful businesses at sensible prices.
For instance, when Buffett started buying Washington Post in 1973, in the middle of the oil embargo, he was doing so at one fifth the true value. Berkshire fetched plenty of dividends from Washington Post over the next four decades.
At the end of the day, Buffett booked over 9,000% returns on the stock in 2014. So, in case of an investment like this, Buffett managed to buy something for 5 cents on the dollar or less.
So, even as the markets worry about things like the validity of moats or oil prices, inflation and interest rates, investors who understand the Buffett code, can act decisively.
In fact, as I write this, my team is putting the finishing touches on a special report - 3 Stocks to Buy as per Buffett Code. We will publish it this evening. Watch out for it.
If you're wondering when to go big on the Buffett Code, here is an advice Bill Bonner gave to the readers of his Diary recently...
Interest rates are going up. As for assets, our guess is that when the stock market gets a load of what 4% rates will do, it will panic... and drop more than expected, faster than expected.

When prices get back in Warren Buffett's buy zone of 80% (or less) of GDP - which they must sooner or later - stocks will have lost about 45% of today's value. Dow 13,000, in other words.

When they get to that level, buy!
The good news is that you don't have to wait for the Sensex to fall 45%. In fact, you don't have to wait for any correction at all.
There are three stocks you could buy right now!
You see, I've cracked the Buffett Code. And it has given me a crystal-clear Buy signal for these three stocks.
The premium report will be published in a few hours.
Chart of the Day
Like Buffett, tracking macro risks is not my beat. But I do try to see the silver lining for stocks, in the macro risks, from time to time.
Take for instance...India's corporate debt problem.
Indian corporates have borrowed debt amounting to 51% of the country's GDP. That is not huge. It's conservative by any standard. So, the problem of India's corporate debt is not its quantity.
The problem lies in the ability of most of these companies to service the interest and pay off the debt. The interest coverage ratio (ability to service debt with profits) of near 60% of the companies with debt is poor. Apart from that nearly 40% of the debt, which is still not part of non-performing assets, has the risk of going bad.
The silver lining here is the India's new Bankruptcy Code. This, I believe, will usher in a new level of transparency in corporate lending and reignite capex plans.
More on this soon. Stay tuned...
Quality and Not Quantity of India's Corporate Debt is the Problem
Warm regards,


Tanushree Banerjee (Research Analyst)
Editor, The 5 Minute WrapUp
PS: Tanushree Banerjee's premium safe stock recommendation service, StockSelect, which has a success rate of 74% over the last 15 years, is now available with a special offer. If you act now, you can get 12 additional months of StockSelect virtually free! This offer is available for the next 4 days only. It ends at midnight, 25th May. So, don't miss out. Click here to get StockSelect right away.
Recent Articles