My Next Stock Recommendation Has 40% Upside No Matter How Many Seats Modi Gets
May 22, 2019
Finally, the wait is over! The election results will be out tomorrow.
It's a big relief after a prolonged and acrimonious Lok Sabha campaign. It ended this Sunday.
Immediately after the last day of the polls, everyone was waiting for the exit poll results.
This is not surprising! We humans don't like uncertainty. We like to predict the future.
In the stock market, analysts like me predict the future earnings of companies.
And when it comes to elections, the media loves to predict election results!
This Sunday was no exception. Most exit polls predicted a BJP-led NDA victory. Mind you, these are the exit polls. The actual results could differ. They have varied in the past.
But let me tell you one thing, whoever comes to power, they should take India to new heights.
--- Advertisement ---


The 4 Stocks to Buy If Modi Comes to Power Tomorrow...

The exit polls have clearly indicated who our next Prime Minister could be...

Causing an instant market rally of 1,400 points.

And tomorrow, when the election results are out, we'll know for sure.

But this isn't about profiting from short-term rallies - a BJP win could significantly boost the economy and the stock market in the long run as well.

Starting with these 4 stocks...which Richa Agarwal has recommended a strong BUY on.

You'll find the details here.
------------------------------
The overall economic situation is not very encouraging. The latest Monthly Economic Report (MER) indicates that 'India's economy appears to have slowed down'.
Sales of auto companies are down.
Airline traffic growth is slowing down.
FMCG companies came out with weaker numbers this quarter.
In the last six months or so, the finance sector saw a liquidity crunch.
Hence, the main priority of the new government would be to arrest the economic slowdown.
MER listed declining growth of private consumption, tepid increase in fixed investment, and muted exports as some of the key reasons for the slowdown.
To address these issues, the new government's immediate task is to bring the nation's banking sector back on track.
Why is this the most important task?
The banking sector plays a significant role in the economy. The bank is the most important financial intermediary in the economy as it connects savers and borrowers. It collects the savings of the individuals and lends them out to businesses, people, and manufacturers.
Bank loans facilitate commerce. This ensures the flow of money in the market and hence the growth in the economy.
No wonder, over the last ten years, total credit grew at a CAGR of 13%, almost twice of GDP growth.
Thus, a robust banking system is more important than ever.
In Smart Money Secrets, Radhika and I avoided recommending NBFC stocks.
Several NBFCs are under pressure due to the liquidity crunch. The NBFC sector depended heavily on low-cost, short-term debt financing.
For us, this was a big red flag.
Instead, our preference was towards high-quality banking stocks.
We consciously decided to avoid public sector banks.
There's a lot of uncertainty regarding ongoing NPA issues, the government's plan for infusing further capital, etc.
So, from the rest, our preference were banks that have a strong liability franchise, diversified loan book, and good asset quality.
And we have finally found such a bank to recommend to our subscribers.
This bank was on our shortlist for quite some time. But due to some asset quality concerns, we didn't recommend it.
Finally, we see clarity on the asset quality issue going forward.
Importantly, the bank is trading at reasonable valuations.
The potential upside in this stock is more than 40%.
Radhika and I will publish the recommendation report on Monday, 27 May.
If you haven't subscribed to Smart Money Secrets yet, you can sign up here.
I strongly believe, whoever comes to power, India's banking industry will continue to play a major role in shaping the future of our country.
--- Advertisement ---


What Modi's Expected Win Could Mean for These 4 Stocks...

The exit polls have clearly indicated who the winner of Elections 2019 could be.

And if you're a Modi-supporter or not, this could be great news for you.

Why?

Because this has the potential to trigger a strong uptick in the markets...

The market rose 1,400 points yesterday.

And this is just the beginning...

The beginning of a massive wealth-creating opportunity for early investors.

You can read all about this opportunity here, along with details on Richa Agarwal's top 4 stocks to profit from now.
------------------------------
Chart of the Day
Over the last few years, NBFCs have been gaining market share across major asset classes.
These NBFCs have entered high growth segments such as SME loans, affordable housing finance, etc.
However, to gain market share, they took higher risk.
Nevertheless, the recent rise in interest rates and tighter liquidity in the bond market has tilted the balance in favour of the banks.
This month's Smart Money Secrets recommendation has been gaining market share consistently over the last six years.
This Bank Has Consistently Gained Market Share!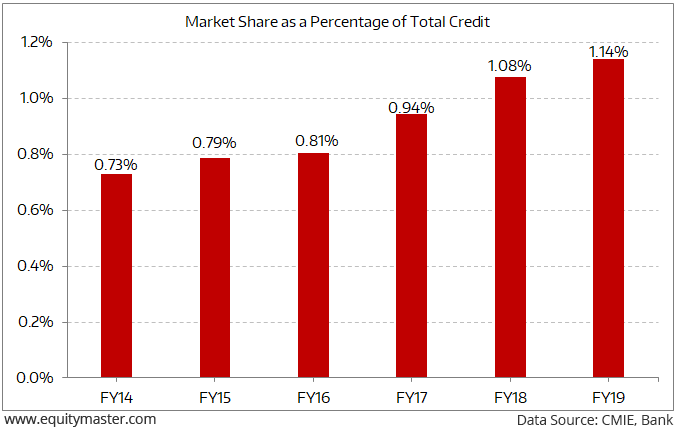 In the last six years, the bank's market share increased from 0.73% in FY14 to 1.14% in FY19.
We anticipate, by FY22, the market share as a percentage of total credit would increase further to 1.42%.
The bank is also likely to benefit due to its strong liability franchise and improving asset quality. Similarly, a decline in cost-to-income ratio and moderate provisioning would improve the bank's profitability.
We will publish the recommendation report on Monday, 27 May.
Stay tuned!
If you haven't signed up for Smart Money Secrets, you can do so here...
Warm regards,


Sarvajeet Bodas ,
Co-editor and Research Analyst, Smart Money Secrets
PS: Sarvajeet Bodas and Radhika Pandit, co-editors of Smart Money Secrets, are ready to recommend their next stock. If you haven't subscribed to Smart Money Secrets yet... you can do so here.
Recent Articles