My Top 7 Stocks to Buy as Modi Returns to Power
May 23, 2019
Editor's note: Dear reader, I have just published a very important free guide for you - How to Profit from Sensex 100,000. Download it here.
---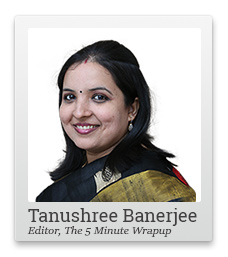 A huge screen awaited me at the railway station early morning.
People had surrounded the screens even before the 8 a.m. counting had begun. The anticipation seemed like a World cup cricket match that was about to begin.
From the railway station to my office, I saw people hooked on to their mobile phones. My WhatsApp groups are constantly buzzing with who's leading where.
And the trend is clear.
Important: One stock to add to your portfolio asap
As I'm writing this, the Modi government is set to get a clear majority.
It will be something that has happened after 35 years. Two successive majority mandates for the same government.
The 2014 mandate was all about waking up the sleeping giant that is India. This time the expectations are of a different kind.
It is more about taking things to a logical conclusion. Things or reforms that were started during its previous regime.
The Indian stock market has given a big thumbs up to the re-election of the Modi government.
What does this mean for the market going forward?
There were three major uncertainties that plagued the market post 2018.
Uncertainty around global issues
Uncertainty related to the slowdown in India
Uncertainty related to the elections
Even the market reaction post exit polls have reflected this uncertainty. While Monday was a thumbs up to the exit polls, the fall on Tuesday was a result of global uncertainties.
Well, now we have got one uncertainty, of the three, out of the way. The one related to elections.
How do you play the market now post elections?
First things first. I strongly believe in India's future potential.
Advertisement
India's Next War
Recently, both China and Pakistan have started amping up tensions at the border.

So, now India faces a possible 2-front war scenario.

And this calls for a heavy deployment of future-ready and highly advanced weapons at our borders.

We are talking next generation tanks, guns and even high-tech equipment like drones.

Now unlike in the past where all this money was spent with foreign companies, now, it's being redirected to Indian companies.

For a few Indian defence companies...this is a mega growth opportunity.

And for investors... it's a rare opportunity to make potentially huge gains as select defence companies see their growth, and therefore stock prices, potentially shoot up.

To learn everything about this new, and huge, opportunity, Click Here to join Equitymaster's Explosive Profits Summit.

At this exclusive summit, you will also get to access details of what we call our #1 defence stock pick.

It's a potential 10x opportunity in the long term.
I believe India will be one of the fastest growing nations soon. It will transform itself from a sleeping giant to a global powerhouse.
Simply put, I believe in the Rebirth of India.
You see dear reader, in my research, I have discovered, 50 irreversible trends that will lead India to its growth path.
Trends that will surely carry Sensex to 1,00,000.
So how do you benefit from this?
One way to look at it would be how India benefits from a stable government at the centre.
Will there be focus on financialisation?
Will we see an increase in urbanisation?
Will we strengthen our defence forces?
Will there be an increase in manufacturing and thus exports?
The answer to these questions is yes.
I believe that your stock selection must factor in these trends. They are likely to get a major push with the Modi government returning to power.
Keeping all these factors in mind, I have zeroed in on 7 stocks that will benefit the most.
This is an opportunity that doesn't come around too often. Today's decisive election mandate has come after 35 years. You wouldn't want to wait that long for your next chance, would you?
So take advantage of this opportunity right now! Take action by signing up for my 7 stocks special report - Seven Stocks to Profit from the Rebirth of India.
---

Advertisement

---

The 4 Stocks to Buy If Modi Comes to Power Today...

The exit polls have clearly indicated who our next Prime Minister could be...

Causing an instant market rally of 1,400 points.

When the election results are out, we'll know for sure.

But this isn't about profiting from short-term rallies - a BJP win could significantly boost the economy and the stock market in the long run as well.

Starting with these 4 stocks...which Richa Agarwal has recommended a strong BUY on.

You'll find the details here.
------------------------------
Chart of the Day
Does Sensex 1,00,000 sound outrageous from where we are right now?
Even Sensex 40,000 would have seemed the same from around 5,000 levels in May 2004.
History indicates a healthy rise in Sensex post elections. In the three elections prior to this, we have seen a government come back to power, and change hands but the Sensex has moved one way i.e. upwards.
Will the Sensex Be Close to 1,00,000 By the Next Election?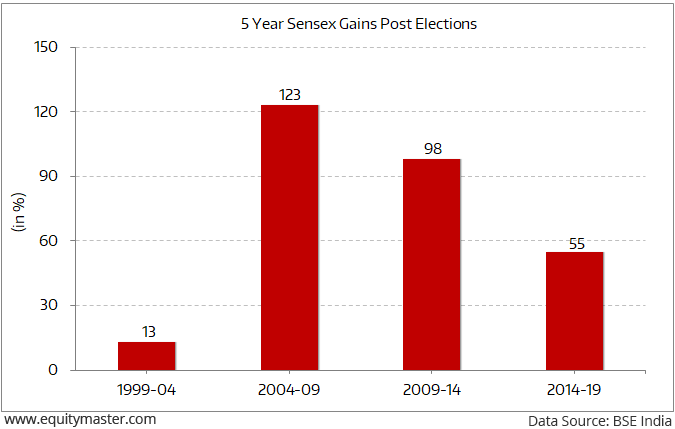 There are bound to be bumps along the way. The move from 5,000 to 40,000 wasn't a straight one. We had a global recession, countless moments of doomsday predictions as well.
But we got there.
And now, with a stable government at the centre, the pace might pick up.
I believe there are 50 irreversible trends that will the push Sensex to 1,00,000.
And these 50 trends look set to play out soon.
The ride might have already begun looking at the stock market's reaction to the election results.
But it is still early days. And the time to hop on to the ride is right now!
Warm regards,



Tanushree Banerjee
Editor and Research Analyst, The 5 Minute WrapUp
PS: Dear reader, Modi's victory is, once again, a resounding one and it is very good news for the markets. More importantly, I believe 7 stocks could be among the biggest gainers as the Modi government implements its policies. Read more about these 7 stocks here...
PPS: Dear reader, I have just published a very important free guide for you - How to Profit from Sensex 100,000. Download it here.
Recent Articles