The Singular Quality That Helps Super Investors Beat Markets Black and Blue
May 24, 2017
In this issue:

» The most detailed work on the quality of India's management
» India's increasing petroleum import dependency
» Market roundup
» ...and more!
Yesterday, I had an interesting discussion with Rohan and Kunal. As you already know, they have been quite busy with their 'super investor project' - tracking India's super investors, meeting with them, monitoring any changes to their holdings...
Our discussion was about the singular quality that differentiates super investors.
Both analysts agreed: It's their ability to bet on the right people long before the markets take a notice of them.
Think about it. Super investors don't believe in having overly diversified portfolios. They work hard to find great opportunities. And such is their conviction that they don't mind concentrating their portfolio on just a few stocks.
But how do they achieve such a high level of conviction?
The answer has little to do with industry, financials, or valuations. Yes, these are important. But they're often an outcome, not the attributes that define the future of the business.
Think of Berkshire Hathaway. Once upon a time, it was a struggling textile company. No moat. No rosy financials. Just a bleak future. That is, until Buffett took over.
Or take Apple, Microsoft, Facebook, and Amazon. These companies wouldn't be where they are without Steve Jobs, Bill Gates, Mark Zuckerburg, and Jeff Bezos.
That's because, ultimately, the people running the business determine the fate of a company. And it's the super investors' excellent judgement of competence and character that separates them from the rest.
Buffett once said of Ajit Jain, head of Berkshire Hathaway's reinsurance operations: 'He had no background in insurance. I just liked the guy.'
Buffett saw himself in Ajit. And hired him. Ajit is now seen as a top candidate to replace Warren Buffett as Berkshire Hathaway CEO.
And of his first meeting with Precision Castparts CEO Mr Donegan, Buffett says it was like seeing 'the girl across the room'. He was impressed by Donegan's knowledge and passion for business, saying: 'The guy is fantastic. He's as in love with his company as I am with Berkshire, and that's saying a lot.'
Buffett only needed half an hour with Donegan to decide that his aerospace firm was worthy to become Berkshire Hathaway's largest acquisition ever. And Mr Donegan wasn't even pitching.
Buffett's ability to spot good managers has long been critical to Berkshire's smooth functioning as a mammoth holding company.
Every super investor I can think of shares this trait.
They know how to separate good managers from mediocre and bad ones.
They don't confuse business tailwinds and headwinds with management quality. They are wary of the halo effect. They look beyond the financials. They place no emphasis on headlines. And hence, are also the first ones to spot successful turnaround stories.
Their conviction comes from deep interactions with the managements and promoters of the companies they invest in.
They value intelligence, energy, and integrity. And they understand that without the third, the first two could be fatal.
Unfortunately, CVs and credentials won't help you spot this critical quality.
Knowing a management is not just about listening to their talks. Superinvestors look for little details that give the real insight.
Warren Buffett likes to tell a story about Tom Murphy, CEO of Capital Cities Communications. Murphy is so cost conscious that, when he had his office building painted, he didn't paint the back wall since no one could see it.
Professor Sanjay Bakshi tells a similar story about Mr Chandran of Ambika Cotton Mills. Mr Chandran declined the commission part of his remuneration because he wanted to live up to the expectations of minority investors. As minority shareholders are only entitled to dividends, Mr Chandran believes it should be the same for it. Furthermore, Mr Chandran says his simple lifestyle doesn't require that much money).
Here is Mr Bakshi on another management he believes in:
I do recall that in 2008, Siddhartha Lal offered to his minority shareholders at Eicher Motors a deal that he was not obliged to offer. As part of a JV transaction with Volvo, he sold a 13% of his family's stake in Eicher Motors at a price which was more than twice the prevailing stock price. In a buyback transaction subsequent to that deal, he offered the same terms to Eicher's minority shareholders by initiating a stock buyback program in which Eicher gave them an option to sell 13% of their holdings at the same price at which Siddhartha Lal had sold his family's shares to Volvo. He didn't have to do this. There was no legal obligation to do it. But he did.
These are gestures the media is too busy to notice. But not super investors, and that's where they get their edge.
For them, investing means owning a stake in business. It's a commitment they take as seriously as marriage. They won't choose theirs partner without knowing them well.
Through their super investor project, Rohan and Kunal want to ensure they associate with the right investors, and through them, great managements. They even published a series of interviews with super investors in an ebook called The Super Investors of India. It's an enlightening read, downloaded already by over 19,500 readers. You can get a free copy here.
In our experience of researching and identifying winning small cap stocks, we have found that management quality plays a vital role in a company's success. But it's not just about stocks. It's just as true for any organisation, however small or large it may be.
A while ago, we asked a big-picture question: What if India was a listed conglomerate?
We found it insightful to think of the Indian economy as one large conglomerate. But wait, is it practically possible to evaluate the management actions of a US$2 trillion economy?
It's a real, tough job. And very few capable of doing it, and doing it well.
Our big-picture expert Vivek Kaul took up this gigantic task last year. And after spending a year researching and writing, he delivered what we believe is his best work till date...
India's Big Government - The Intrusive State and How It is Hurting Us.
In this 800-page masterpiece, Vivek carries out a comprehensive evaluation of India's 'managers'...the compounding effect of all their past actions...and the mammoth challenge that lies before the current 'managers' of India.
Now, you're free to join the mainstream media in celebrating three years of the Modi government's big-bang reform actions. But if you're a serious long-term thinker, who wants a true, unbiased understanding of the ground realities of the Indian economy, Vivek's latest book is a must-read.
03:30

Chart of the Day

Last month, at a conference organised by Nomura in Singapore Transport Minister Nitin Gadkari is reported to have made a startling promise...
We are trying our level best that the day will come when we don't need to import any fuel from any country and that we will be self-sufficient.
As per Business Standard, during the financial year 2016-17, India's total gross petroleum imports inclusive of crude and petroleum, oil and lubricants (POL) segment stood at US$80.8 billion.
Imagine India not having to import crude oil. That would be revolutionary. Our import bills would fall sharply. One of our perpetual challenges - the current account deficit, would stop being such a big worry. Inflation in India would seize to be highly vulnerable to international crude oil prices. And it goes without saying that it would be a game-changer for India's currency. The day India achieves fuel self-sufficiency, the Indian rupee would appreciate sharply against the US dollar.
That's music to the ears! India is the world's third-largest oil consumer. And energy consumption in India is set to grow as our economy remains one of the few 'bright spots' in a slowing, aging world economy.
Now, when would that happen? Mr Gadkari has no specific timeline for the target. That's the interesting bit. Politicians sell hopes and dreams. They can get away without giving facts and timelines.
So, we did our own homework to get a sense how self-sufficient is India when it comes to petroleum products. And here's what we found...
As per Business Standard, while India's petroleum consumption has gone up from 148 million tonnes in 2011-12 to 194.2 million tonnes in 2016-17, the total production from indigenous crude and condensate actually declined during this period from 35.6 million tonnes in 2011-12 to 34.8 million tonnes in 2016-17.
What does this mean?
In a nutshell, India's petroleum self-sufficiency dropped to 17.9% in 2016-17 from 24.1% in 2011-12. The other way to look at it is that India's dependence on petroleum imports has been increasing. And that's not good news.
India's Growing Dependence on Petroleum Imports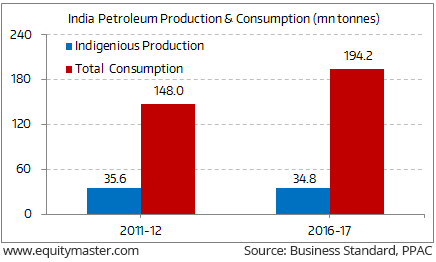 Indian share markets opened the day on a positive note. Sectoral indices are trading on a positive note with stocks in the oil and gas sector, auto sector and capital goods sector leading the gains.
The BSE Sensex is trading up 122 points (up 0.4%) and the NSE Nifty is trading up 30 points (up 0.3%). The BSE Mid Cap index is trading flat, while the BSE Small Cap index is trading up by 0.5%.
04:55

Today's Investing Mantra

"Loss of focus is what most worries Charlie and me when we contemplate investing in businesses that in general look outstanding. All too often, we've seen value stagnate in the presence of hubris or of boredom that caused the attention of managers to wander." - Warren Buffett

This edition of The 5 Minute WrapUp is authored by Richa Agarwal (Research Analyst).
Today's Premium Edition.
GE Shipping: A Volatile Industry, An Iconoclast Management
The difference that's helped GE Shipping sail ahead of its competitors.
Read On... | Get Access
Recent Articles