Forget About SBI's Rs 77.18 Billion Loss... There's a Great Stock You Could Buy Instead
May 24, 2018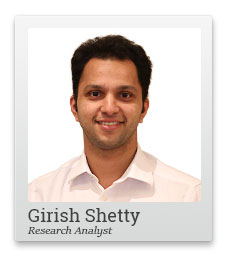 Last week, I managed to watch the latest Avengers movie. I admit I've hardly followed any of the franchise's previous movies.
But almost every second person I know was talking about it. Naturally, I wanted to check out what the hype was all about.
It's basically a bunch of superheroes getting together to stop the main villain, Thanos, from destroying the world.
I must say, I was thoroughly impressed. Everything from the pace, themes, and special effects got me. I got my money's worth.
But there was one thing that struck me. Despite a whole bunch of superheroes fighting the villain, they couldn't defeat him! There were superheroes with every kind of superpower imaginable. But still, they couldn't overcome Thanos.
This got me thinking.
Were there too many superheroes in the movie? Would they have been better off with a few superheroes who could've planned the whole thing better?
--- Advertisement ---


WARNING: You Have 2 Days

You have only 2 days left to make the most of our Special Celebratory Offer…

And get 12 Additional months to StockSelect…virtually FREE!

So, don't waste another second…

Click here to claim your additional 12-month access…
------------------------------
Isn't it the same with some of our listed companies? Sometimes, there are too many cooks that spoil the broth.
Two days ago, we got a great example of this: SBI.
We had recommended the stock in StockSelect back in September 2015. The stock was like a superhero itself.
The largest player across loan categories in the country.
A market share of 16% in overall advances.
The largest provider of export credit.
...And a lot more.
Sure, there was a Thanos-like character as well: the bad loans or NPAs.
But at that time, we knew it wouldn't be a problem for superhero SBI.
Then things changed...
SBI tried to bring in more superheroes to make it stronger.
The five associate banks - State Bank of Hyderabad, State Bank of Mysore, State Bank of Bikaner and Jaipur, State Bank of Travancore, and State Bank of Patiala - were merged with SBI on 1st April 2017. And there was Bhartiya Mahila Bank too.
This grand merger was supposed to help SBI.
We thought differently. We expected these pseudo super heroes to be a hindrance rather than a growth driver, at least in the short term.
Why?
You see, everyone knew that SBI's bad loans were increasing constantly.
But, the associate banks were doing worse. We saw a lot of value erosion in the overall book of SBI in the coming year.
As you may know dear reader, we always prefer to err on the side of caution rather than hope.
So we closed our position on SBI in April 2017 with 24% gain.
Did we get it right?
You bet.
The next year was a turbulent ride for the stock. The government's Rs 2.11 trillion public sector bank capitalisation plan was a shot in the arm for the public sector banks (PSBs). Stocks went up from 30% to 49% in a day. We might have looked foolish then. But not for long.
The bad loans issue kept escalating. It all came to a boil in the recent quarter. SBI reported a loss of Rs 77.18 billion in the fourth quarter of FY18.
This was the second largest loss in a quarter reported by a bank. As on 23 May 2018, the stock is down 11% since we closed our position.
The Avengers of SBI failed to defeat its Thanos (bad loans).
But we still made money on it. This further re-affirms our cautious stance, when buying and selling any stock.
This way, we might miss some opportunities.
But we'll make sure, we escape from Thanos' wrath and live to pick better stocks for you...like this bluechip Tanushree recommended yesterday.
It's down about 20% in the last three months but has great prospects going ahead. The margin of safety is there...and the upside could be as high as 45% from these levels.
You can access the recommendation here...
By the way, this stock is different from the three stocks that Tanushree just recommended in her special report. Those three stocks are great long-term buys.
In case you missed it, here's that special report - 3 Stocks to Buy as per Buffett Code.
Chart of the Day
Public Sector Banks (PSBs) have had a difficult year, to put it mildly.
After the euphoria of recapitalisation, bad loans have come to haunt them. Post the Gitanjali Gems fiasco, PSBs are yet to fully recover from its impact.
PSBs Struggle Despite Government Help
This underperformance was despite the huge boost they got from the government last year. On 24 October 2017, the government announced a Rs 2.11 trillion public sector bank (PSB) capitalisation plan. This move was aimed at reviving the PSBs from the bad loan mess.
The next day was a field day for investors in PSBs. PSB stocks went up between 30% and 47%. Despite this, the return in the year was way below average. PSBs like Punjab National Bank (PNB) have crashed more than 45% over the last one year.
Have we reached the bottom? Or there are more Nirav Modi stories waiting to come out?
We believe, rather than bottom fishing, one should look at banks run by strong management and a differentiated lending strategy available at reasonable valuations.
Regards,


Girish Shetty
Research Analyst, StockSelect
PS: Only two days to go! Tanushree Banerjee's premium safe stock recommendation service, StockSelect, with a success rate of 74% over the last 15 years, is available with a special offer...for today and tomorrow only. You can get 12 additional months of StockSelect virtually free! This offer will end at midnight, 25th May. Don't miss out on this. Just click here and get StockSelect right away.
Recent Articles