How Modi 2.0 Will Benefit Investors in These 7 Stocks
May 30, 2019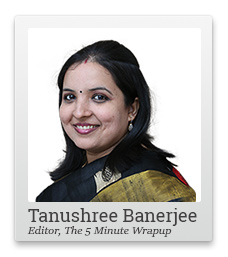 I've always liked playing Chess. While it was my favorite pastime, it has benefits few other sports offer.
From problem solving skills to improving creativity, the game has it all to engage one's mental health.
There are many ways to play the game. In fact, the number of possible moves is more than the atoms in the universe!
Recently I read about a chess technique called 'Retrograde Analysis'. Simply put, it is used to solve problems backwards from known outcomes.
Revealed: How to Claim Bhambwani's 'Fast Profits' Book, Free
I realised, this technique is useful almost everywhere. Think about where you want to be in 5 years. Then work backwards step by step on what you need to do right now to reach there.
It is a very useful concept in the investing world as well.
Think of India after say, 5 or 10 years. Where do you think we will be as a country?
Will we move towards more urbanisation?
Will everyone have a smartphone and a bank account?
Will we have smart cities and better roads replacing villages with no connectivity right now?
Will we become an export giant like China?
Will we shore up our defence like other superpowers?
With the Modi government back in power, these trends will accelerate.
Now, all of this might not play out perfectly as we might imagine.
But for India's large population, even a small improvement is big.
A 5% shift from rural to urban means a shift of around 65 million people. Imagine all the new markets that would be created. Also, India's demographic dividend means we have a young population with potential for a lot of consumption.
That is why I strongly believe in the Indian economy's long-term growth potential.
Looking forward to the next 5 or 10 years, I believe there are 50 irreversible trends that will play out in the years to come.
Megatrends that are bound to take India to the Sensex 1,00,000 mark.
I call this, the Rebirth of India.
Now, for you dear reader, it's important to be in the right stocks when this happens.
By the right stocks, I mean stocks backed by strong fundamentals. Stocks with huge potential but also with a margin of safety in terms of valuations.
A basket of such stocks will cover every aspect of India's growth potential.
I have identified 7 stocks that are likely to benefit from this trend.
In Chess, a strong board position eventually decides the winner.
I believe, with these 7 stocks, you are in strong position to win in the investing world.
--- Advertisement ---
How to Claim Bhambwani's 'Fast Profits' Book, Free

Today, we are going to show you how you can claim a hardbound copy of Vijay Bhambwani's Fast Profits book, virtually FREE.

This book is worth Rs 1,950.

But today you can claim it for virtually nothing.

How?

Just read the full details here...
------------------------------
Chart of the Day
If there is one area that needs immediate attention by the government, it is job creation.
According to a CMIE survey, the unemployment number stands at 41 million people. That is too big a number to be ignored.
Now, job creation at such a mass level won't be a walk in the park. To set the wheels in motion, the government will have to look at infrastructure spending.
Capacity expansion in new projects has seen a gradual slowdown in the past few years.
Infra Capacity Expansion Likely to Be the Key Focus of the Modi Government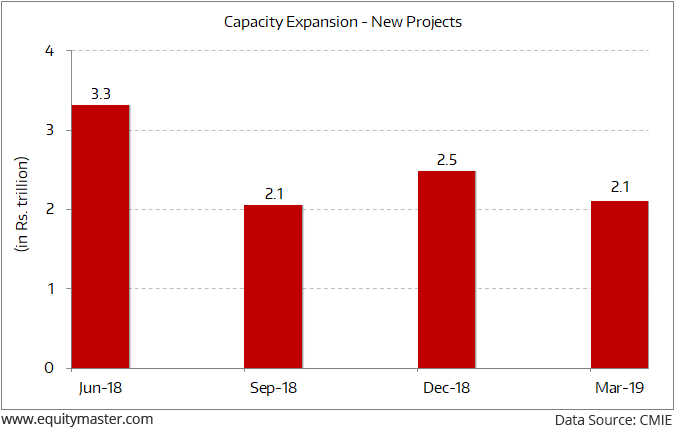 From Rs 3.3 trillion in June 2018, the number has come down sharply to Rs 2.1 trillion as of March 2019. I believe this will the first area the government will look to focus on. Apart from creating jobs in the infrastructure sector, it opens a lot of other avenues.
Better infrastructure will mean better connectivity to non-metros. This will attract manufacturing companies to set shop in these towns. It will give a boost to the urbanisation of the population.
This is a trend I see clearly playing out in the coming years.
Infrastructure spending -> Improved roads -> Increased two-wheeler sales.
It is just one of the 50 irreversible trends I believe will carry the Sensex to 1,00,000.
Warm regards,



Tanushree Banerjee
Editor and Research Analyst, The 5 Minute WrapUp
PS: Dear reader, Modi's resounding election victory is great news for the stock market. More importantly, I believe 7 stocks could be among the biggest gainers as the Modi government implements its policies. Read more about these 7 stocks here...
Recent Articles